Natural Wine Bar Cosmico Brings Latin Flavors and Parisian Vibrancy to National Sawdust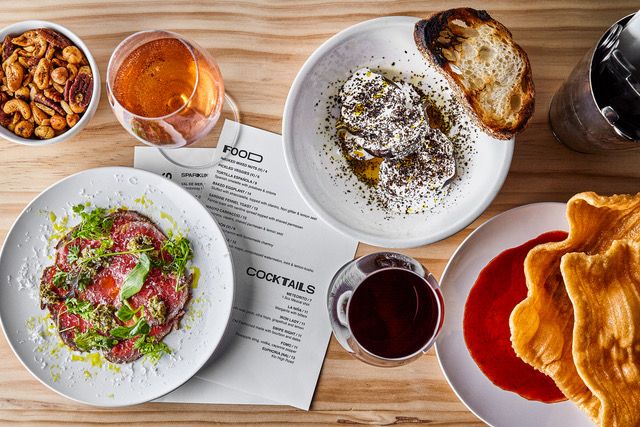 WILLIAMSBURG — Chef Felipe Donnelly and entrepreneur and wine enthusiast Tamy Rofe are partners in life and in business. With over 10 years under their collective belt in New York's food industry, the couple are founders of James Beard nominated restaurant Colonia Verde in Fort Greene and Comparti Catering. Their newest venture, Latin-inspired wine bar Cosmico, will accompany the breakthrough music venue National Sawdust and pilot their concession stand for shows as well as before-and-after drinks and bites in their intimate bar.
National Sawdust's mission is deeply rooted in music discovery. Their pillars are inclusivity, active mentorship of emerging artists, and building new audiences and communities for the ever evolving, dynamic music scene. The space takes your breath away as its spaceship-like design hides behind the facade of the historical early 20th century sawdust factory.
Launching on November 5, the restaurant and bar has been in their soft opening phase. They hope to channel the energy from watching a powerful show into a space that inspires conversations over natural wine and thoughtful food. The space previously housed Rider, a modern American restaurant, that just didn't seem to fit the bill as an adjacent space to a music venue.
"We are merging the idea of independent music, independent voices, and independent winemakers," Rofe told Bklyner. "[The vineyards] are family-owned, hand-raised, and it feels like it should have a home here. It feels good to have a list that's attached to the same ethos."
Their wine list is globally influenced, with selections from France, Italy, and Island wines. They choose winemakers that use minimal intervention in production and handpick their grapes, offering natural and biodynamic flavors.
"When you drink a glass of wine you should be surprised," said Rofe. "You shouldn't analyze why it's integrated and perfect."
While supporting independent industries goes hand-in-hand with National Sawdust's mission, Cosmico's concept and natural wine program were also inspired by a trip to Paris.
"The electricity, the energy behind [wine bars], is just culturally different," said Rofe. "The treatment of a wine bar is much more vibrant and energetic."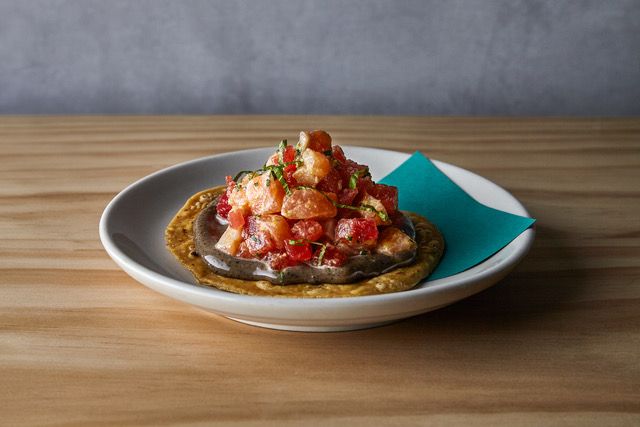 Donnelly and Rofe are not classically trained food and drink professionals, their love for cooking and hosting started in their home kitchen with a weekly supper club for their friends and family back in 2011. The project prompted them to leave their marketing careers and start their first restaurant.
Rofe was born and raised in Mexico City and Donnelly was born in Madrid and lived in many South American countries, making "Latin pantry" their main concept for food excursions and the menu at Cosmico.
The Chef beams over their salmon tostada ($12), a dish exploding with flavor of cured salmon with habanero and onion ash mayo, compressed watermelon, and lemon kosho–a citrus chili paste. Their catering chefs that share the kitchen at Cosmico have also influenced the menu, bringing in wagyu carpaccio ($15) with watercress, capers, shaved parmesan, and lemon zest; and the classic tortilla Española ($9), a Spanish-style omelet with potatoes and onions.
Their concession stand adjacent to the entrance of the music venue has ready-to-drink cocktails from Wandering Barman ($11) and an assortment of beers, cider, and kombucha. You can also find flavored popcorn with duck fat and rosemary, and cheddar habanero ($4), and other snacks like chips and Pocky.
Dedicated to quality and independent makers, Rofe and Donnelly hope to bring a personal touch to their new venture.
"We are flexible and adaptable, and we want to see what this neighborhood is all about," said Rofe. "It's changed so much, and it continues to change, and we want to be part of the positive change."