My Proposed Bus Route Changes For Sheepshead Bay and Adjacent Neighborhoods: Part 1 Of 2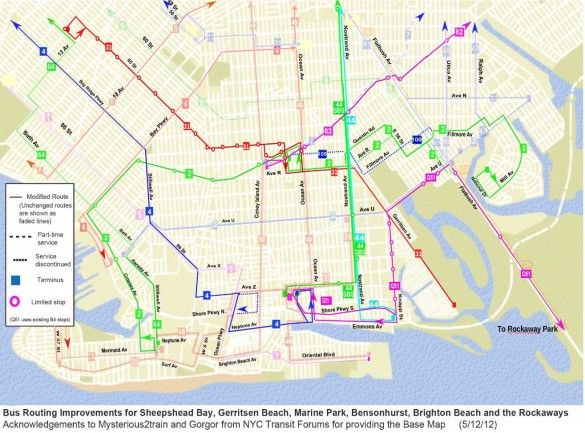 THE COMMUTE: Above is the map I created showing my proposed bus routing changes for Southern Brooklyn. Yesterday, I discussed why changes are needed in Sheepshead Bay and surrounding neighborhoods — to build ridership on our bus routes, so that the MTA does not continue on its destructive path of cutting service and severing bus connections, as I discussed at the recent NYC Bus Riders' Forum. There is untapped demand, yet the MTA refuses to acknowledge this, wanting us to believe that buses are only necessary to reach subway stations, so many routes — especially the ones with light patronage — can be discontinued inconveniencing just a few.
They do this by distorting the effects a route's discontinuation will have, always citing alternate nearby routes that could be used, even if they are not practical. They do not understand the role that the bus can play in our mass transit system. They do not recognize that many seniors are not able to walk stairs to use the subway system because few stations are handicapped accessible. They are so shortsighted that they do not recognize that fewer and shorter bus routes, or routes that do not operate on weekends, will only drive up the cost of providing Access-A-Ride. There is a deficit that has to be plugged and the best way to do that is to reduce operating costs by cutting service. That is the extent of their thinking.
Now is the time to show them they are wrong and that more needs to be done — that they need to start thinking about expanding bus service. Now is the time to recognize untapped demand that has always existed, that the MTA is not aware of because they keep zero statistics on the number of trips that can only be conveniently made by car service.
The Proposals
1) New Bus Route To The Rockaways (Q51): Outside of Staten Island, residents of the Rockaways probably have the longest mass transit trip times in New York City. A proposal has been floating around for the last 40 years to reactivate the abandoned portion of the Rockaway Beach line and has only recently gained momentum with the talk of a new convention center at the Aqueduct Racetrack site. That proposal would dramatically cut travel times to Midtown Manhattan. But what does that have to do with us and why should we care?
It is because those living in Roxbury, Breezy Point, Belle Harbor, and Neponsit have only two ways of accessing the rest of the city by mass transit: a long bus ride to the A train in Rockaway Park or the Q35 bus to the 2 and 5 trains at the Flatbush Nostrand Junction. Few trips between Brooklyn and the Rockaways can be made with two buses. Most require three or more buses and a double fare.
If there were a route from the Rockaways to Sheepshead Bay Station that operated along Knapp Street and Emmons Avenue, two additional subway lines would be available for their use and new travel opportunities would be created. More importantly for us, there would be enough patronage generated to justify a bus every 10 minutes from Plumb Beach to Sheepshead Bay Station both on weekdays and 15-minute (or more frequent) service on weekends. It would be a boost to businesses along Emmons Avenue, including the UA Theater, and also make it much easier to access the nursing homes and assisted living facilities in the area.
However, as with any change, there is always a downside. The B4 would have to terminate at Sheepshead Bay Station at all times it operates because extending the B4 to the Rockaways would just make the route too long and unreliable. The MTA also would have to restore its policy that service changes will not result in extra fares. Merely hoping that the B4 service will become more frequent or that the MTA will restore weekend service is only wishful thinking as long as the MTA remains in its budget crunch.
There is also the alternative of restoring the B4 to Knapp Street when it operates, and to operate the proposed Q51, also at 20-minute intervals. The downside of that plan is that if the B4 does not attract enough riders to be sustainable at a frequency of every 20 minutes, it may also not be attractive enough to Rockaway residents. However, Plumb Beach residents would still see a combined headway of 10 minutes to Sheepshead Bay Station under that alternative.
2) Extend The B31: My next proposal is to get Gerritsen Beach out of its mass transit prison by extending the B31 beyond the Brighton line into Bensonhurst. Not only would B31 ridership be boosted off-hours by offering additional connections to the B68, B6, B8 and B64, a service gap — or as Transportation Alternatives calls it, "a transit desert" — between Avenue N and Kings Highway and between 60th Street and Bay Ridge Parkway in Bensonhurst would be filled. The extended B31 would operate along Avenue P and 65th Street to 12th Avenue and Bay Ridge Avenue where it would connect with the B64 for trips further west, providing a needed boost to that route's ridership. In order to minimize additional costs, speed trips, and make the idea palatable to the MTA, I am proposing limited stops only at even numbered avenues in Bensonhurst. The B9 is available on 60th Street a quarter-mile away, which will continue to provide local stops every block, so nothing would be taken away.
3) Combine, Reroute And Extend The B2 And B100: These routes currently operate only one block apart for two-thirds of their routes. This situation came into being in the 1960s when Mill Basin was developed with bus service being provided by the Pioneer Bus Corporation instead of the New York City Transit Authority. Neighboring streets to the B2 were used since the city would not allow a private bus company to infringe on the franchises of the New York City Transit Authority. Also, B100 bus stops were placed every quarter-mile rather than at every other block because it was so close to the B2. Times change. Pioneer became Command Bus Corporation and was eventually taken over by the MTA, which also absorbed the New York City Transit Authority.
Today, the MTA operates both routes. The only difference is that New York City Transit, a subsidiary of the MTA, operates the B2, while the Bus Company (also known as MTA Bus) operates the B100. A crucial difference is that New York City subsidizes B100 losses, a requirement imposed by the MTA for taking over the privately operated bus operations several years ago, which were previously subsidized by the city. So when the MTA decides to get rid of one of the routes, which do you think it will choose — the B100, or the B2, which is not directly subsidized?
Also, the B100 provides needed service to Mill Basin whereas the MTA can argue that B2 service is duplicative with its route already covered by the B31 or the B100.
So, instead of waiting for this to happen eventually, which is inevitable with the B2 losing ridership each year, I propose to combine both routes as the B2, using the routing shown on the map. I also would reroute the B2 from Avenue R in Marine Park to Quentin Road to reduce walking distances to the route, boosting ridership by encouraging some B82 and B7 riders to switch. It would be necessary to add service on one block of East 36th Street between Quentin Road and Avenue R. One bus stop would have to be relocated from Avenue R to East 36th Street in front of the same homeowner's residence.
The downside is that a two-block walk would be required to access Kings Plaza. This would be offset by the fact that walking times for many B2 users would be reduced and there would be minimal impact to B100 users. The choice is to make a proposal to the MTA now or wait for them to come to us with theirs. Additionally, the savings by eliminating one route could go towards the additional cost of extending the B31.
I am also proposing to extend the B2 westward to Coney Island via the current B82 route and cut back the B82 from Coney Island to Kings Highway and Coney Island Avenue. This would provide many additional connections to the B2, greatly increasing the neighborhoods it would serve directly or with a transfer. B82 service would become more reliable with a shortened route the way it originally operated as the B50, and access would not be sacrificed since Bensonhurst residents would still maintain transfers to the B49, B44, B41, B46, Q35, and B47.
Tomorrow: Discussing a proposal to modify the MTA's 44 Select Bus Service plan and to restore the B64 to Coney Isand.
The Commute is a weekly feature highlighting news and information about the city's mass transit system and transportation infrastructure. It is written by Allan Rosen, a Manhattan Beach resident and former Director of MTA/NYC Transit Bus Planning (1981).