EXCLUSIVE: A Muslim Woman Was Assaulted On Public Street. Not A Hate Crime?
UPDATE: While the NYPD still has not released photos or video of the assailant, it seems it is now being investigated by the Hate Crimes Unit, though the cops won't tell us when that switch happened.
MIDWOOD – Umber Nisar usually drives everywhere. But, the weather was far too beautiful on Saturday, March 16 to resist a walk.
Nisar's mother called her in the late afternoon asking her to come by to drop off some food for a gathering. They live a few blocks apart along Avenue H between Rugby and East 21st Street. The weather was 48 degrees Fahrenheit and she thought it'd be a good walk.
By the time it was 3:36 p.m., 41-year-old Nisar had delivered the food and was just a few steps away from her home. She was wearing red shalwar kameez (a South Asian garment) and had a dupatta (hijab) wrapped around her head, covering all of her hair.
She saw a man cross the street from the other side and then he was in front of her. She said he put out his leg as if trying to trip her, but she did not fall. Then, he kicked her.
She said he kicked her legs; her shin and calf to be exact. Nisar said she remembers another man walking by during the assault. She said she remembers making eye contact with him, pleading with her eyes for help. He walked away. And after the assaulter was done kicking, he walked away, too. Nisar stood there for a few seconds in shock and pain. When she realized she was standing in the middle of a sidewalk, she quickly walked up to her house and locked the door.
"I was so scared," Nisar told Bklyner. "He kicked me with such force. It was as if he was angry at me."
Nisar went inside her house and sat down for 15 minutes. She couldn't comprehend what happened to her. What if she had fallen, she thought. What if he repeatedly kicked her in the stomach? What if he had a knife? What if he stabbed her? She couldn't stop thinking. This had never happened to her before.
Nisar came to the U.S from Pakistan when she was 15 years old. She has been living in West Midwood for about 24 years. In all of her years of living in the neighborhood, she never had to fear for her life.
"I love this country. This is my home. I've heard of such things happening to other Muslim women, but I never thought something could happen in this neighborhood," she said. "It's my home. I felt safe here. Now, I feel like I am on another planet."
She said when he was kicking her, he mumbled something, but she could not understand what he was saying. She said she was targetted because she is a visibly Muslim woman. She asked, "Why else would he cross the middle of the street just to stand in front of me and then kick me?"
On Sunday, March 17, Nisar was so afraid that she did not leave her house. Her three children were also scared. Her son kept crying and asked her why she didn't just drive to his grandma's house. He asked her why she didn't just wait for him to finish the game he was playing; he could have gone himself, he told her.
"I think I went to look outside the door like 20 times," she said, feeling paranoid. "What if someone was watching? What if he saw me enter my house and now knows where I live? After all, he's still out there."
Shortly after the attack, she called 911. She said she went out to look for the man with the cops, but they could not find him. She said the man could be seen crossing the street from the camera outside her home, but it doesn't expand to where she was assaulted.
According to the NYPD, the suspect is a white man, about 26-years-old, 6 feet tall, and 200 pounds. He was wearing a gray jacket and blue jeans. Cops say the investigation is ongoing and it is being investigated as an assault. They have not released the video or images of the suspect.
Nisar wants it investigated as a hate crime.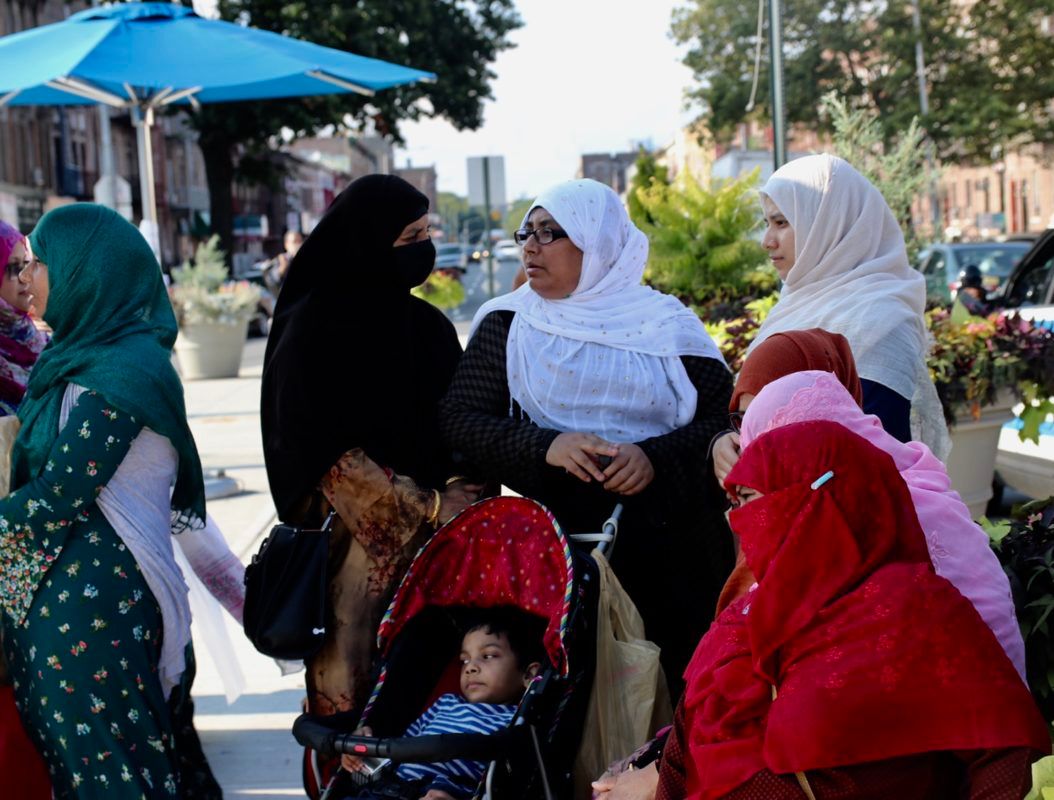 "He saw me wearing a hijab, he saw me in my shalwar kameez. He crossed the middle of the street and kicked me," she said. "He targetted me because I am a Muslim. This is a hate crime."
According to NYC.gov, "A bias incident is any offense or unlawful act that is motivated in whole or substantial part by a person's, a group's or a place's identification with a particular race, color, religion, ethnicity, gender, age, disability, ancestry, national origin, or sexual orientation (including gay, lesbian, bi-sexual, and transgender) as determined by the commanding officer of the Hate Crime Task Force."
Nisar believes the attack was motivated by religion and now she fears for her safety and for the safety of her daughter and neighbors. Her Midwood neighborhood is packed with Muslim woman going about their days. Women in colorful dupattas and shalwar kameez walk out in the afternoons when their kids are at school. They shop, go to the decades-old beauty parlor, and grab vegetables and spices to cook at home. It could've been any of them, Nisar fears.
Nisar has a really big bruise on her leg. She keeps looking at it and touches it time to time, though it hurts when she does so. She said every time she sees it, it brings her back to that moment.
"Why didn't I say something to him? 'Why the hell are you kicking me?' I could have said. Why didn't I scream? Why didn't I hit him?" she said. "If he did that to me, he could do that to someone else."
Nisar's assault comes a day after the devastating terrorist attack at two mosques in New Zealand that took the lives of 50 people. Like Nisar's attacker, the perpetrator of the massacre was also a white man.
"Islamophobia is on the rise. Everyone is going crazy; they're harassing Muslims," she said. "You're supposed to respect all religions."
She said all communities are supposed to receive equal treatment; it does not matter if the victim is Muslim, Jewish, or Christian. So why isn't this being labeled as a hate crime, she asked. Community organizer Kashif Hussain agrees.
"Growing up as a minority in an immigrant community, I know firsthand how hard it is, especially for a woman, to report crimes perpetrated against her," Hussain said. "Now that the Islamophobic violence committed against the most vulnerable people is happening without warning, the Muslim-American communities are on edge."
After Hussain found out about Nisar being attacked on Saturday, he, along with several community members reached out to elected officials and law enforcement for support and solidarity. He said he was even more upset hearing about the attack, because a day before, the same community held a powerful press conference after the New Zealand massacre.
"When the community learns about a hate crime being classified as an assault, this infuriates everyone," he said. "Demanding justice, the community is mobilized to support and protect everyone, especially our sisters, mothers, and daughters."
Hussain says the attack is unacceptable and the community will no longer sit on the sidelines.
"We want to make sure that victims get justice and we never experience another hate crime in our area again. This is not only for Muslim communities but for all communities," he said. "I feel disgusted that sick people out there would pick on women, the elderly, and children. Enough is enough. We will protect everyone, one way or another."
According to Borough President Eric Adams, "There needs to be a real conversation and people need to engage in a real dialogue of hate."
"This incident adds to the energy of this country, where people have shown a lack of tolerance for certain groups, particularly Muslim-related attacks, and anti-Semitism," he said. "What I would tell these communities is to embrace yourselves. Don't tolerate. Report it. Organize. Stand up when you see it happening to another group. Fight back."
Two days after the assault, Nisar is still on edge. She said she just wants to feel safe again in her country, in her neighborhood, in her home.
"This country is my home and I respect everyone. Why can't everyone respect Muslims, too?" she said. "We're Muslims. Does that mean we don't have a right to live?"