MTA Puts Midwood Facility On The Chopping Block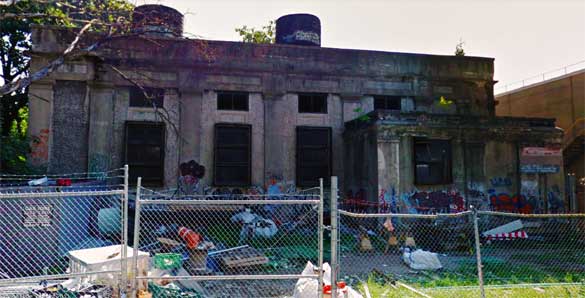 In an effort to offload defunct properties and reduce overhead, the MTA has issued a Request for Proposals from developers to rehabilitate and put to use seven defunct properties around the city – including an old electrical substation in Midwood.
Located at 851 East 15th Street, near Avenue I, the 7,920 square foot property is located mid-block, just before the footbridge spanning the open cut railroad line that crosses Brooklyn. It abuts the tracks for the B/Q Brighton line, and has been a haven for graffiti and illegal dumping for years.
Now that property, located in an R5 zoning district, is hitting the market – likely for a residential development.
The RFP comes after a year of reviewing the MTA's real estate assets in an effort to increase revenue and reduce costs.
"Given the current financial picture facing the MTA, we have an imperative. We must do anything and everything we can to raise revenue and reduce costs in order to minimize the need to turn to fares, tolls and taxes," said MTA Chairman Joseph J. Lhota. "Our real estate department is pursuing that imperative by thoroughly reviewing our real estate holdings and identifying properties that we could potentially offer for sale or lease. Finding properties that we own but don't need in order to operate service is not an easy task. In fact, most of the properties that fell into that category have been sold off long ago by our public and private predecessors."
The MTA and New York City Economic Development Corporation will accept proposals for about a year, with four deadlines beginning on June 29. Details can be found on the EDC's website.
The other properties up for development are:
19 East Houston Street in SoHo.
Gun Hill Road and I-95.
351 East 139
th
Street in Mott Haven, Bronx.
th
Street in Williamsbridge, Bronx.
379 Van Sinderen Avenue, East New York.
103-54 99
th
Street in Ozone Park, Queens.
If not a residential development, what would you like to see in that location?