MTA Lied To Us! East 15th Street Lot Becomes Construction Staging Area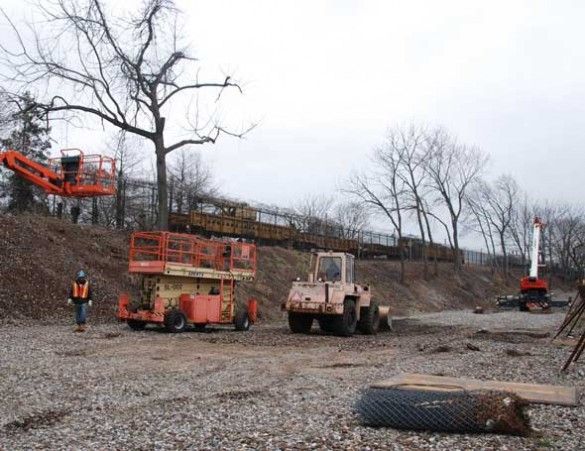 Despite earlier statements to the contrary, the MTA-owned lot on East 15th Street between Avenue Y and Avenue Z is now being used as a staging area for construction along the line.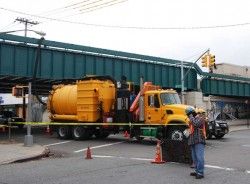 When the agency began clearing the lot of vegetation and illegally dumped garbage in early 2011, neighbors were outraged that the MTA was ripping out healthy trees and removing a natural sound barrier between the train line and their homes. The MTA shot back, saying that the removal was a response to years of requests from the same residents to keep the lot clean, and that all the trees removed were sick. When asked by Sheepshead Bites, an MTA representative adamantly denied rumors that the lot would be used as a staging area for construction equipment during the Brighton line rehabilitation.
But it turns out that the agency was not responding to years of community complaints about the lot, but may have instead used it as a cover to hide plans to do exactly what neighbors feared: fill it with noisy, unsightly construction equipment.
The lot was reopened earlier this week, and today construction crews were on scene bringing cranes, machinery and pallets of new tracks. A worker told Sheepshead Bites that they are prepping the area to use it during this weekend's track replacement work, the cause of this week (and weekend's) service disruption in which Coney Island-bound Q trains skip Avenue U and Gravesend Neck Road.
As for the work itself, the MTA contractor told Sheepshead Bites that they'll spend the weekend at the site replacing tracks from the southern end of the Sheepshead Bay station to just north of Avenue Y with about 25 new segments of track. The new track uses concrete ties, which the worker noted is expected to last about 10 years longer than wooden.
After the work is completed, they'll move northward on the line.
As of 1:00 p.m. today, East 15th Street between Avenue Y and Avenue Z was closed to traffic as construction crews prep the site. A section of the street has become a No Parking Zone to allow for MTA vehicles and machinery.