Morning Mug: Nostrand Ice Storm, Circa 1975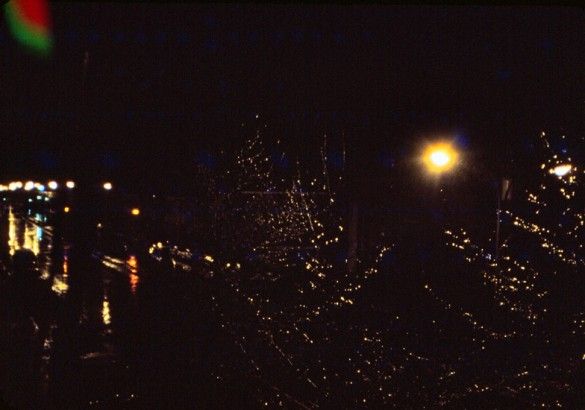 Another noir-ish weather shot dating back to my pre-existence. From the photographer:
Nighttime view of Nostrand Avenue looking south toward Voorhies Avenue, early 1975. Ice accumulated on the tree branches reflects the light from the streetlamp. From 35mm Kodachrome slide.
Just to give you some context of what was going on across the globe in the year this photo was shot:
Volkswagen first introduced the Volkswagen Rabbit (and here is a goofy 1979 B&W Rabbit commercial).
Wheel of Fortune premiered on NBC. Weirdly, Pat and Vanna still look the same now as they did 36 years ago.
Margaret Thatcher rises to power.
John Mitchell, H.R. Haldeman and John Ehrlichman are sent to jail for their roles in the Watergate scandal.
Bill Gates founded Microsoft in Albuquerque, New Mexico.
The Fall of Saigon marks the end of the Vietnam War.
Teamsters Union President Jimmy Hoffa is reported missing.
Ranked as one of the greatest fights of the 20th century, Muhammad Ali (just barely) defeats "Smokin'" Joe Frazier during the "Thrilla in Manila." Smokin' Joe went on to his Eternal Reward just this past November at age 67.
NBC aired the first episode of "Saturday Night Live," featuring George Carlin as the show's first host.
Spanish dictator Francisco Franco dies. Soon after, Juan Carlos is declared King of Spain.
The Rocky Horror Picture Show hits the big screen.
New York City is approved for a bailout of 2.3 billion each year through to 1978 – 6.9 billion total. What? You thought Obama invented the bailout?
Heavy metal band Iron Maiden is formed by guitarist Steve Harris. Run to the hills!
Photo by Andy Baum