More Responses To Anti-Semitic Vandalism At Holocaust Memorial Park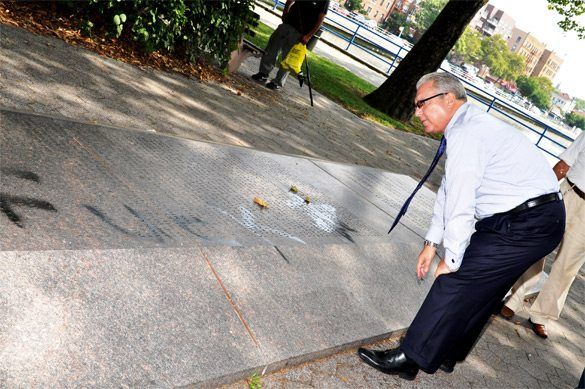 After Sheepshead Bites broke the story yesterday about the anti-Semitic graffiti spray-painted on the centerpiece of Holocaust Memorial Park (West End Avenue between Shore Boulevard and Emmons Avenue), several elected officials and candidates for political offices sent in additional comments condemning the attacks. Here they are, published in the order they were received.
Assemblyman Steven Cymbrowitz inspected the site before detectives arrived. From a press release he issued later in the day:
The son of Holocaust survivors, Cymbrowitz called the offensive vandalism "an affront to the memory of the six million Jews killed during the Holocaust, as well as to all Holocaust survivors in my district."
"This memorial is a symbol of peace and has provided comfort to not only the Holocaust survivors in my community, but to thousands from throughout the city. The callous vandalism of this memorial must not go unpunished. As I told the police officers at the scene, everything must be done to catch these perpetrators of hate," Cymbrowitz said.
Cymbrowitz has previously called on New York City's District Attorneys to seek the maximum penalty for defendants accused of hate crimes and ask judges to impose the maximum sentence allowed upon conviction.
Meanwhile, Ben Akselrod and Ari Kagan, who have been campaigning together for a seat in the Assembly and local District Leader, respectively, issued a joint statement.
"Ari and I are committed to stopping this trend of hatred that goes against everything this city believes in," Akselrod said. "These kinds of disgusting, disgraceful acts have no place in Brooklyn and in our society."  "We all must stand united to tackle this problem in a way that discourages such reprehensible, cowardly acts," Kagan added.
Both Akselrod and Kagan demand installation of video cameras that can be monitored to protect the park from further vandalism.
Borough President Marty Markowitz weighed in as well:
Brooklyn is home to the largest Jewish population outside of Israel, so it's especially offensive that not only did this reprehensible anti-Semitic act occur in our borough, but at Holocaust Memorial Park, a peaceful place of reflection that memorializes the millions of lives lost due to this very kind of hatred. The Holocaust showed the depth to which humanity can sink, and incidents like these remind us that those who use hate, vandalism and violence to vilify others still walk among us and need to be separated from society. But Brooklyn's diversity is our strength, and ultimately there is more that unites us than divides us. That's why we must remain vigilant in condemning hatred and discrimination against anyone—there's no place for it in Brooklyn or anywhere in the world. I have every confidence that the NYPD will do everything in its power to track down and apprehend the thugs responsible. And, in addition to their punishment, the perpetrators should be made to visit the Museum of Jewish Heritage in Lower Manhattan or the United States Holocaust MemorialMuseum in Washington, D.C. to learn about the atrocities of the Holocaust and to understand the depth of their ignorance.
Finally, State Senator David Storobin sent a statement saying the following:
There is no room for hate in our community. This memorial is a sacred site. Its defamation is an insult to Holocaust survivors, Jewish New Yorkers, and all peace-loving people. It is my hope that in this dark moment, our community will unite against anti-Semitism and hatred. If these vile criminals are caught, I call on the authorities to prosecute them to the fullest extent of the law.
UPDATE (1:58 p.m.): Congressman Bob Turner just piped in with this:
The recent vandalism of the shrine at the Holocaust Memorial Park goes against its very purpose, which is to remind us of the necessity for community tolerance. I encourage anyone who has any information that can lead to the apprehension of those responsible to contact the proper authorities. We must work together to show that acts of cowardice and ignorance like this will not be tolerated.