More Protected Bike Lanes in Williamsburg, Park Slope and Sunset Park
Next year, local cyclists will be happy to see almost five more miles of protected bike lanes on the streets of Brooklyn.
Earlier this week, the Mayor's office announced the 2019 project as part of the ongoing Vision Zero plan to reduce traffic fatalities.
"Our Vision Zero work never stops, as we have continued adding protected bike lanes at a steady pace across the city," said Mayor de Blasio. "This work saves lives. With more New Yorkers than ever using a bicycle to get around, we are expanding our bike lane network to make biking more safe, convenient, and comfortable."
In Brooklyn, new bike infrastructure is being used as preparation for the L train shutdown, but new protected lanes are also going into neighborhoods that won't be affected, like Sunset Park and Park Slope:
| | | | |
| --- | --- | --- | --- |
| Neighborhood | Street(s) | To/From | Miles |
| Williamsburg | Grand Street | Bushwick Ave to Union Ave | 1.8 |
| East Williamsburg | Morgan Ave, Knickerbocker Ave, Grattan St | | 0.3 |
| Sunset Park | 4th Ave | 60th – 64th Street | 0.4 |
| Sunset Park | 43rd & 44th Sts, 57th & 58th Sts. | | 0.6 |
| Park Slope | 9th Street | 3rd Ave to Prospect Park West | 1.8 |
Part of the work is also in preparation for the coming L Train Shutdown, which officials believe will double the current number of cyclists on the road, with estimates ranging up to 8,000 commuters looking to hit the streets instead of adjacent subway lines.
While it may not be the Grand Street PeopleWay that some have dreamed of, it seems to be a step in the right direction.
Already, cyclists have started a "bike train" across the Williamsburg Bridge in preparation for the shutdown. The DOT is also working with Citi Bike to boost coverage in North Brooklyn, as well as adding the first Citi Bike docks in Bushwick—temporarily.
"This year, the Department of Transportation has installed protected bike lanes on some of the most important corridors in the five boroughs, and in some cases, in the face of groundless opposition," said Transportation Alternatives Deputy Director Marco Conner.
"Commissioner Trottenberg and her department deserve credit for forging ahead to improve critical routes where bicyclists are most vulnerable, as well as in places where ridership is expected to skyrocket during the L Train shutdown. We look forward to a continued partnership with the DOT as they seek to further expand the city's bike network in 2019," he added.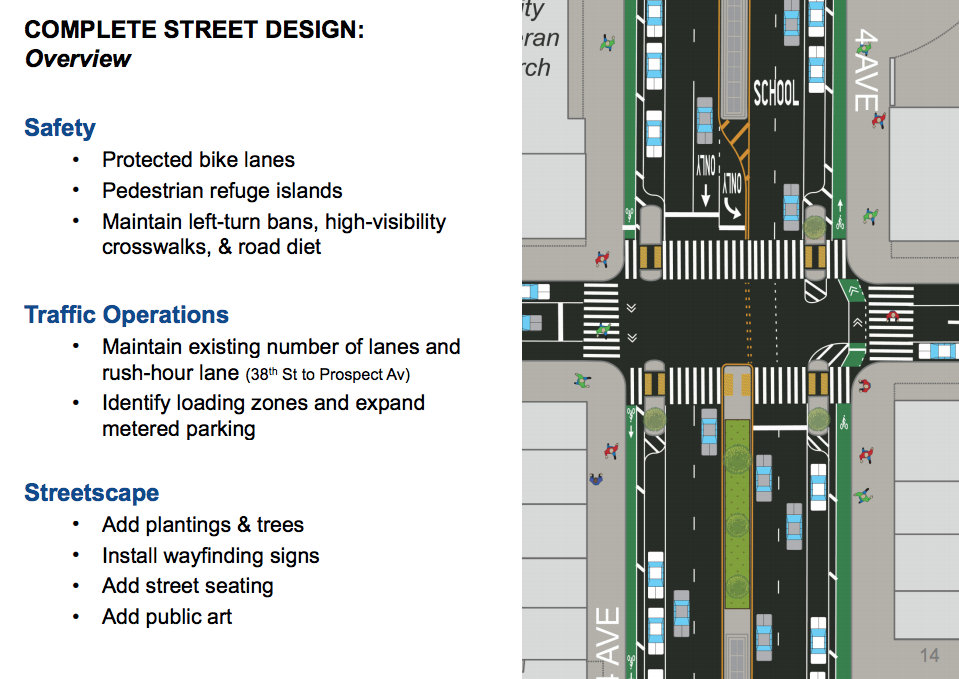 The work also coincides with previous projects by the DOT to expand the amount of protected bike lanes in certain parts of Brooklyn. At the beginning of the year, the agency started the 4th Avenue protected bike lane project, creating more options for cyclists traveling from Bay Ridge and Sunset Park towards downtown Brooklyn.
That project, implemented in steps over the next few years, should wrap in 2021, with lanes running from 8th Avenue to Atlantic.
To date, the de Blasio has created more than 80 miles of protected bike lanes in the five boroughs.