Mix It Up With Mixed Meat Kebabs At Rocca Café-Lounge – The Bite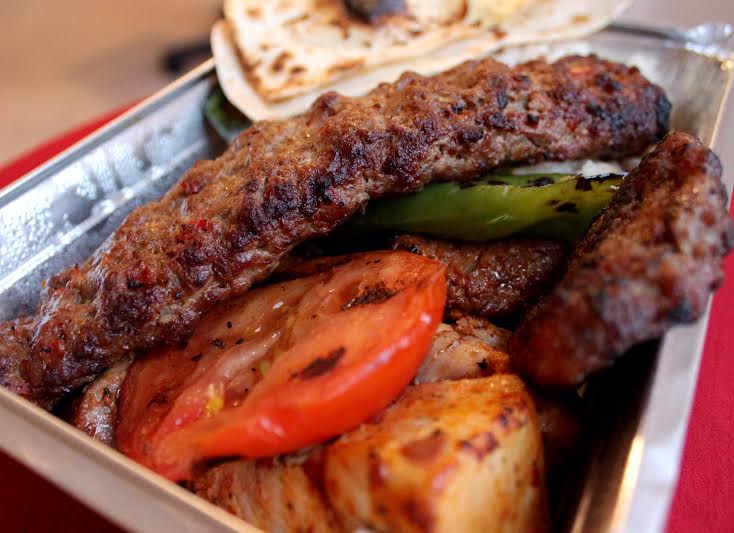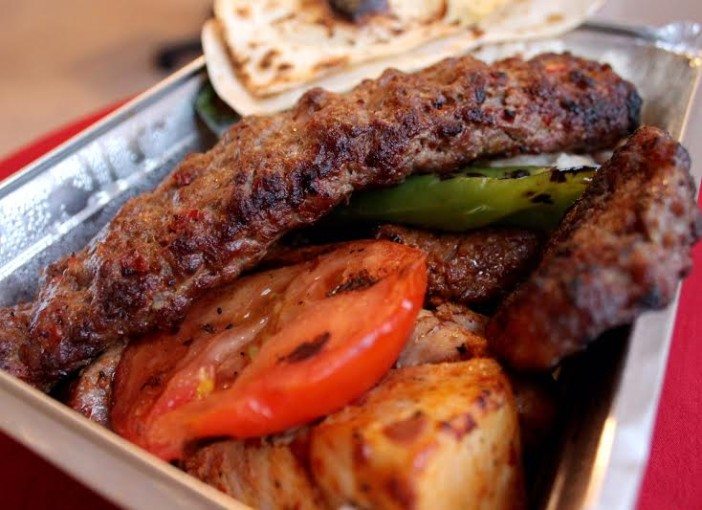 by Lisa Willner
THE BITE: While I haven't traveled to Turkey just yet, the food at Rocca Café-Lounge whets my appetite for a visit.
I first ventured to Rocca (2712 Emmons Avenue) this past summer, shortly after it opened. The seaside gem boasts huge windows both inside and out for dining on the water. It was an outdoor summer brunch, accented by rays of sunlight and gentle gusts of fresh air, that first stole my heart.
But, whatever the season, Rocca holds up.
Rocca Café will be one of the 21 delicious restaurants at The BITE, the new name for A Taste of Sheepshead Bay, taking place on Thursday, May 28, 2015. Get tickets now!
The menu has all the usual suspects of local Turkish cafes (and a few fun surprises, reflecting their "pan-Mediterranean" philosophy). I went for the fan-favorites and ordered the Mixed Grill Platter ($22.95) and Shepherd Salad ($7.95, small / $10.95, large). Sheepshead Bay's waters might not be the same as the Mediterranean's crystal blue, but I'll eat like it is.
The meal was perfect for two. The platter came with two of three pieces each of adana, chicken shish, and lamb shish kebab, and one piece of kofte. Hugging the meat was a heaping portion of bulgar pilaf, a grilled banana pepper (not for the faint-of-heart) and a juicy grilled tomato.
Growing up, chicken shish was my favorite and little has changed. Rocca's chicken shish kebabs are flavorful and moist chunks of meat. They're too good to pass up (which is one of the main reasons I went for the mixed grill). The lamb was just as tender though, and the medium-rare kebabs were gently brushed with spices that tickled my tongue.
My parent's favorite was always the adana kebab; growing up I never understood why. Apparently it took several years for my taste buds to mature enough to appreciate the minced lamb seasoned with sumac and chilies. Thankfully they did. The soft meat mixed with some juicy tomatoes and the accompanying red pepper sauce gave it some heat.
The kofte was new for me. Though I've grown up eating Turkish food I've been a creature of habit. Chicken or lamb shish kebabs have been my favorite since the '90's. But the kofte is a welcome addition to my must-have list. Like the adana, its seasoned minced meat; often a mixture of lamb, veal or beef with parsley and mint. After the shish, the kofte almost melts in your mouth.
I should probably preface by stating that I am a salad person. I love a good salad with fresh ingredients. Their Shepherd Salad is just that. The finely diced cucumber, tomato, purple onion and green peppers are cut into bite sized little cubes and seasoned with dill and parsley before being lathered in olive oil and vinegar. They perfectly complement the mix grill.
The buttery pilaf, too, is irresistibly light, yet filling, and the Turkish bread accompanying the Shepherd salad meets all expectations. The unassuming loaf is studded with sesame seeds, has a light crust on the outside, and a soft and chewy center. The mixed grill platter also comes with a small chunk of lavash flatbread and a side salad.
I might not have made it to Turkey yet, but at least my stomach is primed for travel with excellent tastes from Rocca. With the weather finally warming up it's the perfect time to head on over and check it out for yourself. But if those April showers are still making it a mess out there, you can order in – Rocca delivers, and takes online ordering.
Rocca Café-Lounge, 2712 Emmons Avenue, (718) 769-2525.
The Bite is Sheepshead Bites' column exploring the foodstuffs of the Sheepshead Bay area. Each week we check out a different offering from one of the many restaurants, delis, food carts, bakeries, butchers, fish mongers, or grocers in our neighborhood. If it's edible, we'll take a bite.