Ingersoll Meeting Turns Contentious Over Who Qualifies For LGBTQ-Friendly Senior Housing
When a contentious meeting Monday night at the Ingersoll Community Center about a proposed building with 145 affordable apartments for seniors — including those who identify as lesbian, gay, bisexual, transgender, or queer (LGBTQ) — threatened to devolve into chaos, Public Advocate Letitia James appeared just in time to restore order.
The Ingersoll Residents Association was held at 7pm on June 20 at the Ingersoll Community Center (177 Myrtle Avenue) marked the first public discussion of the project, to be built on a city-owned site at the corner of St. Edward Street and Myrtle Avenue.
The meeting had been rescheduled to last night with very short notice, which drew the ire of the 75 or so residents in attendance as well as Council Member Laurie Cumbo and Assembly Member Walter Mosley, who both expressed dismay about last minute notifications.
"Finding out the day of or the day before, that's downright disrespectful," said Mosley.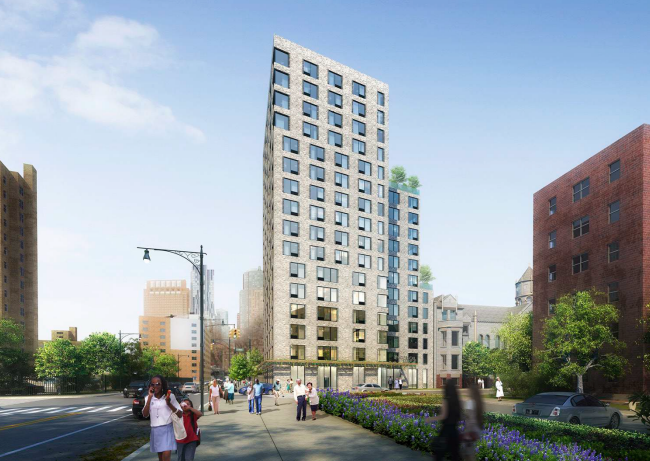 Anthony Sosa, head of the Ingersoll Tenant Association, explained that it was "purely accidental" that Ingersoll residents were not made aware of a rescheduled date for what is the community's monthly meeting.
Ron Britt, who said he has lived in the Ingersoll community for the past 50 years, expressed his own concern regarding the timing of the meeting.
"A lot of my neighbors are not here and they didn't know about it," said Britt. "You've got to give people ample time so we can fill the place up and really have a community response to this."
James' entrance and moderation of the meeting appeared sooth attendees and get the discussion back on track.
"Now that we are over that everyone wasn't invited we're going to do it again — part two to try and get it right," said James, adding "can I get an 'Amen!'"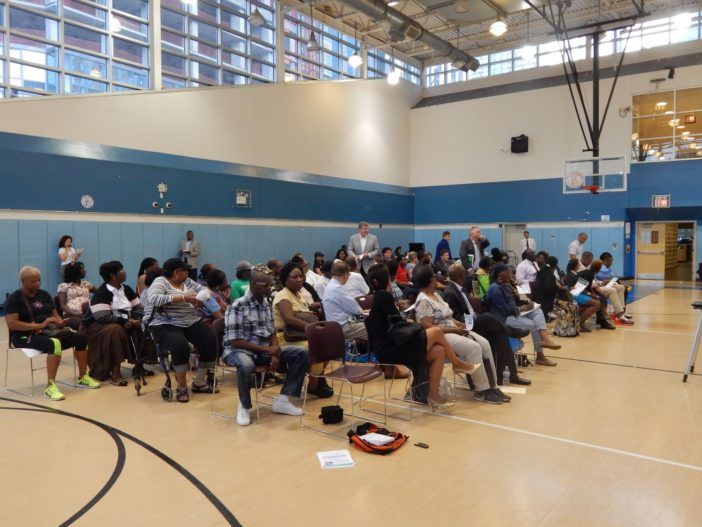 The Ingersoll Community Vision Plan includes 100 percent affordable units for seniors aged 62 years or older. The project has generated controversy due to a private developer's proposal to build affordable housing on NYCHA property, in this case a 9,000-square-foot unused lot of adjacent to the now-shuttered church of St. Michael and St. Edward.
The developer was required to propose plans to create first floor community space for residents and surrounding NYCHA community, including an innovative ground floor senior center that will provide a continuum of support services operated by Services and Advocacy for GLBT Elders (SAGE).
Don Capoccia, a partner at the proposed developer BFC, cited the significance of the project, the first of its kind in New York City.
"We've been working on doing LBGT housing anywhere in New York City … for ten years," said Capoccia.
Touting the close proximity of BFC's offices at 150 Myrtle Avenue — across the street from Ingersoll Houses — Capoccia hedged as to why he had only just met that day with officials from the community, explaining that his firm was "not in any position" to contact the Ingersoll Tenants Association until the project was approved last month.
Sosa expressed frustration concerning communication between Ingersoll Houses and BFC.
"We've had a one month relationship. [and] that's not adequate," he said. "We just found out three weeks ago that it was an LGBT thing."
One point of particular concern was whether applicants need to identify as LGBTQ to be eligible for housing at the proposed building.
"There are seniors who believe there a prerequisite that needs to be met in order for them to qualify," said Mr. Mosley.
John Wright of the Wright Group, a consultant for SAGE, was emphatic that there would be no discrimination in a planned housing lottery for applicants.
"I want to talk about housing for seniors," Wright said over shouts from the audience. "That's what I care about."
According to the NYC HDC website, the apartments will be available to anyone who earns less than 60 percent of Average Median Income, or $43,500 per year for a family of two/$38,100 for an individual. NYCHA residents will have preference on 25 percent of the units.
Lynn Faria, SAGE's Chief Officer for External Affairs described impressive amenities —including social services — that will be available to all seniors in the community, not just those who identify as LGBTQ.
"It will be an innovative senior center, which means it offers an array of activities, including meals as well as fitness classes, culture [and] a host of different programming that are responsive to the community."
Faria stressed that the center will be an inclusive space.
"It is LGBT-welcoming housing," she continued. "The programing that's offered will be something that's welcoming to a broad swath of the community and specifically will ensure that LGBT older folks are welcomed and feel safe and supported in that environment."
Following two hours of back and forth, Cumbo suggested that an opportunity to woo the population that might most benefit from this new development had been missed.
"That old Head and Shoulders commercial — 'You never get a second chance to make a first impression' — I think it's a case of that," said Cumbo.
Despite the heated debate, Mr. Britt of Ingersoll was not dissuaded.
"I'm a senior citizen, I just retired," he said. "I think the idea is good. Maybe the next meeting will be better."