Meet 2019 MacArthur Fellow Annie Dorsen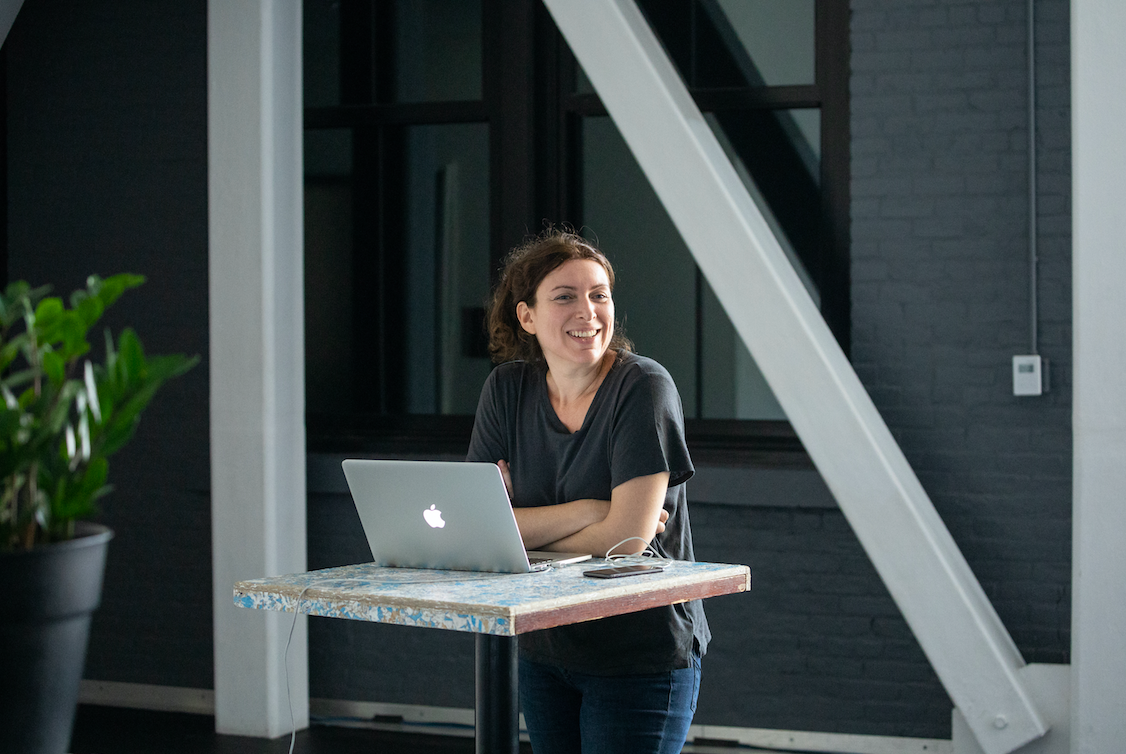 CARROLL GARDENS – The 2019 MacArthur Fellows were announced on Wednesday. The twenty-six honorees work in various disciplines—the arts, literature, law, science—and hail from all across the country, including Annie Dorsen, a Brooklyn resident.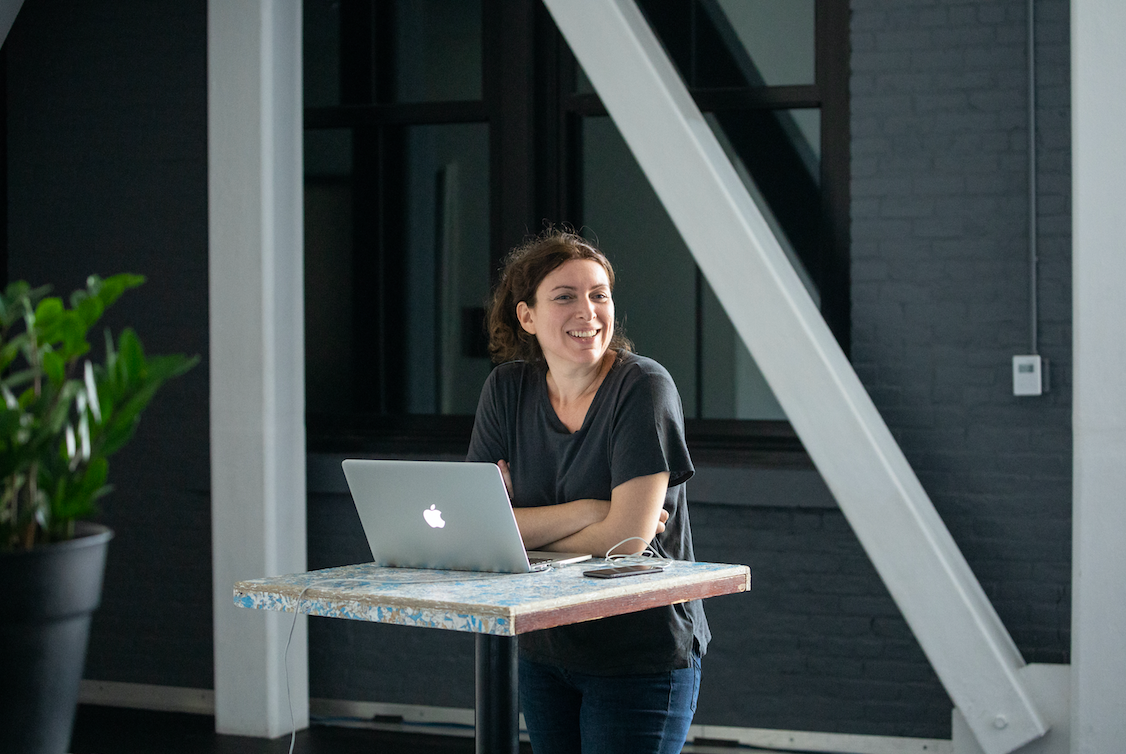 Each year, the MacArthur Fellows Program selects a group of "extraordinarily talented and creative individuals" offering each a "$625,000, no-strings-attached award" to support  their potential and encourage them to "pursue their own creative, intellectual, and professional inclinations."
Dorsen, 45, works as a theater director and writer. Originally from Manhattan, she has been living in Carroll Gardens since 2017. She works in "algorithmic theater," in which she collaborates with computer programmers to design software that performs "in place of or alongside human actors," she explains in a video on the MacArthur Foundation website.
"I was at rehearsal," she told Bklyner over the phone when asked where she heard the news that she was awarded the MacArthur Fellow prize. "We were on stage talking about the tech schedule and I got the call." Dorsen was working on a theater project in Illinois when she received the good news earlier this month. "It was a very normal story. I was just at work."
After receiving both her BA and MFA from Yale University, Dorsen worked as a freelance assistant director in New York and spent time in Europe exploring different types of theater and collaborating on various projects.
She premiered two projects in New York in 2008, Passing Strange on Broadway and Democracy in America at P.S. 122. Following the success of those projects, Dorsen decided to continue producing her own original work.
"I started thinking about a piece that would be about the Noam Chomsky and Michel Foucault debate from the early 70s," she recalls of her introduction to algorithmic theater. A friend suggested that she read an Alan Turing essay from the 1950s in which the computer scientist "lays out the principles of natural language programming but also some basic principles that are still foundational for the field of artificial intelligence," Dorsen explained. Her friend suggested the essay because "it's another perspective on the same topics that Chomsky and Foucault are talking about, mainly about language and creativity…and how language fits into our ideas about human nature," she said.
According to Dorsen, Turing argued that humans do not really understand the process of thinking or how humans think, so it is impossible for us to produce "genuine thought" in a machine. "He goes on to say, given that, what we can produce in a machine is the effect of thinking…the illusion of thinking. We can try to create a machine that could trick a human into thinking that the machine is thinking."
"Aha! This is theater," was Dorsen's reaction to Turing's theory. "It's about creating an illusion, creating a fiction. It's about creating a really good imitation of a human, which is in a way what actors do," she said.
With that insight she set out to produce Hello, Hi There, in which "two chat bots improvise a new dialogue at every performance." She worked with programmers to create a database of approximately 3,000 statements and excerpts culled from her own writings, You Tube comments about the Chomsky and Foucault debate, and western philosophy texts. "It's very eclectic," she said of the content.
She loaded the same database onto two computers so they could have an ongoing back-and-forth conversation with one another. "They're programmed to continue to respond," she said, "If they get an input, they give an output, so it's this automatic, never-ending response machine." Dorsen premiered the work at the Steirischer Herbst festival in Graz, Austria in September 2010.
"From there I started thinking further what is it that I'm really interested in?" Dorsen said. "Is it artificial intelligence or is it the procedure? I decided it was the procedure of the algorithm, it was the step-by-step process and what I came to call 'algorithmic logic' or 'algorithmic dramaturgy.' How do algorithms sort and present information?"

In 2017, she produced The Great Outdoors, a piece about the internet and social media staged inside an inflatable planetarium. In it, the audience gathers for a "digital campfire" and listens to an actress read internet comments from Reddit, 4chan, and 8chan collected 24 hours before each performance and sorted into a script by an algorithm.
Following the 2016 election, Dorsen wanted to create something that offered a sense of camaraderie. She also wanted to address the overwhelming amount of information online, "how much we're bombarded with different opinions, ideas, stories, problems and crises going on all over the world that we can't do anything about."
"We're gathering around this 'digital campfire'…and telling stories, but the stories we tell are not our idea of some ancient legacy, the sort of folktales that tell us who we are," she said. "These are stories that are right now, immediate, ephemeral, anonymous…. It's sort of unclear what cultural value they have. It's not the elder, it's not the wise one telling us these stories. It's just us, just our sort of ignorant lost selves."
The program collects approximately a million comments in 24 hours, according to Dorsen, which it then sorts and narrows down to about 200 to 250 for each script. The algorithm is also programmed to put the comments in an order that has a dramatic structure using a principle called information entropy which tries "to measure the density of information in a given message," Dorsen said, or find "how predictable or unpredictable" a certain message is.
"If you get the first two letters 'h, e,' can you predict that the word is probably 'hello'?" she explained of the theory. "That would be a lower information density than getting the first two letters 'h, e' and the word turns out to be 'heliotrope.'"
They used this to create dramatic structure in the scripts, "moving from low entropy, most predictable, most common, least dense, to most complex, most dense, least predictable," she said. "There was a kind of a linear increase in complexity over the course of the performance which means it started with very simple, banal phrases, 'No. Thanks. Happy birthday. You're welcome. How are you?' and it moves into more specific and more substantial comments" about politics, relationships, etc. "Just these voices from the wilderness of people spilling their guts out anonymously into the void," she said.
Though it sounds incredibly complex, Dorsen insists it's not. "It wasn't that complicated, it was fun. It's fun to try to figure out how to solve these problems and what kind of information you can identify that an algorithm can use to do that selection."
"I almost always work with very, very simple programs," she added. "For the most part, over the last several projects, I've worked with very simple stuff…very much by design. What I like is that you get an experience of the content of what the algorithm produces, but also the algorithm itself. The process is simple enough that even as a lay person, you can kind of understand what it's doing," she said.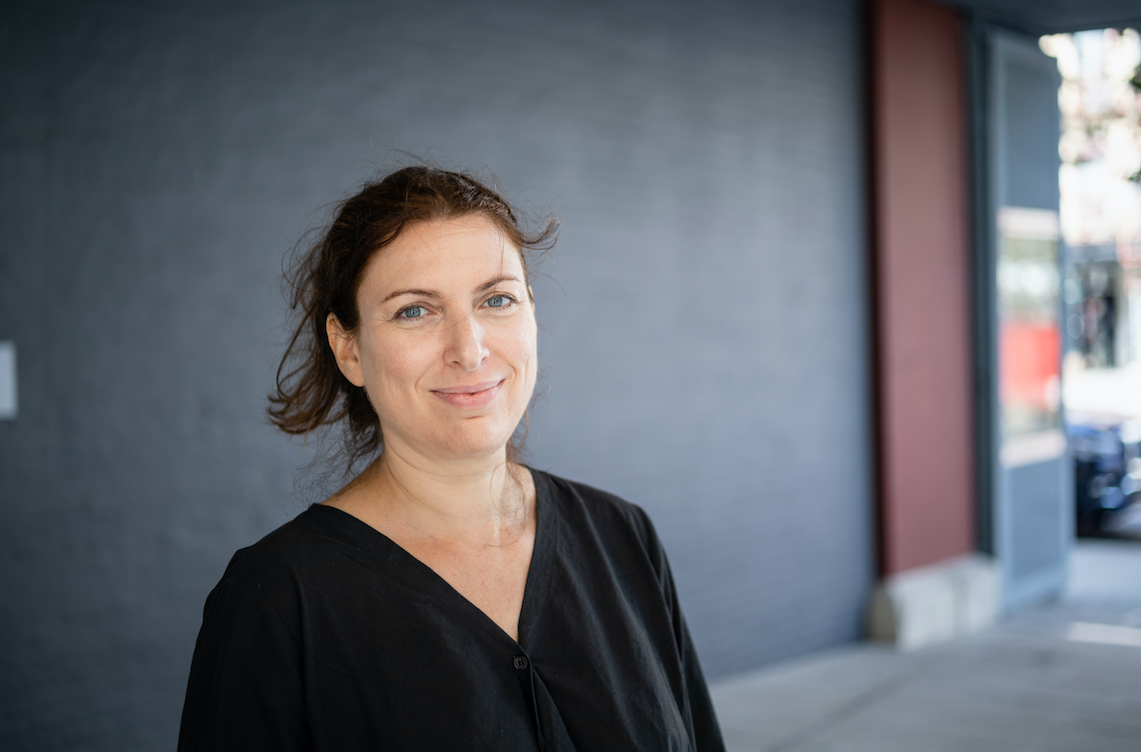 Dorsen's most recent work, Infinite Sun, an algorithmic sound installation, was commissioned by the Sharjah Biennial 14 earlier this year. She programmed 11 laptops to "chant from morning until night and to cycle between existing mantras, from many different religious faiths, to invented ones," she explained.
Several monks chanting together are believed to "increase the amount of peace in the world," she said. "I was imagining if you could program a bunch of computers to chant all day long, would that increase the potential for peace in the world? Does it have to be a human with a mind chanting or is it just the syllables that have this incantatory power?"
The laptops created a "beautiful" cacophony, she said. "Musically it turned out really nice and very peaceful."
Dorsen is currently working on a couple of projects that she is not ready to announce yet. Since being awarded the MacArthur grant, she's decided to take some time to "think things through about what I want to do next." She plans to write about algorithmic theater, "…and for the rest, let's see," she says.
"One of the first things I thought when I got the news, was what kind of lineage this puts me in and it's a little bit overwhelming," she admitted of being among the MacArthur Foundation's roster of accomplished geniuses. "It's incredible encouragement, but it's also a little bit of a prompt to go further, do more. Don't be afraid."