Mayor Brings 'City Hall In Your Borough' To Brooklyn This Week

Mayor Bill de Blasio is working from home this week. Starting on Monday, August 20, de Blasio and members of his administration will work from the Mayor's home borough at Brooklyn Borough Hall and attend a series of events including a town hall meeting scheduled for Thursday.

"City Hall is moving to Brooklyn," [from Monday, August 20 through Friday, August 24] reads a video posted to Twitter announcing the "City Hall in Your Borough" program in which the administration will focus on the borough for the week.
"'City Hall in Your Borough' is designed to allow the administration to hear directly from residents and focus on their concerns for a full week," the mayor explained, according to the Brooklyn Daily Eagle.
The Mayor Members of the Mayor's staff kicked off their sojourn in the borough this morning by bicycling with Brooklyn Borough President, Eric Adams, across the Brooklyn Bridge from City Hall to Brooklyn Borough Hall on new pedal-assist Citi Bikes. Citi Bike will begin integrating 200 pedal-assist bikes to its NYC fleet of bicycles, adding a total of 1,000 pedal-assist bikes by next year in an effort to ease commuting woes when the L train shuts down in April 2019 for repairs.
"What better way for my team to roll out their hard work in Kings County this week than by having them start with a bicycle ride over the beautiful, iconic Brooklyn Bridge," the Mayor said in a statement.
Later in the day, the Department of Social Services will recognize Child Support Awareness Month at the HRA Office of Child Support Services at 1 MetroTech Center and the Mayor's Office of Media and Entertainment will tour Steiner Studios at the Brooklyn Navy Yard.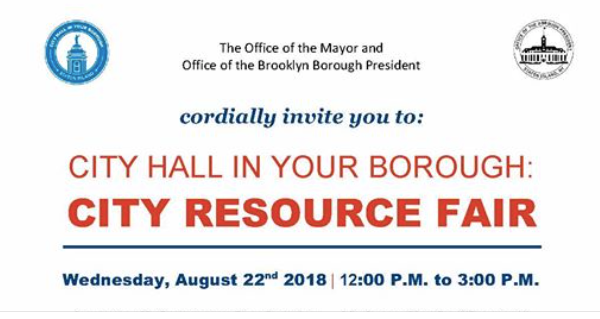 Along with ribbon-cuttings and press conferences throughout the week, there will be a City Resource Fair at the Ingersoll Cornerstone Community Center at 177 Myrtle Avenue (at Prince Street) in Fort Greene on Wednesday, August 22 (12pm to 3pm). The Mayor and officials from various city agencies will "answer your questions on all topics."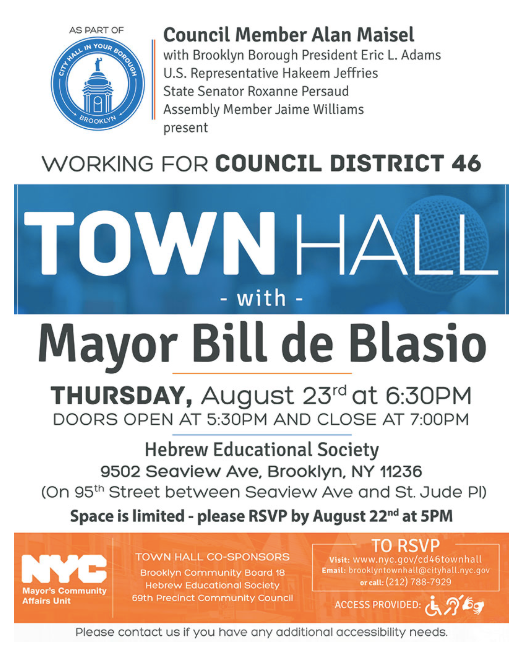 On Thursday, August 23 (6:30pm) the Mayor will hold a Town Hall at the Hebrew Educational Society at 9502 Seaview Avenue (E 95th St. between Seaview Ave. & St. Jude Pl.) in Canarsie. Space is limited and a RSVP is required. RSVP by Wednesday, August 22 here or visit www.nyc.gov/cd46townhall or email brooklyntownhall@cityhall.nyc.gov.