'Max Rose—Do Your Job, Close The Camps'
BAY RIDGE – People across the nation gathered in their neighborhoods to protest against the border camps on Tuesday. The hashtag #CloseTheCamps was created and in Brooklyn, about 200 neighbors gathered outside Congressman Max Rose's office urging him to do better.
"What's outrageous? Kids in cages," protestors shouted yesterday, July 2, at around 4 p.m. They had three demands for the congressman: Close the camps, defund detention centers, and reunite families.
Rose had voted in support of H.R.3401, which allows for "$4.5 billion in FY2019 emergency supplemental appropriations to federal departments and agencies for humanitarian assistance and security to respond to migrants attempting to enter the United States at the southern border."
The bill provides appropriations for the following:
U.S. Customs and Border Protection
U.S. Immigration and Customs Enforcement (ICE)
Federal Emergency Management Agency
Rose's constituents weren't so happy. Many held signs stating, "Hey, Max. Wanna be a problem solver? Close the camps!" and "Sorry—I can't hear your family values over your children in detention!"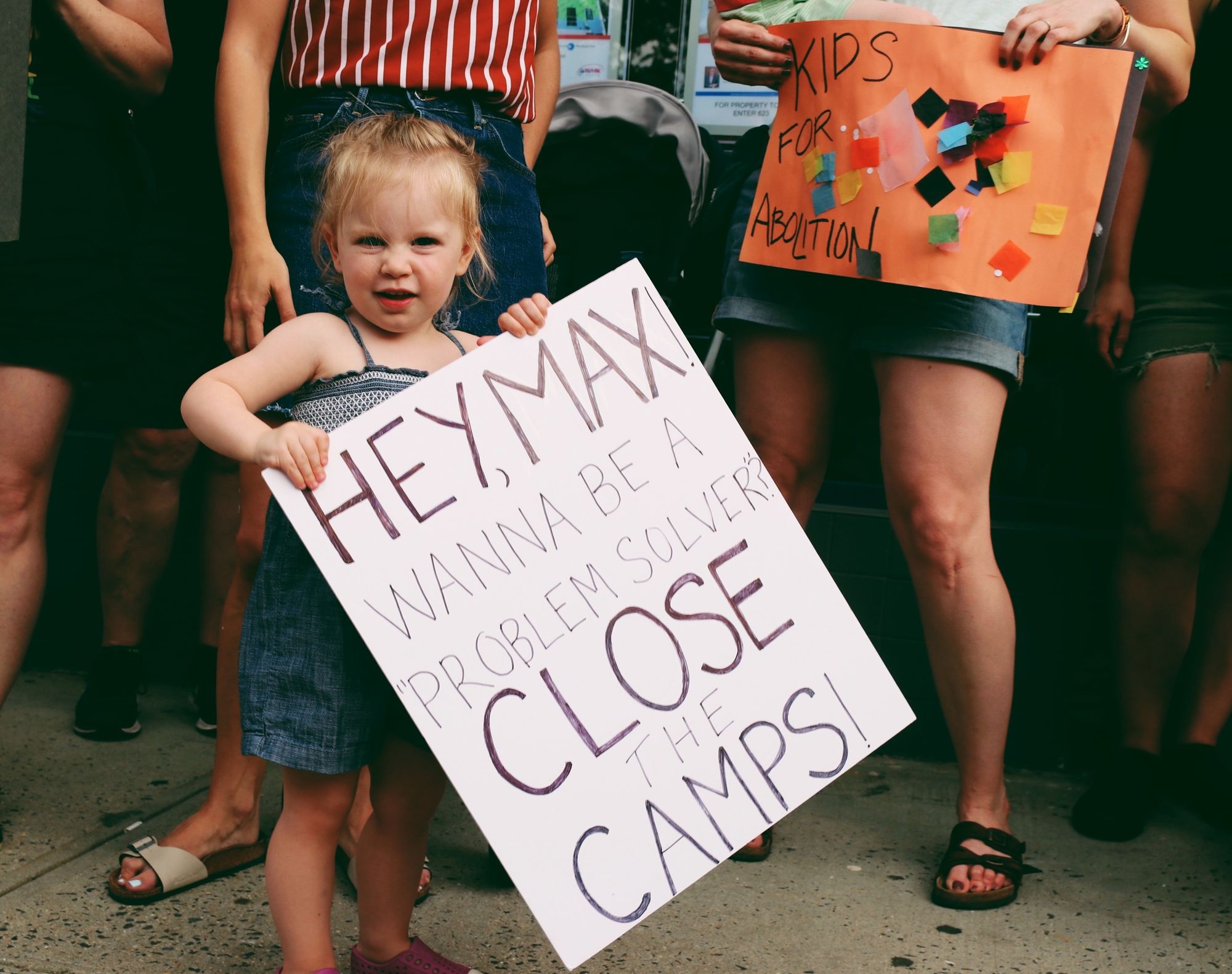 The weekday protest was hosted by several local groups and organizations, many of whom advocated fiercely for electing Rose during the elections, including the Arab American Association of NY, Above Ground Railroad Staten Island & Brooklyn, Action Corps, Bay Ridge for Social Justice, Dream Action Coalition, El Centro del Inmigrante, Fight Back Bay Ridge, La Colmena, NY Immigration Coalition, NYS Immigration Action Fund, Peace Action Staten Island, South Brooklyn DSA, South Brooklyn Progressive Resistance, Staten Island Immigrants' Council, Staten Island Women Who March, Move Forward Staten Island, Union of Arab Women, Yalla Brooklyn, and Yemeni American Merchants Association (YAMA).
YAMA's Advocacy Director Ayyad Algabyali, who led many of the chants, read aloud a statement by YAMA. For that, he turned to face Rose's office.
"We are saddened by the position you have taken on the horrendous camps on our country's borders. We are witnessing the injustices of what those migrants are facing on our border," he said. "You have been a champion for our community, Max Rose. Especially for the Yemeni-American community. You have fought against…the Muslim ban and the Trump administration. And we want you to keep fighting for those people on our borders."
"We want you to keep fighting for those families and bring them together and represent our American values," he continued.
During the protest, the names of the six migrant children who died in US custody were read aloud in a powerful moment. It was met with a moment of silence and shouts of "shame."
"We have the duty to fight for our freedom. We have the duty to win. We must love and support each other. We have nothing to lose but our chains," people chanted in the heat throughout the hour and a half rally.
A woman was standing on the edge of the sidewalk holding a poster that said "Shame." She said she was not Rose's constituent but worked hard to get him elected and flip the seat. She said Rose needs to listen.
"He's not doing what I asked him to do," Amy Plattsmier told Bklyner. "He works for us. He needs to work for kids. This is a red line for me as a Jew, this is a red line for me as an American, this is a red line for me as someone who is anti-racist. It's all wrong."
"There are things you have to compromise on and absolutely this is the red line," she continued. "You do not compromise on something like this."
Rabyaah Althaibani, the co-founder of Arab Women's Voice, acknowledged that Rose has been a great ally to the Yemeni community, but, he needs to be doing more.
"I'm truly disappointed with the position he took on the camps and that he voted for that bill," she said.
During the protest, a young boy grabbed the megaphone and led a chant. He said,
"Please repeat after me."
"Tear the wall. Close the camps. End the tyranny. And most importantly, free the families! Give it up for America!"
The crowd cheered and someone asked, "Is this kid available for adoption?"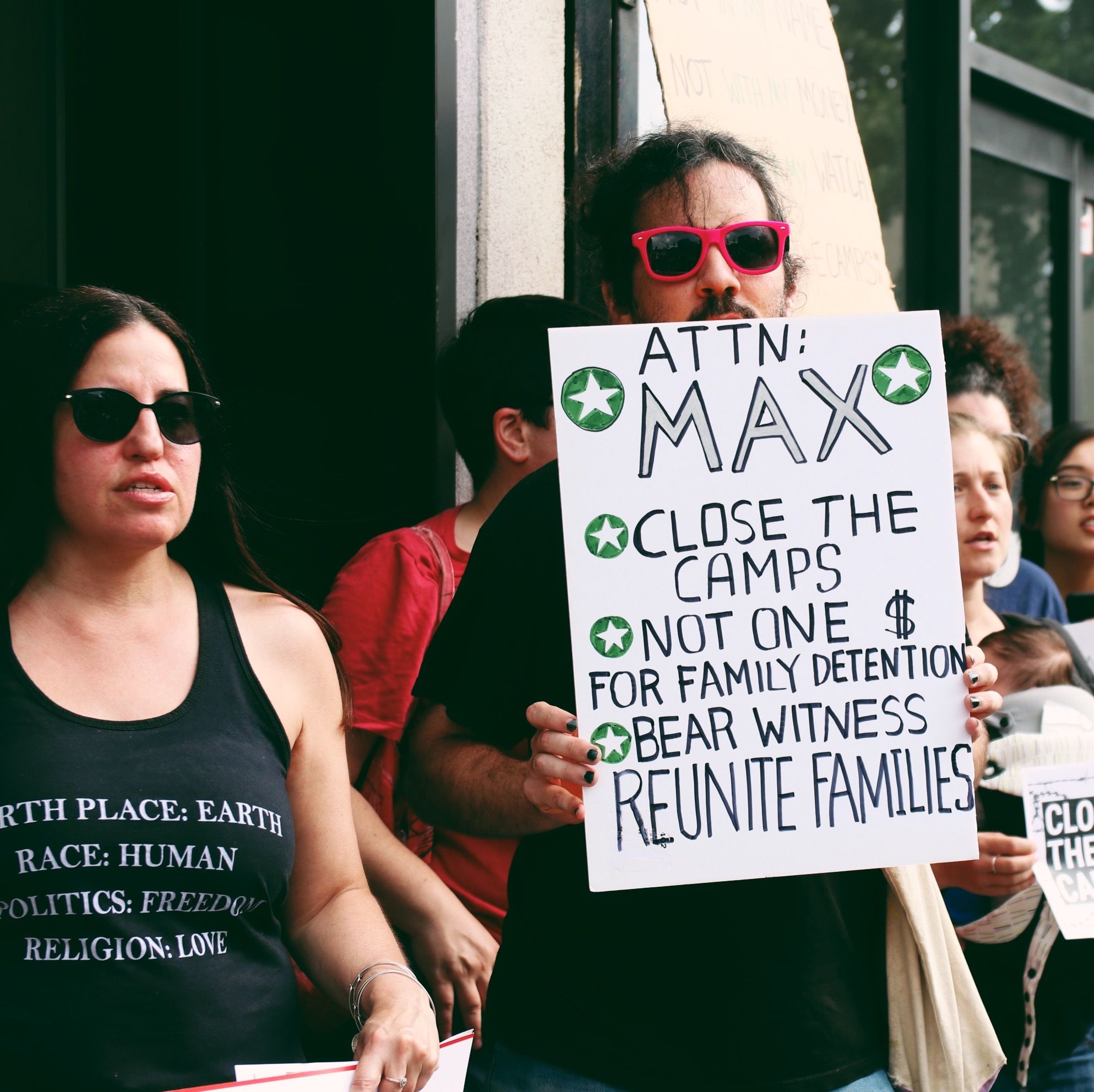 Throughout the protest, a letter on a clipboard was being passed around. The letter listed the three demands for Rose and was to be delivered to him at the end of the day. People were asked to sign it.
Sally McMahon, one of the organizers of the protest and a co-founder of Fight Back Bay Ridge, said she was impressed by the turnout. She said this cause is especially important to her and she wants Rose to see that.
"Children are in cages. They are suffering and dying because these camps are inhumane and purposely torturing human beings. People are treated without a shred of human dignity and made to suffer horrendous conditions and degradation," McMahon told Bklyner. "As a person of good conscious, I must speak up and fight these conditions for those who can't. I want these camps closed and I want Congressman Rose to act immediately."
"I want him to immediately mobilize and go bear witness to these camps, vote against any more funding, and work to close the camps and reunite families," she continued. "We are passionate about this issue and will continue to grow our movement. Many of these people worked to get Rose elected but we want him to see we do not have unconditional support. When he is wrong we will let him know."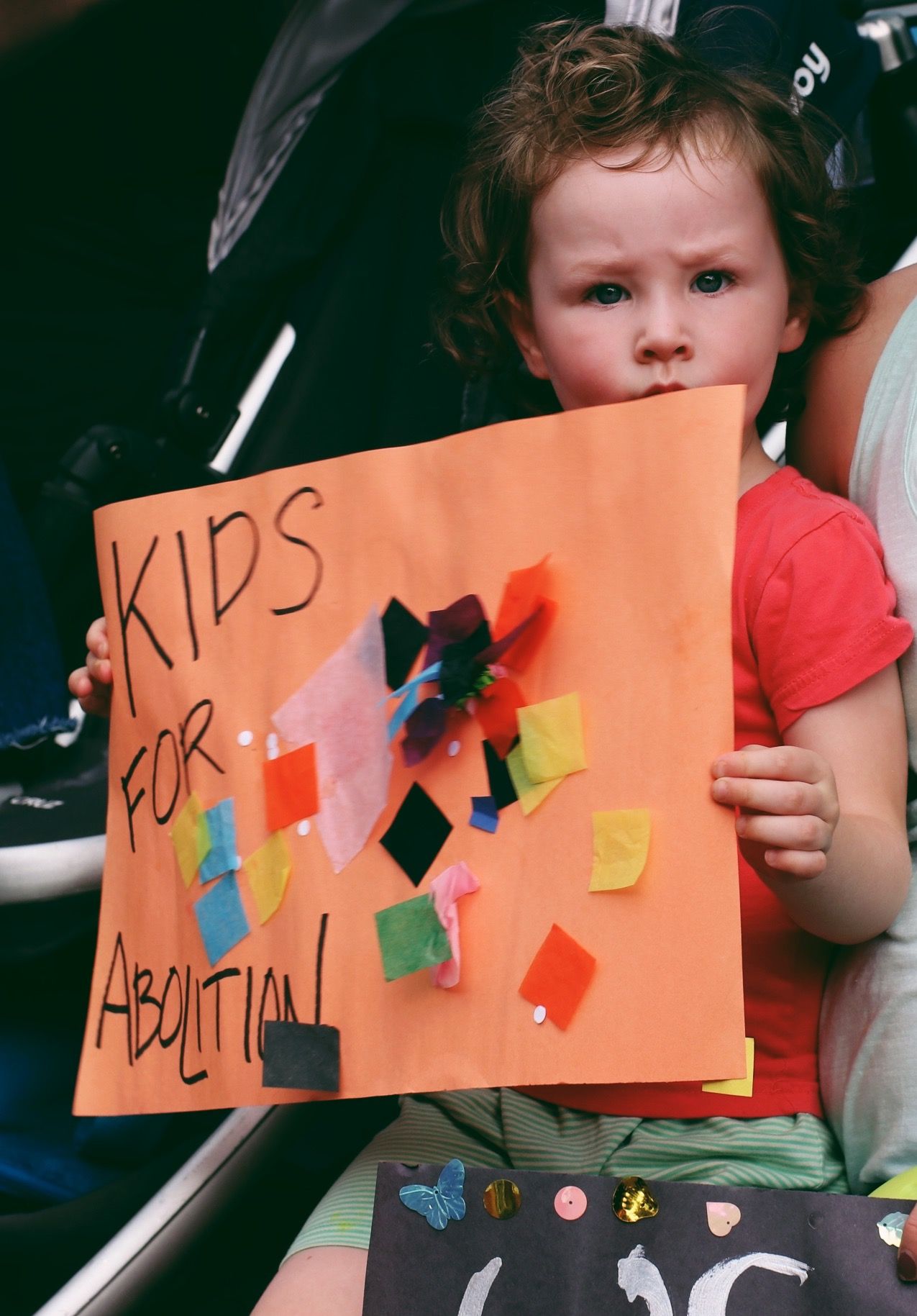 Natalie DeVito, a fierce neighbor and organizer, said she was outraged by the atrocities happening at the country's borders. She told Bklyner she demands immediate action by "our congressman who was complicit in funding further abuses while stripping all accountability from the latest piece of legislation."
"We are not taking our eyes off him or this issue; he can be an actual problem solver or a former congressman," she continued. "And if he thinks the voters and volunteers are naive, we've shown him we know even the granular levels of legislation and will demand action and integrity from our electeds."
During the protest, Rose released a statement in which he said he would be visiting the camps sometime this summer. To note, last week, several members of Congress visited the detainment camps. Rose was not one of them.
"As I have said repeatedly, the conditions at the border and the disgraceful treatment of babies, children, and women is unacceptable. It is a direct result of the callous disregard this President has shown to human beings who are fleeing from violence, starvation, and other horrors," Rose said. "The conditions in the camps must not be allowed to continue and that is why I voted to ensure the money went directly to fixing the issues there."
"It is incumbent on all members of Congress to hold this Administration accountable and exercise our Constitutional powers to ensure the money is not only spent, but it is spent correctly," he continued. "Which is why I also am planning to visit the border to see these facilities first-hand this summer."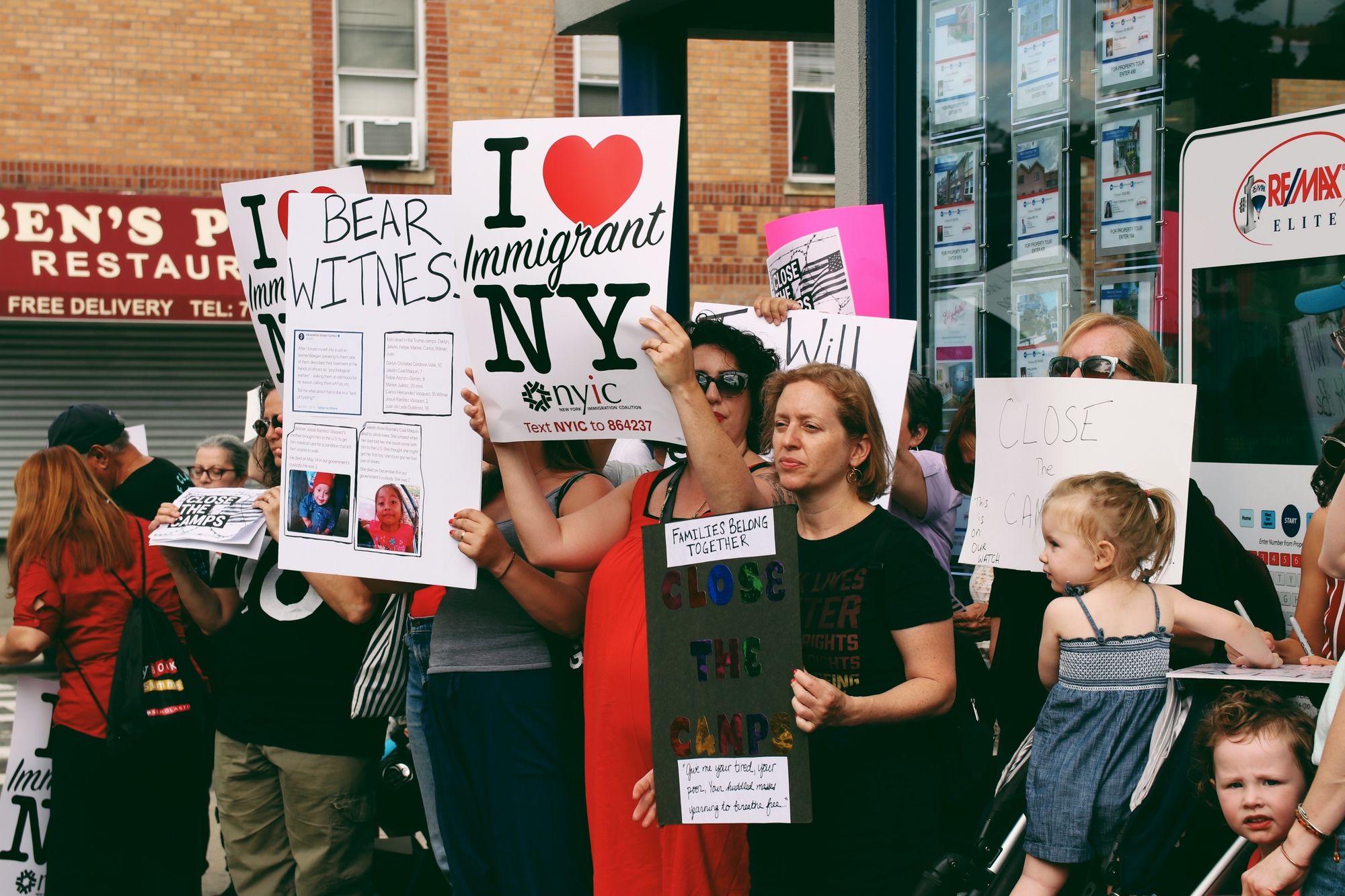 It is the last part of his statement that many of his constituents are counting on him to do (along with the other two demands, of course).
Yousef Abouareda is an 18-year-old incoming freshman at New York University. He came from Park Slope to protest outside Rose's office. Yesterday was his first time holding a megaphone and leading chants. He said that felt awesome, but he lost his voice.
"I believe that every single human being has certain rights. It doesn't matter where you are from, what religion you follow, or what your culture is," he told Bklyner. "The important thing is that we all unite together in order to fight for the same cause."