Maloney to Rally for Impeachment
GREENPOINT – Rep. Carolyn Maloney, who represents parts of Brooklyn, will join a rally to call for President Donald Trump's impeachment, Kadia Goba of BuzzFeed News reports.
"Rep. @CarolynBMaloney to attend #impeachtrump rally this weekend at Foley Square, suggesting the NYC congresswoman will join the growing group of fed lawmakers calling for impeachment," Goba said Thursday on Twitter.
Maloney, in a tweet, confirmed she would be attending the rally, which will begin at 12 p.m..
"See you there," she said on Twitter, before pinning the post to the top of her Twitter page.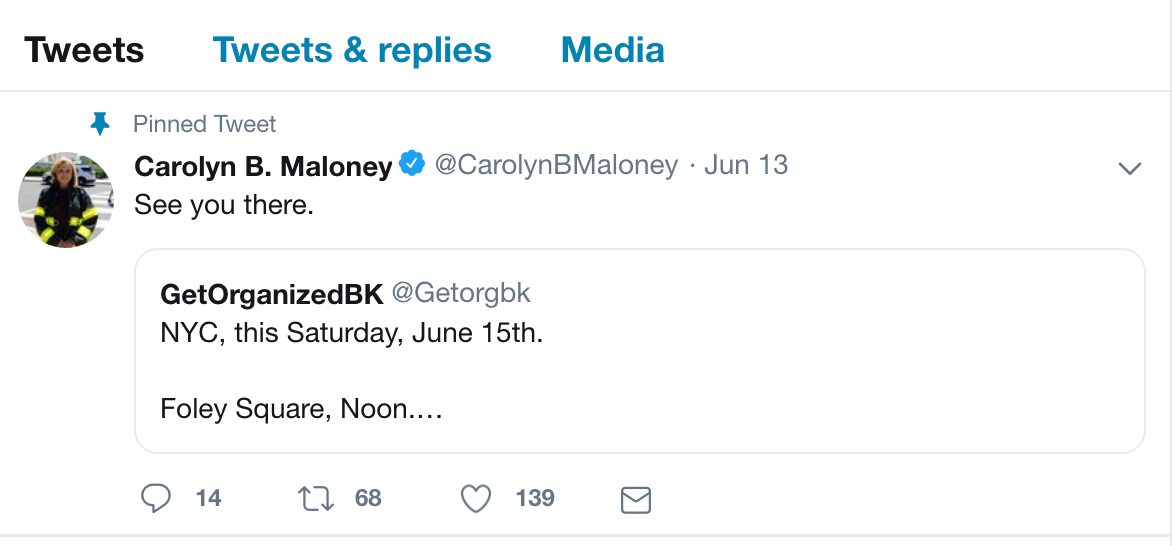 The veteran lawmaker, who represents the New York's three-borough 12th Congressional district, which includes Greenpoint, joined Rep. Jerry Nadler of Manhattan and parts of Brooklyn in calling for an impeachment inquiry in June. The move also puts Maloney at odds with New York Senator and Minority Leader Chuck Schumer, who has not called for the president's impeachment.
A center-left longtime politician who first held office in 1982, Maloney faced a primary challenge in 2018 from Suraj Patel, and already has challengers gearing up for 2020. Former public advocate candidate Dawn Smalls is going to make an attempt at unseating Maloney, Bklyner reported last month. Erica Vladimer, a former state Senate staffer and member of the Sexual Harassment Working Group, will also run for the seat, HuffPost reported earlier this month.