Making Black Gold
I'm making black gold. You can too.
I ordered a compost bin online as a birthday present for myself. My birthday came and went but the compost bin never arrived. I complained to a friend who mentioned the Brooklyn Botanic Garden; they encourage composting by selling everything you need to be a successful composter at an affordable price. I immediately cancelled my online order and emailed Emily at the Brooklyn Botanic Garden. I picked up my Garden Gourmet for $61 from their office at 109 Montgomery Street. Make an appointment at least one day ahead of time if you plan to do the same.
24% of landfill is compostable, according to the New York City outdoor composting guide Emily gave me with my Gourmet Gardener. A New York Times article on composting claims between 13% and 16% of that is compostable foods scraps. Minimal composting at a household level could have huge implications for our planet. Act locally.
Fellow Ditmas Parker Tracey Hohman's compost pile was featured on Urban Gardener. Her composting system is more complex than mine–I dump and leave–though I'm going to steal some of her tricks. Nice screen, Tracey!
My foray into composting began when I finally got outdoor space: a postage-stamp sized cement slab dubbed a "backyard." (Some New Yorkers compost in Tupperware containers under their beds. If you do that, more power to you. I want mine outside.) My son/co-gardener and I procured a garbage can and worms. We gathered brown leaves and dumped them in the can. On top of that went our CSA scraps–bok choy we never used, chard, beet leaves. Occasionally, if we thought the compost was too moist, we'd rip up newspaper. Compost should be damp "like a rung out sponge," according to the outdoor composting guide. When the CSA ended, so did our composting enthusiasm.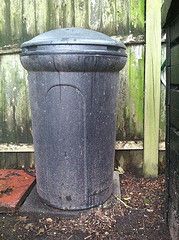 Our garbage can compost bin sat all winter, but when the CSA started up again, we needed to get our head out of the muck and figure out how to use what we made. We needed to see what it was we actually made. Was it compost? Or was it still composting? Finally, we just tipped over the can; what was the worst that could happen?
We were rewarded with rich, glorious soil! Radish tops and lettuce hearts decomposed to luscious coffee-ground-like dirt. Humus, it's officially called. We mixed the humus with comparatively sterile, store bought top soil creating an accidental science experiment.  We planted tomatoes in a topsoil/compost blend until our compost ran out. Our remaining tomatoes we sank into store bought soil. Can you see the difference?
I'm thrilled for the Gourmet Gardener upgrade but won't trash my garbage can. I have more available composting space, and if Tracey's leaf and twig pile reaches the top of her roof, I still may need to expand further. My goal is to compost every issue of my husband's New York Times with our limp lettuce and bruised beets. (Will my soil be nutritious and intelligent?)
If you want to make your own black gold–soil, not oil–the Brooklyn Botanic Garden gives workshops in the art of composting. The Bureau of Waste Prevention, Reuse and Recycling is a great resource. Perhaps you want to compost, but don't have a yard and, like me, are chicken to compost under your bed. Bring cut up food scraps–no meat, bread, oil!–to Flatbush Reformed Church or to Compost for Brooklyn. Sundays from 8am to 1pm, Grow NYC has communal compost bins at the Cortelyou Greenmarket.