Lots Of Action Around "Derelict" Van On Avenue X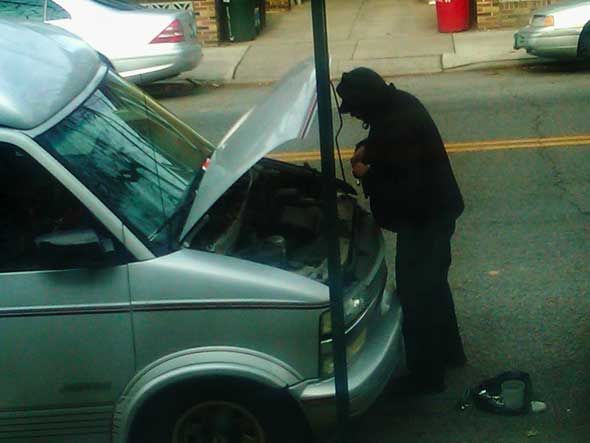 It's been a busy day for that van we told you about on Monday that has occupied a parking spot for six months despite complaints to the city. As we mentioned, the van is packed with what we'd say is a suspicious number of bicycles.
The reader who first told us about it wrote to us this morning with the following message:
The "Derelict Vehicle" with "License Plate" that I complained to you about received its first ticket about 7:30 this morning. It looks like it's on the road to departure.
Thank you, Sheepshead Bites! You get things done.
We assume the ticket was for an expired
registration
inspection sticker, which gives the city authority to tow it.
Since that e-mail, he's sent us several others. Apparently the van was being watched by a police officer in a scooter for several hours this morning. Another man, all dressed in black and presumably the owner, came by on a bicycle, saw the ticket, put it back where he found it and wrote a note. It was the first time our reader ever saw anyone interact with the van in the six months it has been there.
The man we think is the owner came back a little later, opened the hood of the car, and pulled out the battery before riding off again. We're guessing the car was dead and he's on his way to get a new battery and remove it from the street.
It looks like we've now got a race on our hands: will the owner replace the battery and remove the vehicle from its spot on Avenue W near East 21st, or will the city tow it?
Either way, the reader is looking forward to a freed up parking spot.
Looks like we're going to need a name for this service we provide, just like WPIX has "Help Me Howard." How 'bout "Back Me Up, Bites"?
Yeah, I know. Lame.