Log Cabin Bar Rebrands As The Brass Rail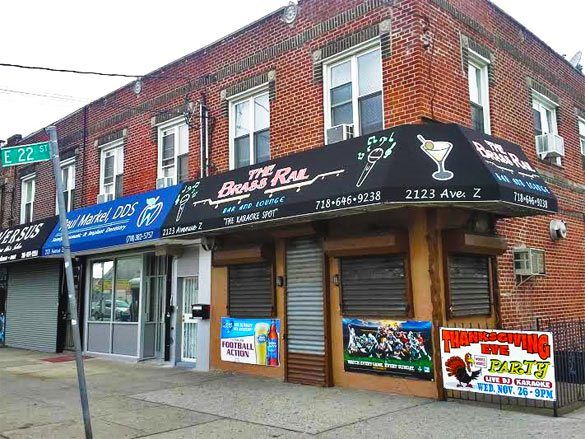 The Log Cabin, one of Sheepshead Bay's oldest bars, has slashed its storefront in half and is now going by the name The Brass Rail.
Established in 1987, the local staple at 2123 Avenue Z took up two storefronts on the corner of East 22nd Street for decades. But the owners reduced its footprint some time after Superstorm Sandy. That part, 2121 Avenue Z, is now leased by dentist Paul Markel.
The bar launched several new beer options on tap as well after years of being known to locals as the place with "several taps, all Bud." They've also been doing a lot of themed events, including a pajama party, 80s party and, as seen in the photo above, a Thanksgiving Eve Party coming up in two weeks. Unfortunately, it was also one of the last bars in Sheepshead Bay with a pool table – and that is now, sadly, gone. The karaoke will go on, however, as indicated by the new line on their awning: "The Karaoke Spot".
Best of luck to the new Brass Rail, as well as to Dr. Merkel!