Loehmann's Seaport Plaza Expansion: Community Investment Or Landlord Bailout?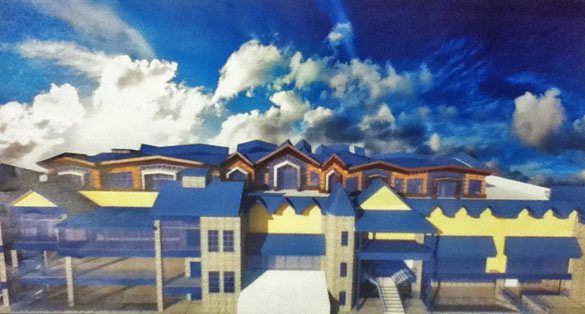 Community and civic leaders met with representatives for the owners of Loehmann's Seaport Plaza to discuss a plan to add a new floor to the development. The heated discussion boiled down to whether or not the plan was an investment in the community's viability post-Sandy, or a bailout for a landlord who made a bad buy.
The invite-only meeting, organized by Councilman Chaim Deutsch, was attended by the owner's attorney, architect and traffic engineer to explain the project and its impact. Members of Community Board 15's zoning committee were in attendance, as well as members of the Bay Improvement Group, Manhattan Beach Community Group, and the Sheepshead Bay Plumb Beach Civic Association – all of which have expressed concerns about the project.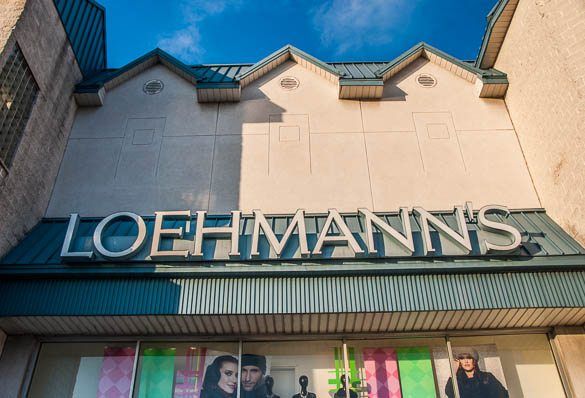 What's the plan?
The property's owner, Alex Levin, filed plans in March to add a new story of commercial offices to the building, totaling 10,000 square feet, as Sheepshead Bites was the first to report.
The news reignited a contentious fight with roots back to the early 1990s when the building was first proposed. Far outside the size limitations for the area's zoning, and with proposed uses that didn't match the Sheepshead Bay special zoning district, community groups fought to limit the scale of the project – largely without success.
The new plan to go even larger requires a recommendation from Community Board 15 and approval from the Board of Standards and Appeals. Originally set for a hearing in June, the developer agreed to two postponements to meet with concerned community members.
"We are sympathetic to your neighborhood; we're part of your neighborhood."
–Robert Palermo, architect.
The proposal asks not just for additional office space, which will fit four to five tenants, but also a waiver on the number of required parking spots. Zoning requires a minimum of 215 parking spaces with the additional office. There's currently parking for about 183 cars, and they plan on increasing that to 198 spaces.
Although locals who live off Emmons Avenue said parking remains a top concern, the reps said this would have no significant impact on the surrounding area, since the offices would be used during the day when the building's garage is nearly empty. According to their studies, parking peaks in the evenings and on weekends, when visitors come to patronize local restaurants and cruise boats.
The design includes 15-foot setbacks for the new floor making it invisible from the street, and is done with gabled roofs to keep it in line with a fishing village theme, said architect Robert Palermo. He shared a rendering of the proposed addition, seen at the top of this story.
"It's impact visually on the neighborhood is minimal," Palermo said. "We are sympathetic to your neighborhood; we're part of your neighborhood."
Construction would take a year or two to complete after approval, the representatives said.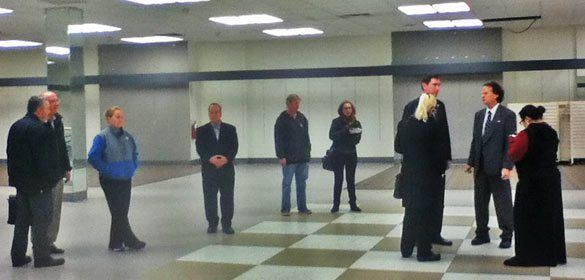 "This building is on the verge of failure."
The purpose of the plan, the developer's representatives said last night, is to make up for income that will never be regained after Superstorm Sandy devalued the sub-level storefronts.
"If this building fails … it's not going to help a soul."
–Eric Palatnik, attorney.
The 14,000-square-foot basement level of Loehmann's Seaport Plaza, which houses the Seaport Buffet and New Cats Cafe, among others, turned into an eight-foot-deep pool following the storm. Since then, the landlord has had to slash rents by 40 percent in order to attract businesses back to the area.
The bottom line, said attorney Eric Palatnik, is that the building is no longer commercially viable.
"We're having a hard time of it," said the owner's attorney, Eric Palatnik. "We're here to tell you that we lost income as a result of downstairs. And in order for us to make up that income, we need space upstairs."
The 10,000-square-foot space will bring in about 60 percent of the rent the basement commanded prior to Sandy, while the basement will continue to draw about 40 percent.
"It'll never get market rent again," said architect Palermo.
In sum, they said, the expansion plan is necessary because if the project goes belly-up the entire community will suffer.
"If this building fails, which it's on the verge of failing, it's not going to do anything for this community. It's not going to help a soul," said Palatnik.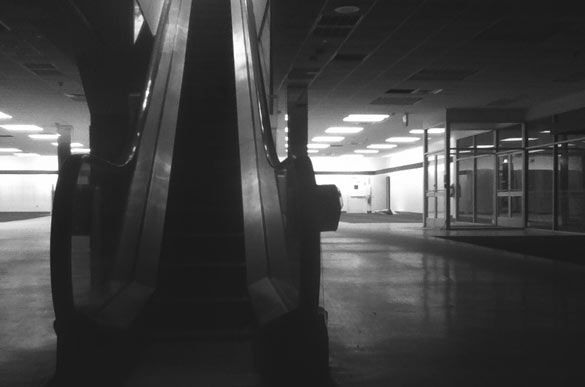 "Why should we bail you out?"
The argument that the exception ought to be granted for the building's viability has historical roots, Palatnik noted. The basement level was opposed by community advocates like the Bay Improvement Group as well as by City Planning, all of which warned that a flood posed a significant risk. But the Board of Standards and Appeals agreed with the developer in 1995 that it needed commercial space in the basement in order to make the project viable.
"[Loehmann's] was a failure. We now know, the experiment is over."
–Steve Barrison, Bay Improvement Group.
To the project's opponents, this is a case of buyer's remorse and they shouldn't be rewarded for a bad investment. Levin and his partners bought the property from the original owners in 2008 for $24 million, a local real estate record at the time.
"We're not saying it after the fact. We're not Monday morning quarterbacks," said Bay Improvement Group President Steve Barrison. "[The owners] bought it with their eyes wide open, and now they're saying, 'Oh we bought it. Look what happened. I'm a schmuck, I got stuck.' And the community is saying 'Why should we bail you out?'… Nobody is bailing any of us out."
Some expressed skepticism that there was demand for office space in the area, but both Palatnik and Palermo said that the increasingly white-collar, Eastern European demographics are looking for professional spaces near their homes – and other projects prove it.
"Offices will rent. The B'ay Tower that I did two years ago proves it. You give a quality office environment in a good location in Sheepshead Bay, there's a need for office space," said Palermo, referencing the new tower at 1733 Sheepshead Bay Road that he designed and is now fully leased.
Palermo and Palatnik argued that the community must grant the waiver because it will help stabilize commercial property values. As a bonus, area businesses stand to gain from the expansion, since office workers will provide a new lunchtime client base for restaurants and other small shops.
But Barrison said that's the same argument used to allow Loehmann's department store into the space contrary to zoning, and it no longer holds water.
"It was a failure. We now know, the experiment is over. Loehmann's came in, people shopped, and they left," said Barrison.
Loehmann's went bankrupt nationally
and
vacated the property in February
. A new tenant has not been found, though Palermo said it will remain a department store use.
Councilman Deutsch said he's yet to take a stance on the project.
"I think it's important for the members of [Community Board 15's] zoning committee and the community groups to know what they're voting on, and that why went to take the tour," said Deutsch. "I still have to discuss it with everyone, see what their position is, and their feeling is, and then I'll take my position if need be. Or maybe I'll just let the Community Board zoning committee vote on it, because that's what they're there for."
Community Board 15 Chairperson Theresa Scavo said much the same.
"I see a difference on Emmons Avenue [after Sandy,] and there isn't really the life that used to be two years ago," she said. "So I understand it probably is a heartache [for the landlord]. Down the road, let's see what happens. I want to hear from the general population of Sheepshead Bay."
The project is not yet scheduled to come before Community Board 15, but Scavo said it's likely to come up in January.