Local Soccer Club Kids Greet NY Cosmos Player Keasel Broome In Fort Greene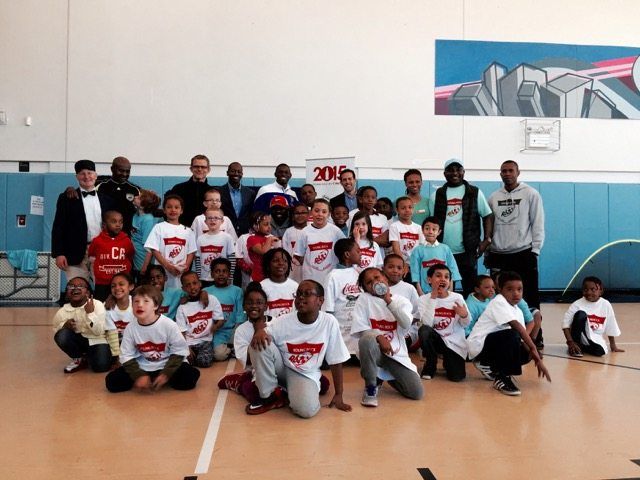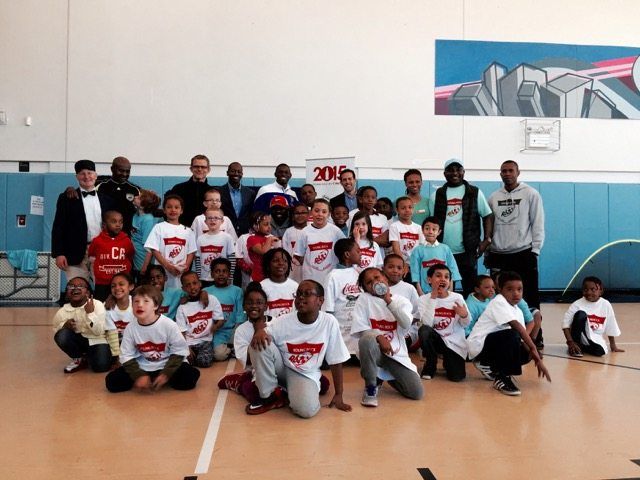 BY MICHAEL RANDAZZO
Last Friday afternoon, April 24, Ingersoll Community Center's expansive basketball court was filled with nearly 80 kids happily dribbling balls — with their feet. The occasion? A culmination celebration for a three-month community soccer project organized by Young Rock Soccer Academy, a local youth soccer club, at three different sites: Ingersoll, Madison Square Boys & Girls Club, Navy Yard Clubhouse and The Urban Academy of Arts & Letters / P.S. 20 The Clinton Hill School.
Neal Jeter, director of the Navy Yard Clubhouse, acknowledged the incongruity of the moment as well as the importance of introducing soccer at his community center, where basketball is king.
"Ordinarily, we would be playing basketball everyday, but it's a wonderful thing to give young people the opportunity to play a different sport," Jeter said.
Keasel Broome, back-up goaltender for the New York Cosmos professional soccer club, was on hand to greet the boys and girls from all three venues and encourage them to consider taking up the world's most popular sport.
Broome, who mentioned that he played football, basketball and baseball growing up in Delaware, let his young admirers know that being successful at any endeavor is all about commitment.
"If you have a dream, whether it's to play sports professionally or to get a big time job, hold on to that dream and don't let anyone take that from you," Broome said. "At the end of the day, your passion and desire to hold onto that dream are going to get you to the next level."
The first year professional, who played at Providence College where he backstopped the Friars to the quarterfinals of the 2014 NCAA Men's Soccer Tournament, signed autographs and let local fans know that the Cosmos have an upcoming match against the Ottawa Fury at MCU Park on May 2nd.
Josh Gold of The Coca-Cola Company, the project's lead sponsor, encouraged the assembled boys and girls, ages 6 to 10, to "put those video games away and go out and have fun, be active and play sports."
"I loved the class because I learned new skills to help me play better," said Donovan Larrier, a third grader at Arts & Letters. "The event was a lot of fun because we got to play against other kids. Plus it was awesome meeting an actual Cosmos player."
Carrie Larrier, Donovan's mother as well as chair of the Community, Charity and Giving committee for the Arts and Letters parents association, expanded on her son's comments.
"I'm so glad they were able to bring soccer to afterschool at A&L. With limited physical education instruction during the day and organized sports commitments on the weekend, it's great when a quality program is offered in the school," Larrier said. "I really hope they bring it back in the fall."
"This is a wonderful initiative to expose our young people and their parents to the game of soccer," said Olanike Alabi, state committeewoman for the 57th Assembly District. "Sports not only builds up character and teaches our young people great lessons, but more importantly, it improves the lives of so many children by focusing on health, agility and stability."