Local Leader Launches Preemptive Attack Against Three Proposed Bike Lanes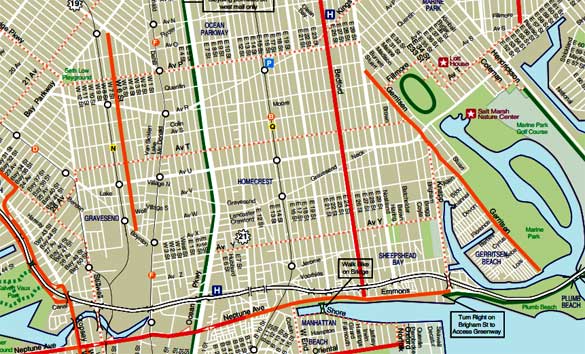 Community Board 15 Chairperson Theresa Scavo is blasting the city's plan to add three new bicyle routes in the Sheepshead Bay area, saying it puts cyclists' lives at risk.
The city's master plan for bike lanes identifies Avenue Y, Avenue T and Avenue P as potential bike routes within the boundaries of Community Board 15. The exact paths of the bike routes are:
Avenue Y between Ocean Parkway and Knapp Street. Knapp Street is also a proposed bike route between Emmons Avenue and Gerritsen Avenue.
Avenue T between Stillwell Avenue (where it branches off to Bath Beach and Coney Island) and Gerritsen Avenue.
Avenue P between Stillwell Avenue (where it joins another proposed bike route heading up Bay Ridge Parkway) and Nostrand Avenue. At Kings Highway there is a proposed spur that runs up Kings Highway into Canarsie.
While the bicycle routes might look good on paper, providing east-west bike paths to connect Southern Brooklyn communities, as well as intersecting major bike routes already in existence, Scavo said the reality of those roadways does not provide cyclists with safe passage.
"First of all, those plans were made 10 years ago," Scavo said, referring to the city's master plan for increased bike transportation. "Avenue P is so dangerous, there are trucks double parked. Avenue Y, with Marhsalls going in and Stop and Shop – how can you have a bike go by those parking lots? It's ludicrous!"
Scavo has mentioned the issue during her Community Board 15 report at a handful of recent civic meetings. She also contacted the Department of Transportation Brooklyn Commissioner Joseph Palmiere to express the Board's opposition.
However, according to a DOT spokesperson, the agency has no intention of implementing those routes anytime soon. Additionally, due to recently passed legislation first introduced by City Councilman Lew Fidler, the DOT would need to hold a hearing in conjunction with the local community board before implementing any new lanes in New York City.
But Scavo said she's just sounding the alarm so that the community is aware, and to keep the DOT from wasting its time with a plan that would be dead-on-arrival.
"I am just alerting them that those are not good locations and don't even try it," Scavo said. "Avenue Y is a bottleneck. Avenue T is a bottleneck. And Avenue P is death for anyone who would bike there. I made it clear: those places for bike lanes are out of the question."