Local Art Group Gives Troubled Teens Attention, Skills And A Second Chance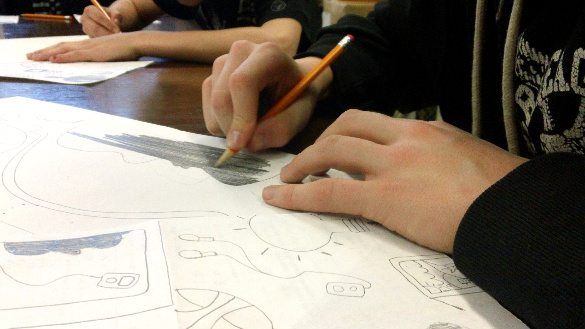 The Brooklyn Streetcar Artists' Group launched a free program this week for troubled youths who have been arrested due to minor offences and for students on probation, with the hopes of nurturing their creativity and helping rehabilitate them.
The program builds on the group's mission to "promote interest in the arts and nurture the creative spirit of our youth" by enriching the lives of kids who have taken a wrong turn. Using art, BSAG will help them focus their creativity into productive efforts and encourage them to get back on track.
Jennifer Amass, professional artist and three-year art teacher will teach these students basic art skills and guide them towards creative self expression.
"My goal is to not only teach them the fundamentals of art but to teach them how to express themselves through art and maybe open their eyes to it," said Amass, as she watched the students draw silhouettes of themselves and fill the page with things they identify with, including basketballs, headphones, music notes and laptops.
"I think this will open their eyes and help them form a path they want to go on, helping them form an expression," she added.
The program is currently held every Wednesday at William E. Grady High School (25 Brighton 4th Road) in room 115 and consists of eight sessions.
The students, engaged in their artwork at the first session this Wednesday, sat quietly as they shaded in their silhouettes and smiled from time to time when complimented on their work.
"That is absolutely unbelievable, they are spectacular, really beautiful," Community board 15 Chairperson Theresa Scavo told the students as she gazed at the three different artworks presented to her.
"You can see that they are really engrossed and that they are really getting involved," she said.
After explaining that the students involved have been arrested for minor offences while some are on probation, NYC Department of Probation Director Claudia Hinkson said that she thinks the program will be "awesome" for the students.
"They will learn technique skills and I really believe and hope this program will keep them out of trouble," said Hinkson.
Both Scavo and Hinkson explained that while some children are lacking attention, programs like these are a great way for children at risk to get one on one attention.
"Many parents are working and these students need all the attention they can get. Programs like this are so important because there are people with time who are there, people who can give them the attention they need," said Scavo. "It's a great way to keep them out of trouble."
BSAG Executive Director Arthur Melnick said that the enrichment program is part of their mission to create opportunities for artists and art lovers of all ages. He said he hopes to expand the program to additional locations and various organizations, eventually including students of all ages and backgrounds.
"The Department of Probation is a great place to start," said Melnick. "Most kids like to doodle and I really think we could provide some great opportunities for the students."