Life On Spaceship Earth: Exhibit Calls Attention To Endangered Species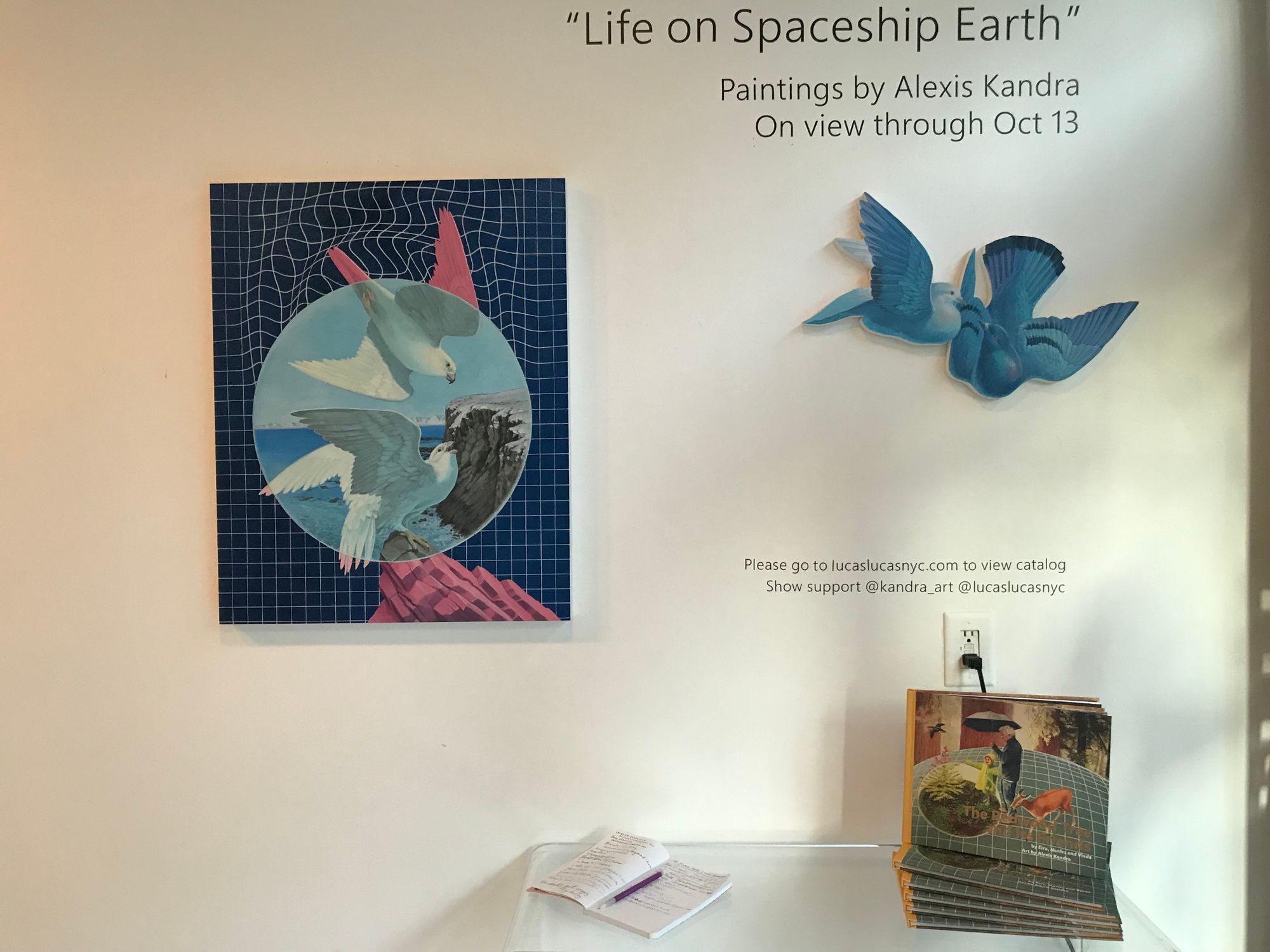 WILLIAMSBURG – Lions and tigers and dinosaurs? A menagerie of animals from different classes, climates, and eras mingle in artist Alexis Kandra's surreal paintings currently on view at Lucas Lucas in Williamsburg.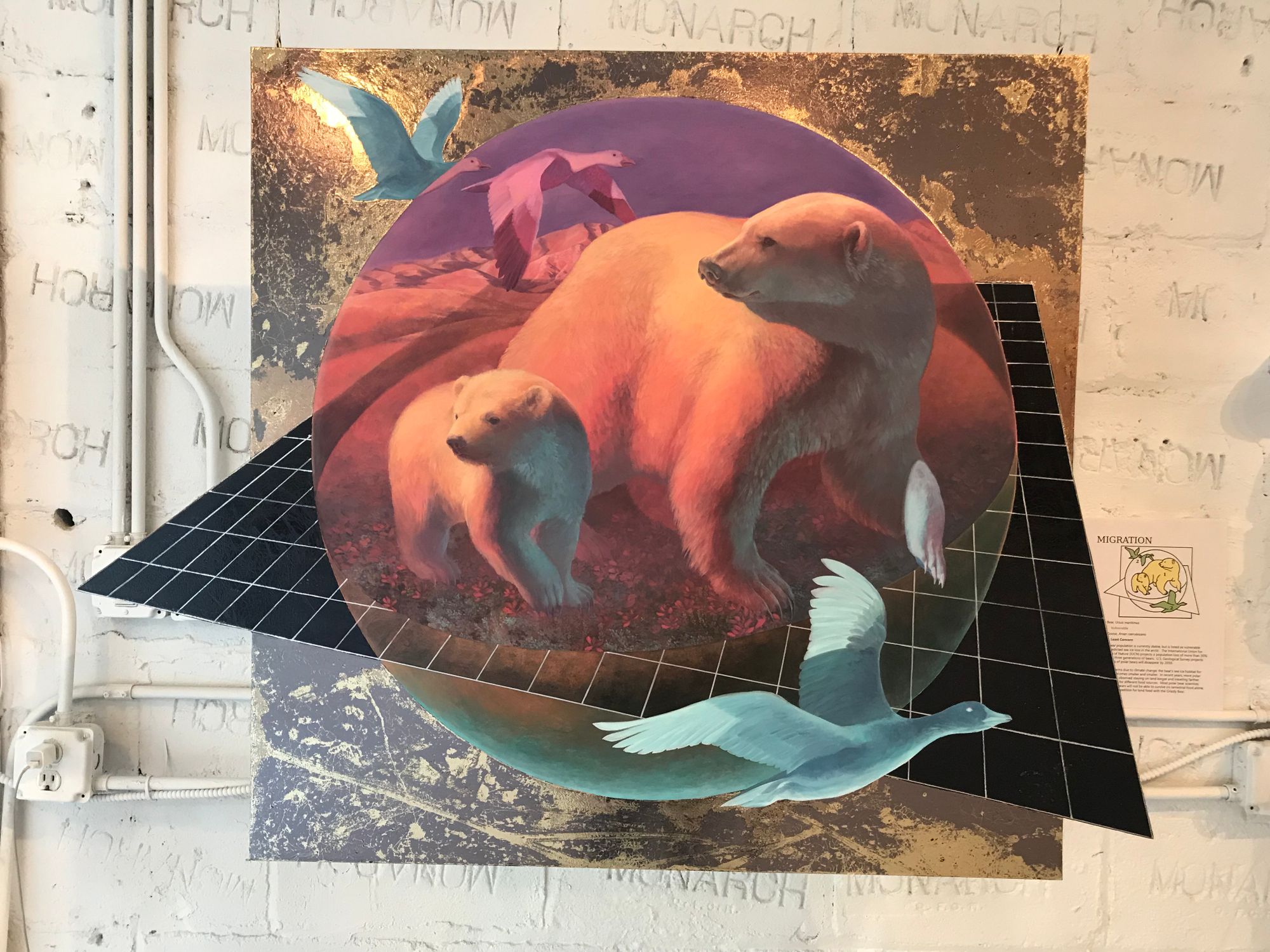 Kandra's exhibit, Life on Spaceship Earth, opened last Friday (Sept. 20), featuring a collection of vibrant works focusing on endangered animals. The show coincides with the Global Climate Strikes staged last week as well as the special United Nations summit taking place today addressing the climate crisis.
"My art involves animals 100 percent in everything that I do," the artist told Bklyner on Friday. "I've been increasingly working a lot with ideas of endangered species, extinct animals, and animal conservation and thinking about things that are going on right now on our planet that are affecting these animals."
"This series was specifically inspired by that idea of extinction and endangered animals and the fact that we have so many animals now that we might think are common, but their populations are in decline and we might not have them in the future. There may be a time when we don't have them at all," Kandra added.
Originally from Pittsburgh, Pennsylvania, Kandra grew up loving art and nature. She studied at the Tyler School of Art in Philadelphia and began painting scenes inspired by natural history dioramas, according to her website. She moved to New York after graduating six years ago, worked briefly from a studio in Gowanus, and currently lives and works in Harlem.
"I like to use my artwork to make people think a little more about the world and how it's working," she said. "What are some of the underlying things that we maybe don't see or don't think about a lot but are affecting animal life and our own lives as well." She brings different animals together "from different environments or different time periods" into her unique landscapes to makes viewers think about the connections the creatures share.
"I like to play with the relationships between the animals, for example, putting predator and prey animals together," she explained. "In a painted world, they can be relaxing together, living in harmony, making you think a little bit about what if there was an alternative to what's happening now. What if there was a different kind of world where things worked differently?"
She layers the unusual animal groupings with TRON-like grids, giving her images an otherworldly feel. "I like the grid imagery because it makes me think about computer generated images, science, and outer space…black holes, and how we think about different dimensions," the artist said.
Kandra likes to play nature documentaries in the background as she works, for atmosphere and for inspiration. Other sources of inspiration and information come from zoos and natural history museums. A trip to Hong Kong four years ago introduced her to an unfamiliar animal—the Chinese White Dolphin or the Indo-Pacific Humpback Dolphin. She features it in her work Living Fossils.
"I had no idea that they existed before I went and their population is in very steep decline," she said. "They're very susceptible to pollution in the water, noise pollution, and also chemical pollution. I wanted to make a painting that incorporated them because I was kind of amazed here's such a beautiful animal that people love, they're amazing creatures, and people are trying to protect them, but their population still keeps going down and down because their habitat is being destroyed. Here's an animal that we have today, in very few numbers, but in the future they will probably be extinct. It's almost like we're living with a dinosaur right now."
Along with the White Dolphin, Kandra added a Coelacanth in the work to educate people about the fish which was previously thought to be extinct. The creature was rediscovered in 1938 by a naturalist at a fish market in South Africa, according to information provided at the exhibit, however there are fewer than 500 of the species remaining. "The fact that we thought they were extinct and then here they are, I thought that was really uplifting and fascinating," she said, "maybe [other] animals could still be out there in pockets and we should find a way to protect them."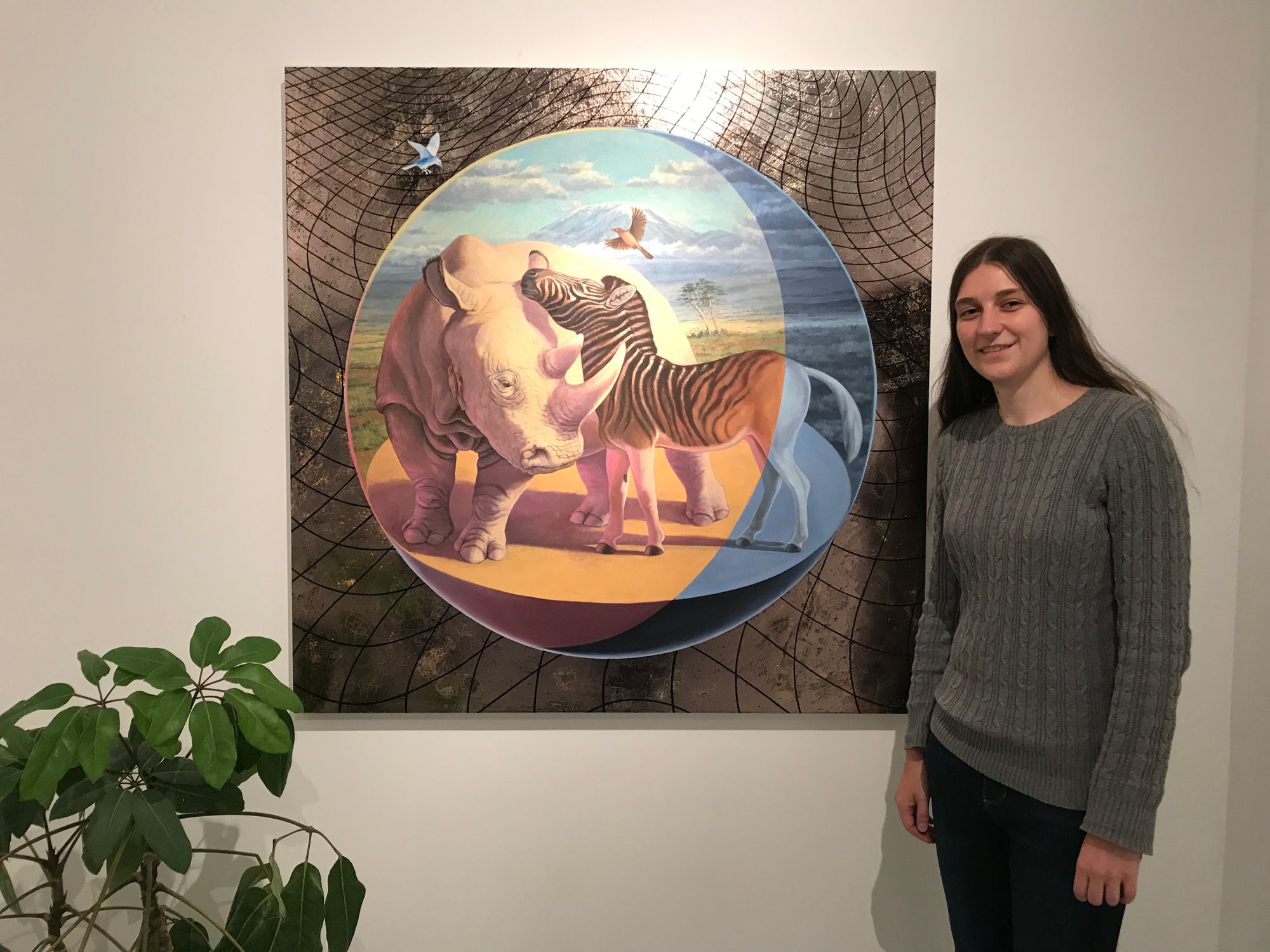 Along with introducing visitors to new species and raising awareness about wildlife conservation, Kandra hopes people will leave the gallery with "a sense of optimism and also a spurred sense to do something about what's going on with all these animals."
"I feel right now, in the media and in conversation, there's a lot more talk about the climate and endangered species with [cuts to] the Endangered Species Act and wanting to protect that…. There's not really room for debating," she said. "It should just be these animals need protection. We should not be taking away regulations that are protecting them."
A portion of the sales from Life on Spaceship Earth will be donated to the non-profit environmental advocacy group, Natural Resources Defense Council. Kandra said that Stacie Lucas, owner of Lucas Lucas, introduced her to the organization.
Lucas Lucas was founded in 2017 to "provide an open and inclusive environment, to facilitate conversation, and to support artists and brands who care about the world at large," according to Lucas. The gallery's inaugural exhibit featured work by Kandra.
Regarding her current show, Lucas said, "Life on Spaceship Earth is a triumph by Alexis, who finished the triptych Geological Time at the gallery days before we opened. I'm honored to be working with an artist who is not only magnanimous, but also is committed to honoring these animals as demonstrated through her extraordinary paintings."
Life on Spaceship Earth
Exhibition on view through October 13
Lucas Lucas, 57 Conselyea Street (at Lorimer Street), Williamsburg