We Don't Know What We Don't Know, Old School Italian, Pizza and other tidbits
Polls, crime, e-bikes, cash for kindergarteners, oxtail pizza, Flatbush Sears redevelopment plans, history of Sea Gate, and more.
Mayor Eric Adams's poll numbers have slipped significantly on more than just the single issue he ran on - Crime, where he received a negative 37 - 54% approval rating, compared to a positive 49 - 35 % approval rating in February. His response? Get out of the city and bury the numbers. Catch me if you can. If we don't talk about it, maybe no one will know?
For decades NYPD has held monthly meetings to report on the public safety in the city during the previous month, explain any trends and initiatives they are undertaking in response, and answer questions from reporters. And whenever the crime reports get released, there are stories. So why is the NYPD suddenly changing to quarterly reporting, as the NY Post is reporting?
For the first quarter of this year, the crime numbers remained stubbornly high. But in April, murders - the only number the NYPD cannot fudge -  were down in the city for the week, the month, as well as compared to last year - for the first time since Mayor Adams took office.
However, the public's unhappiness with how the Mayor is handling crime may be more because all the other major crime categories - assaults, burglaries, robberies, and such are up significantly and consistently across all parts of the city, affecting many more people. Reported crimes in the major categories were up 42% compared to last year and up 33% from just last month.
Remember Rikers? Mayor Adams has said his record makes him better suited to supervise the jail. Take a look at this interview. The former Rikers Watchdog Sarena Townsend, who was axed by Adams appointee the day he took office, on how corruption is poisoning NYC Jails: "This Whole Fucking Thing Is A Racket". Let's remember those unions were very happy about Adams being elected.
Never mind keeping electronic records:
But let's not talk about that, eh?
The Mayor's been busy. He's been in LA this week.
---
COVID – The city went up to the yellow alert this Monday when the 7-day average of new cases exceeded 200 per 100,000 people based on the official PCR tests. Everyone agrees that actual numbers are much higher as home tests are not counted in these tallies, but the variant seems not to be any more deadly than the one before. The booster shots many received are, however, losing their power, and just yesterday City's Department of Health asked to publish the Health Commissioner's plea to the residents to take the pandemic seriously. We may be done with it, but it is not done with us.
---
Transportation
Vision Zero - An announcement was made on Monday in Brooklyn about additional focus on and money for Vision Zero and reducing traffic crashes. For the next two months, there will be ads, everywhere, like the one you see above, but hopefully, there will also be a more serious redesign of our streets and intersections.
DOT is committed to looking at redesigning 1,000 intersections - though it is unclear over what time period and where - but in Brooklyn, the focus will be on Bushwick and Canarsie, at least initially. Speeding, traffic crashes, and deaths increased dramatically during the pandemic as there were fewer cars on the streets, and the urban planner in me just cannot help noticing that in NYC traffic jams seems to be the most effective traffic safety measure.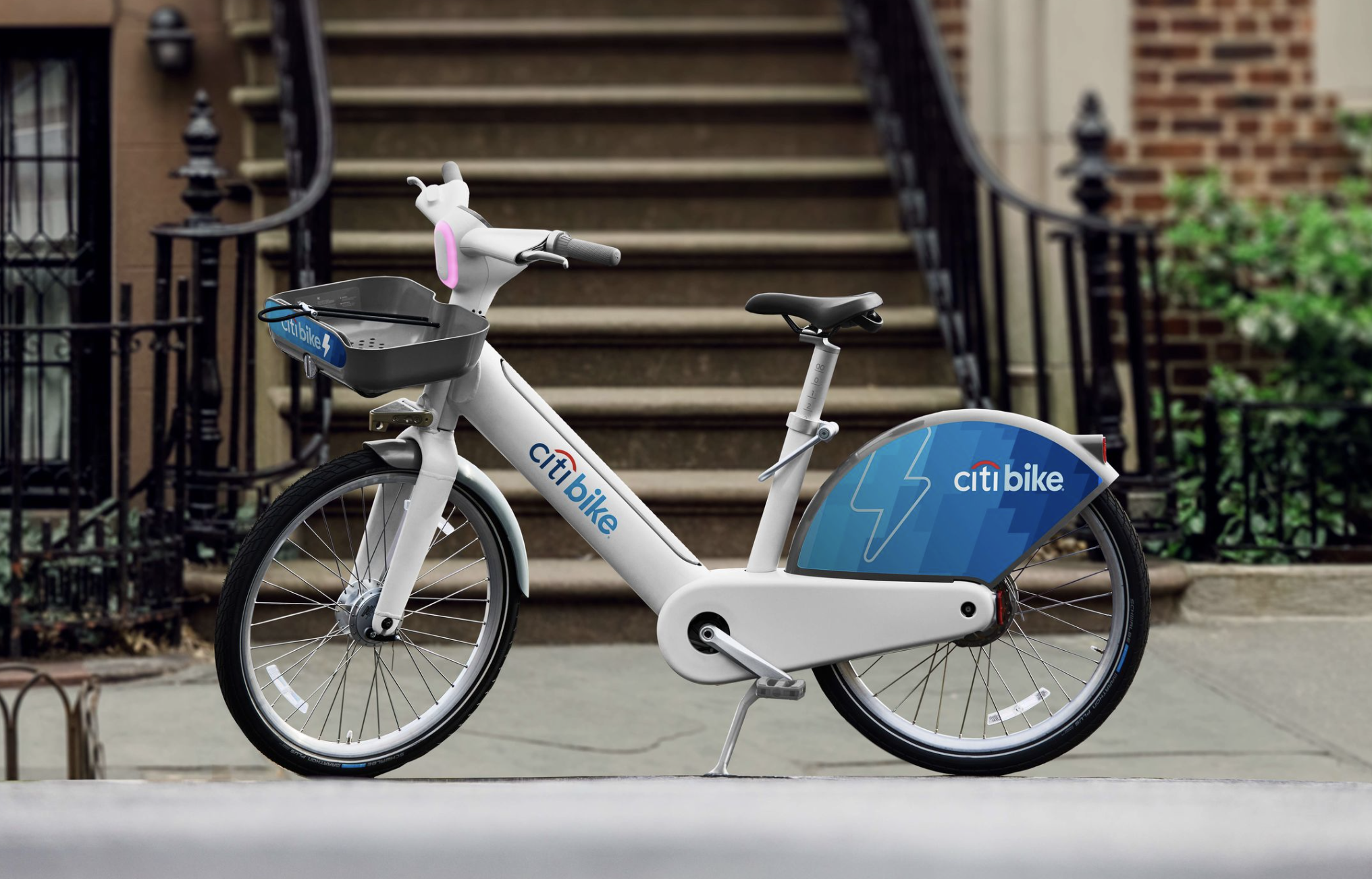 New pedal-assisted CitiBikes are being rolled out across the city, they are white, they are powerful, and they are popular. E-bikes are used 3x more often than the regular CitiBikes, but the city could be better designed for this increasingly popular mode of transportation, writes John Surico for Bloomberg. One can only hope that the folks living on the southern side of the Brooklyn ridge will have access to them, too.  CitiBike expansion into Southern Brooklyn has been lagging significantly.
Greenways: Mayor Adams announced he's including $47.6 million in next year's budget for Brooklyn and Queens' greenway improvements outlined in Destination: Greenways! to connect existing greenway routes in central Queens and along Brooklyn's southwest shoreline. In Brooklyn, it means connecting Bay Ridge with Coney Island and adding a bridge across Coney Island Creek:
E-bikes - Lithium-ion batteries stored at an e-bike and scooter repair shop caused an early Monday morning fire at 5401 7th Ave. in Sunset Park, FDNY said Tuesday.
---
Schools: Roughly 65,000 families of city kindergarten students now have savings accounts with a $100 initial investment toward future college costs thanks to the college savings program, introduced last year by former Mayor de Bill Blasio. You can learn more about the program and how to activate your kindergartener's account here.
---
More politics: Just how ugly will things get with Brooklyn Democrats? Here's more reporting by THE CITY on what's up with the fake ballots, fake candidates, technicalities, and the establishment's desperate attempts to consolidate power – because that power is significant.
"Typically, it falls to each Assemblymember and local officials known as district leaders to select a slate of local residents to run for seats as judicial delegates and alternates to serve at the Brooklyn Democratic Party's nominating conventions for judges," THE CITY reports. "Those candidates for judge almost always run unopposed in November, ensuring their election once nominated by the delegates."
---
Public Bathrooms in every zip code? Three newly-elected Brooklyn Councilwomen - Rita Joseph, Shahana Hanif, and Crystal Hudson- have introduced a bill requiring DOT and Parks Department to identify at least one location in each NYC zip code suitable for installing a public bathroom.
Noise patrol: Bay Ridge Councilman Justin Brennan in the meantime is introducing a bill to double penalties for excessive muffler or exhaust sound, honking, or illegal sound-producing devices on motor vehicles.
---
Food:
Bed Stuy –  Head over for some oxtail pizza to Cuts and Slices (93 Howard Ave), which was just written up by the NY Daily News.
"I'm here for the community, and this community don't have nothing like it," Mclaren told them. "All these kids just running into the Chinese restaurant, which is kind of what I grew up on ... We don't get to try new things. We don't get to expand our taste buds. So you got to think about these people that's in Bed-Stuy. Ninety percent of my customers didn't even know what a truffle was. I want to change that."
They are doing just that, with extravagant toppings of all kinds. DiFara's so old school.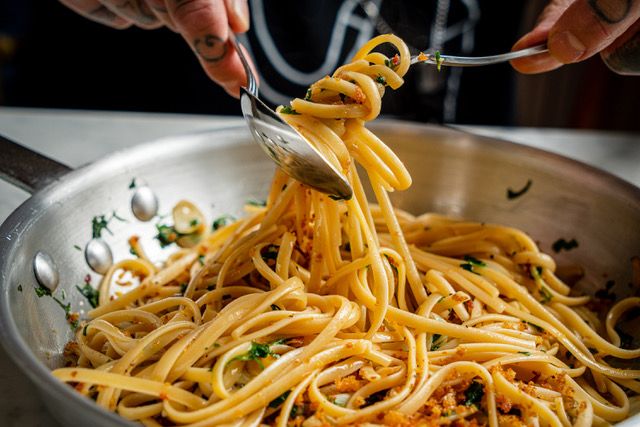 Carroll Gardens – Talk about old school. Bensonhurst native, Chef Sal Lamboglia has opened Cafe Spaghetti at 126 Union Street - an ode to the classic neighborhood Italian restaurant - just 300 feet from Ferdinando's Foccacheria. Cafe Spaghetti features an intimate dining room, as well as plenty of outdoor space to enjoy classics from tiramisu and Eggplant Parm, to octopus insalata, cacio e Pepe rice balls, Nonna's Genovese ragu with fussili and ricotta agnolotti. Based on this preview from Grubstreet, I would not wait to head over.
Park Slope – Lore (441 7th Ave) which opened in the old Camperdown Elm spot in February quickly earning BKMag love, has added brunch to its farm-fresh, multicultural menu, Patch reports. "Like the rest of its menu, brunch at Lore promises multicultural offerings — with a slight South Asian bent — made with ingredients from local farms."
Also noted:
Brooklyn's second Dave & Buster's will open at The Atlantic Center on Monday, May 9.
DoorDash launched a delivery-focused food hall-like concept in Downtown Brooklyn, Nation's Restaurant News reported. "DoorDash Kitchens Brooklyn will be the first DoorDash Kitchens location to offer permanent, indoor seating within the ghost kitchen network that launched two years ago. The commissary kitchen will eventually offer five different national and local restaurant brands as part of a delivery-forward food hall concept with limited seating for 20 people."
---
For many, all of the above are out of reach. One in four kids in NYC will probably go to bed hungry, with food insecurity up 46% from pre-pandemic times. City Harvest, New York City's largest food rescue organization, will kick off the 26th annual Feed Our Kids Food Drive this Sunday, Mother's Day, through Father's Day, June 19 to help provide food for the growing number of New York City families in need. You can help by:
Collecting non-perishable food items at your school, office, place of worship, and more, and arranging for a City Harvest truck to pick up your donations. (City Harvest can only pick up donations of 100 pounds or more).
Dropping off non-perishable food donations at FDNY firehouses and EMS Stations, or NYPD police stations throughout the five boroughs.
Setting up an online food drive through our partner #GiveHealthy, which provides users the opportunity to order fresh produce and non-perishables to be delivered directly to the City Harvest warehouse.
Donating funds to City Harvest through cityharvest.org to help us feed the growing number of New Yorkers turning to us for help. Just $5 helps us feed 14 New Yorkers in need for a day.
The most needed items for the drive include canned fruits and vegetables; canned proteins, including tuna and beans; peanut butter in plastic jars; packaged macaroni and cheese; packaged hot and cold cereal; soups; and juice packs. For more information, visit www.CityHarvest.org/feed-our-kids
---
Real Estate:
Flatbush Sears property to be split up and redeveloped, the Real Deal reports. "Clipper Equity, a multifamily owner and developer led by David Bistricer, has filed plans to build two residential buildings totaling 456,000 square feet in Flatbush. The projects will bring 650 units to 2360 Bedford Avenue, the site of a landmarked Sears that opened in 1932 and closed last year." If all goes to plan, the two new, seven-story buildings will be built where the giant Sears parking lot sits, one with 351 units across 257,000 square feet, the other will have 299 units across 182,000 square feet. Both are proposing community facilities, and there are plans for some parking.
"Even with some increase in rent, asking rent is below its prepandemic peak in 16 of the 17 corridors" in Brooklyn, REBNY reported. "International luxury retailers and direct-to-consumer innovators continued to focus on Williamsburg, leaving North Brooklyn with negligible availability. Brooklyn's expanding residential base has been an essential steadying force for its retail sector during the ups and downs of the pandemic. Local retailers were active in several residential neighborhoods, depleting space options on Franklin Street in Greenpoint, Court Street in Cobble Hill and some sections of Park Slope. In turn, retailers are taking a closer look at secondary streets such as Manhattan Avenue and Smith Street."
Since leaving office four months ago, former Mayor Bill de Blasio and Chirlane McCray have been living at the New York Marriott at the Brooklyn Bridge while one of their two homes in Park Slope undergoes renovations, NYPost reported.
---
History:
Sea Gate –  A beautifully done history of Sea Gate was published by 6sqft.
"What do Woody Guthrie, Isaac Bashevis Singer, and Frank Schubert (the nation's last civilian lighthouse keeper) have in common? They all lived in Sea Gate, a private community at the westernmost tip of Coney Island. Sea Gate began as a 19th-century playground for the rich, turned into a hotbed of Yiddish literature and Socialist labor activism in the 1930s, and sported at least one commune in the early '70s." Read on below.
DUMBO – Jane's Carousel is turning 100 this year, and there will be a celebration on May 7 with free rides for the community.
The carousel was built in 1922 by the Philadelphia Toboggan Company for Idora Park in Youngstown, Ohio. There are 48 horses and two chariots, featuring carvings by Frank Caretta, one of the country's best master carvers, which helped place the carousel on the National Register of Historic Places. The Walentas family, who developed DUMBO, acquired the carousel in 1984 to put it in the Brooklyn Bridge Park.
"Jane Walentas spent 22 years scrupulously restoring the Carousel to its original grandeur. With an x-acto knife, decades of layers upon layers of paint were scraped off to reveal the original designs and colors. With many coats of paint removed, the extraordinary carvings were unveiled and fabulous ornamentation was exposed, the early, untouched scenery panels and paintings were cleaned of their old blackened varnish and many necessary carpentry repairs were made," Friends of Jane's Carousel informed announcing the celebration of the carousel that has been providing rides on the Brooklyn waterfront since 2011.
Your Mom – The gift that may last forever. This Mother's Day, you can ask your mom to record her own personal history of life in Brooklyn, to be permanently preserved in the NYC Municipal Archives. Visit the Neighborhood Stories website to learn more and sign on to share her story: www.archives.nyc/neighborhoodstories.
---
Events:
Atlantic Terminal Mall and Brooklyn Bridge Parents are hosting a free family festival at Atlantic Terminal on Saturday, May 7 from 12-4 pm.   (Rain date is Sunday, May 8 from 12-4 PM.) on Atlantic Terminal's exterior plaza at 139 Flatbush Avenue in Downtown Brooklyn. The event will feature free kid-friendly activities including a bounce house, arts and crafts, games, dance classes, and giveaways.  Families are encouraged to bring their children's bicycles and scooters to use on car-free Fort Greene Place.
Art in DUMBO May's First Thursday is today, May 5. Participating galleries will be free and open to the public from 6 pm to 8 pm, giving all visitors the opportunity to peruse the diverse selection of artwork in DUMBO's arts district and/or to participate in an insider's tour meeting at 6 pm in front of Empire Stores, register for the free tour here. There will also be Light Year digital projections from 7:30 PM - 10:00 PM on the Manhattan Bridge. For more information, visit artindumbo.com.