Lark Cafe Hosts 3rd Annual PS 130 'Auction For Art And Enrichment'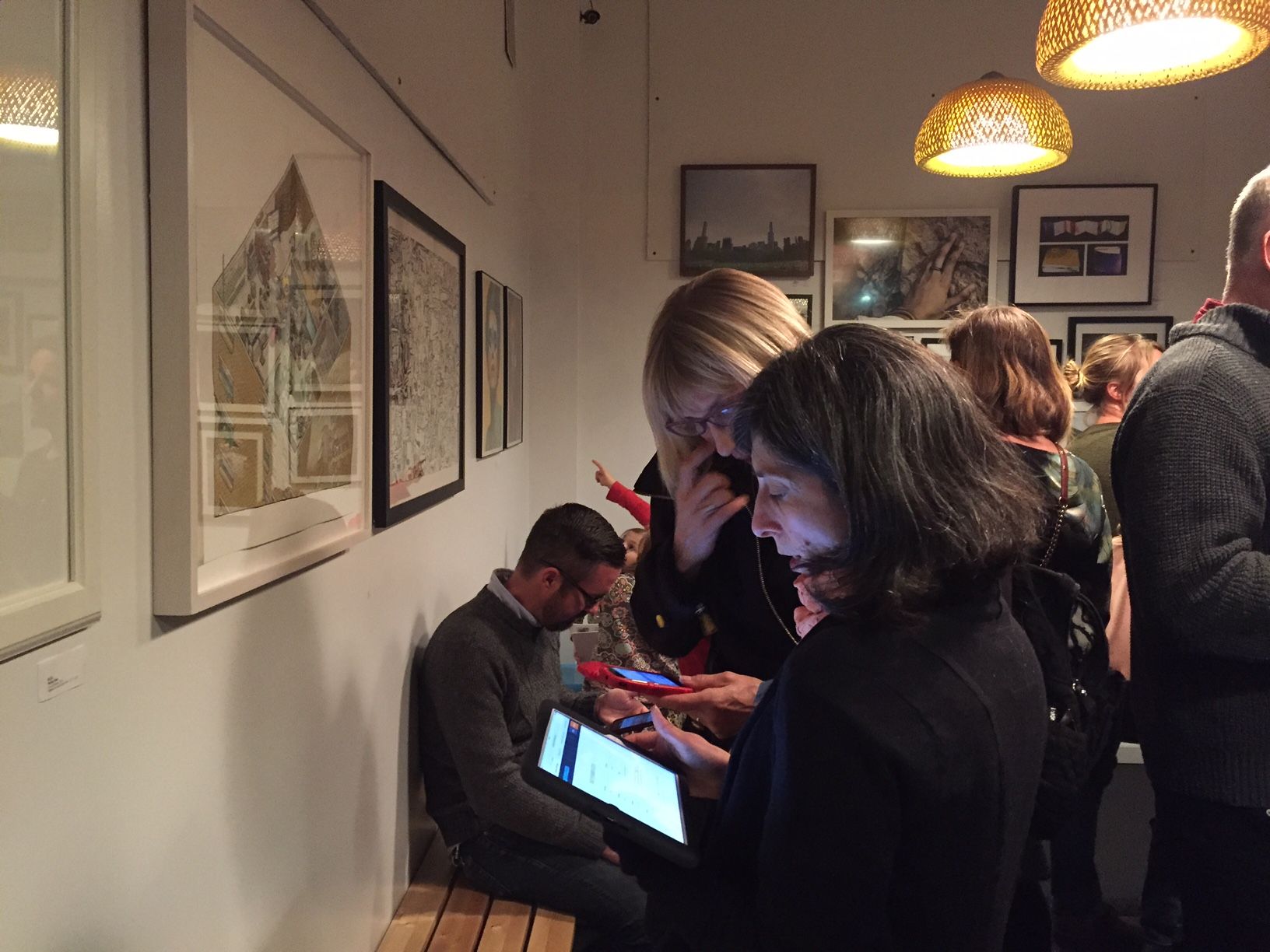 A constant tapping of phones and sipping of wine could be heard but this was no Friday night Brooklyn bar scene. It was a multitude of PS130 parents and friends bidding on art at the Church Avenue Lark Cafe.
One-of-a-kind oil paintings, drawings and prints dotted the walls, giving the cafe the air of a Chelsea art gallery as guests wandered from piece to piece and sipped drinks at the PS130 3rd annual 'Auction for Art and Enrichment'.
"It has been a real community effort" said School Principal Maria Nunziata.
The auction was conceived and set into motion three years ago by a group of creative parents on the PTA, she said. She thought the night, like the past two auctions, had been a complete success.
The goal of the auction was to raise $15,000 to help fund art programs at the school and give the PTA one last push as their fiscal year ends.
Students, too, strolled about pointing out pieces they liked to moms and dads.
Their own work was on display outside, featured on the side of Mister ArtSee's mobile art laboratory, though student work was not for sale.
Both Rose Saxe and her son, who attends PS130, had their eyes on a piece called "MTA." It is medium sized print of a cartoon cat wearing a bunny suit, sprawled across a MTA metro fare card.
"He's doing a subway study in school, so he is particularly taken with it" she said.
She glanced down at her phone every so often, surrounded by others doing that same. All were hoping not to be outbid. Most had rather bad luck with keeping up with the bid wars, which were all done on cell phones and iPads throughout the event.
Deirdre O'Keefe, who is also a parent at the school, was repeatedly outbid for an abstract watercolor painting. She now stood staring at one of the night's most popular pieces, a small watercolor of a blue and purple bird. It hung amongst several other small pieces, but drew of the eye of most who passed it.
To win, most people wait until right before bidding closes to swoop in and place a bid for the piece they want said O'Keefe, similar to eBay wars, when bidders counter offers online quickly in the last minutes or seconds of an auction.
Upbeat music helped move guests between the two rooms of art but it did not mask the slight air of tension. Every so often you might hear an "Oh, dang it" as someone looked down at their phone to see they had just been out bid.
Some had better luck, but it came at a sizable price.
Amy Hanan, a photographer whose two nephews attend the school, bid assertively on a abstract oil painting depicting a pink flower in bloom.
"I don't know, I just bid $450 on it," she said. "It's just so pretty."
When bidding concluded at 8pm, $9,481 dollars raised and 63% of their goal had been meet.
Hanan looked down at her phone to find that she had won the oil painting.
"I think I won? I won!" she said. "Oh sh**, now I have to pay."