La Puerta Roja Opens On Cortelyou Road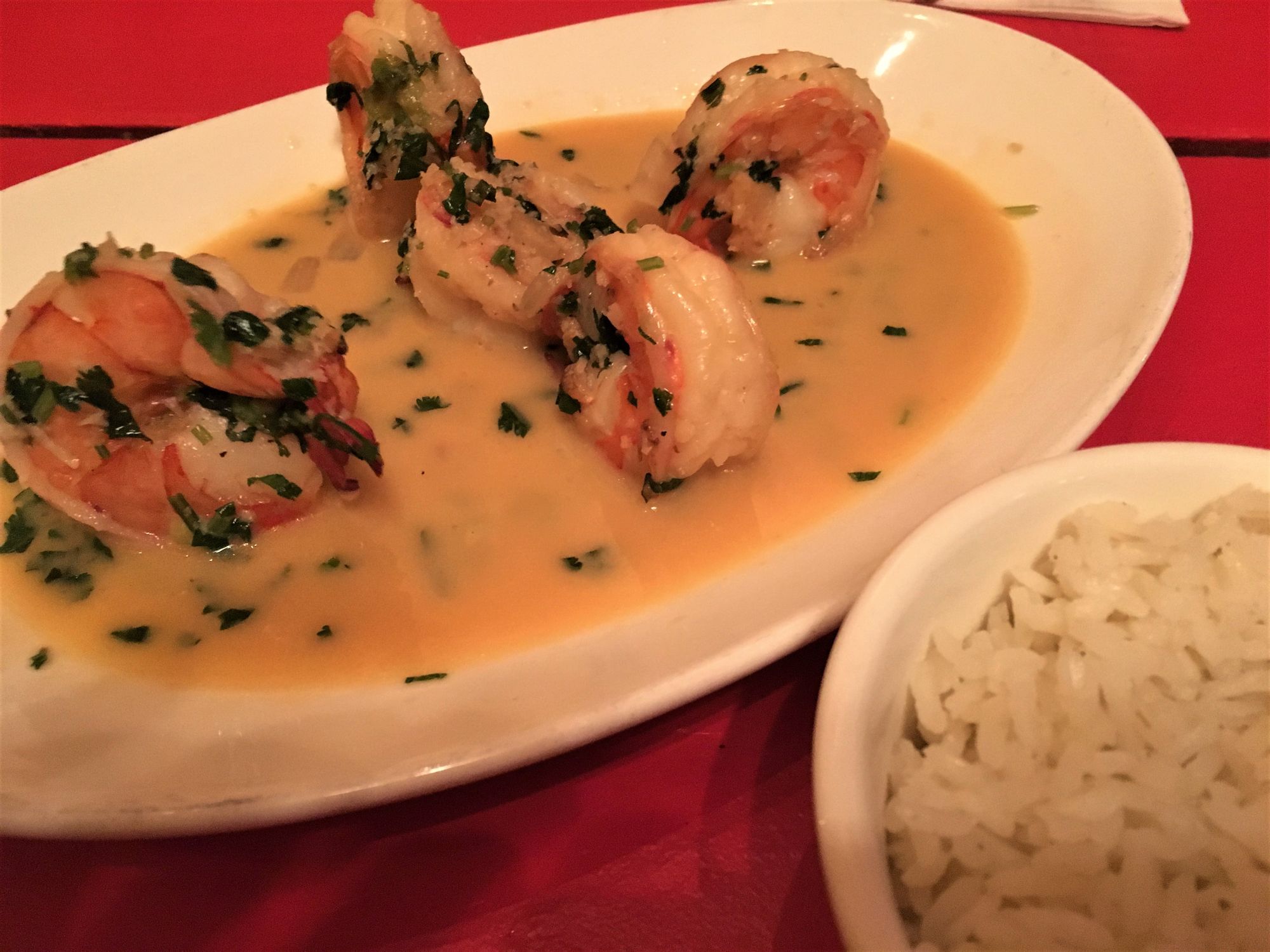 DITMAS PARK – If you are curious about a tale of two restaurants, look no further than YellowBelly whose opening date is anyone's guess, and La Puerta Roja whose soft grand opening took place last Thursday evening, a short week and a half after its predecessor Bashi Channel served its last bowl of ramen on Monday January 29th.
During that brief shut-down the restaurant was painted, the kitchen and bar reorganized, chairs and tables stripped and refinished, new lamp fixtures installed, and art hung. When the red door eventually swung open, the space had been transformed from an Asian eatery into a Latin bistro.
Perhaps this speedy and efficient metamorphosis has something to do with the fact that the proprietor, George Ortiz, who was also a silent partner in Bashi Channel, is owner of NAT Construction of New York, a company that helped define the spaces of many restaurants Brooklynites have come to know including: Mimi's Hummus, The Farm, Sycamore, Catskill Bagel, Rachel's Taqueria, Miti Miti, Ox Cart and its predecessor Pommes de Terre and several others in Ditmas Park, Park Slope, and elsewhere.
It was Ortiz's involvement as a restaurant contractor that piqued his interest in the restaurant business. With Bashi Channel he quickly brought his twenty-five year old daughter Tiffany on board to help manage things for two years as he juggled both the restaurant and his construction firm. A full owner of La Puerta Roja, Ortiz is far from silent as he describes the menu and speaks freely about why he decided to close a well-loved restaurant and take his chances with something new—well not entirely new; lovers of Bashi Channel's ramen will be relieved to see that he has kept the Miso and Korean Chicken varieties on the new menu with a little note, "Shhh….our secret."
Ortiz, whose father is Peruvian and whose grandfather was a seaman, wanted to share his passion for Colombian-based cuisine and create an environment whose vibe was familiar and comfortable to him. La Puerta Roja is "his thing," a true labor of love. There were also some practical business reasons for making the change. While Bashi Channel did a bang up job for dinner, it pulled in too few customers for lunch and brunch.
This should not be a problem with the new menu whose offerings I could eat with pleasure at any hour. The Bandeja Paisa, for example, is a "country platter" perfect for brunch, consisting of a huge plate to be shared by many stacked with maduros (sweet plantains), a generous slice of skirt steak, potato fingers, chorizo, crispy chicharones (fried pork belly), black beans, and a perfectly done sunny-side up egg lying on top of a bowl of rice. At $25, it's La Puerta Roja's "Value Meal."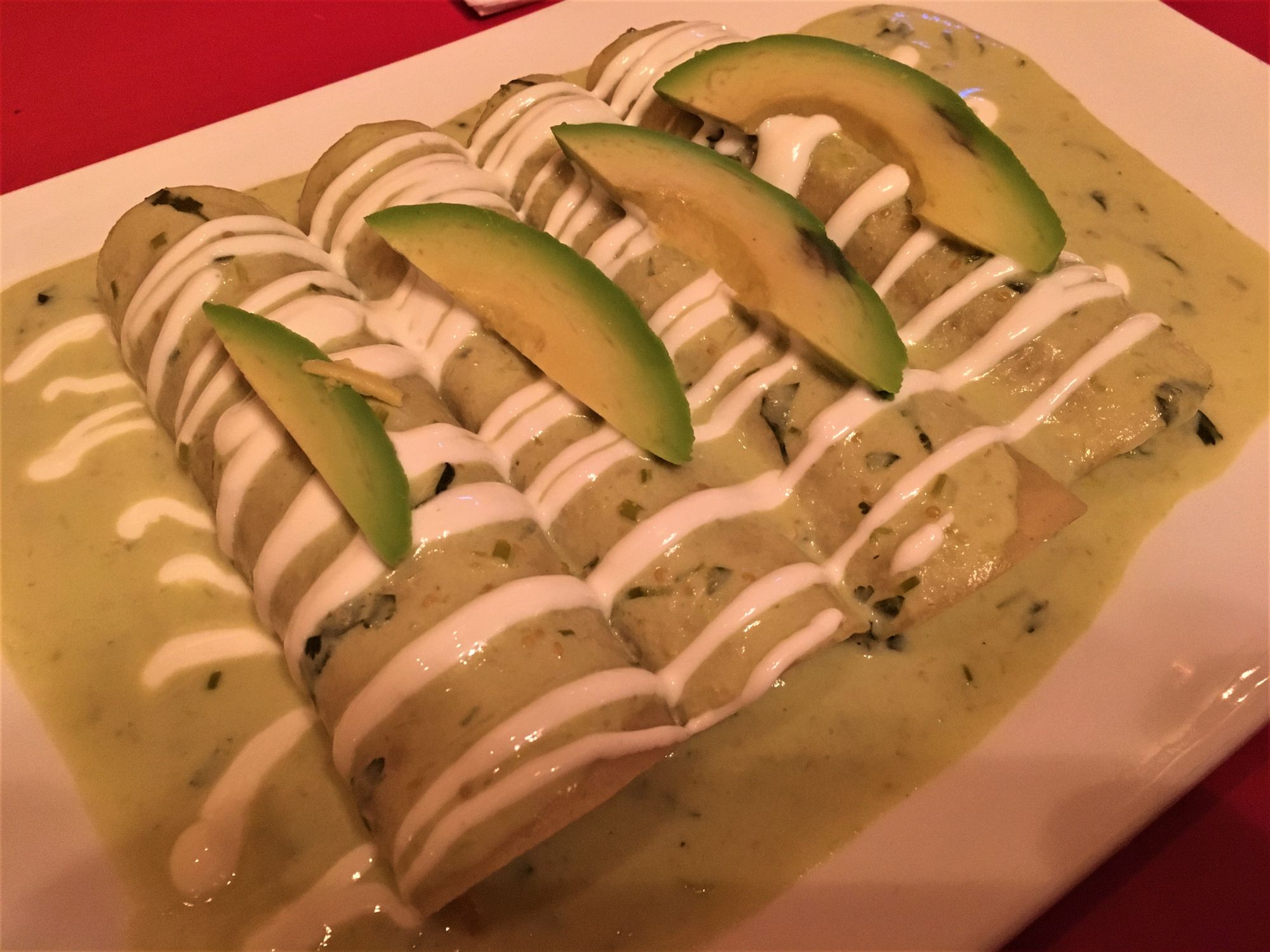 The Enchilada Suiza is a Swiss-Mexican fusion—a soft crepe wrapped around a shredded chicken filling. It was beautifully presented, sitting on top of green chile sauce, each enchilada topped with an avocado slice and delicately painted with lines of sour cream. But watch out, though gentle looking, they delivered a delightfully spicy kick. There's also a vegetarian version made with eggplant, zucchini, potatoes, and chile.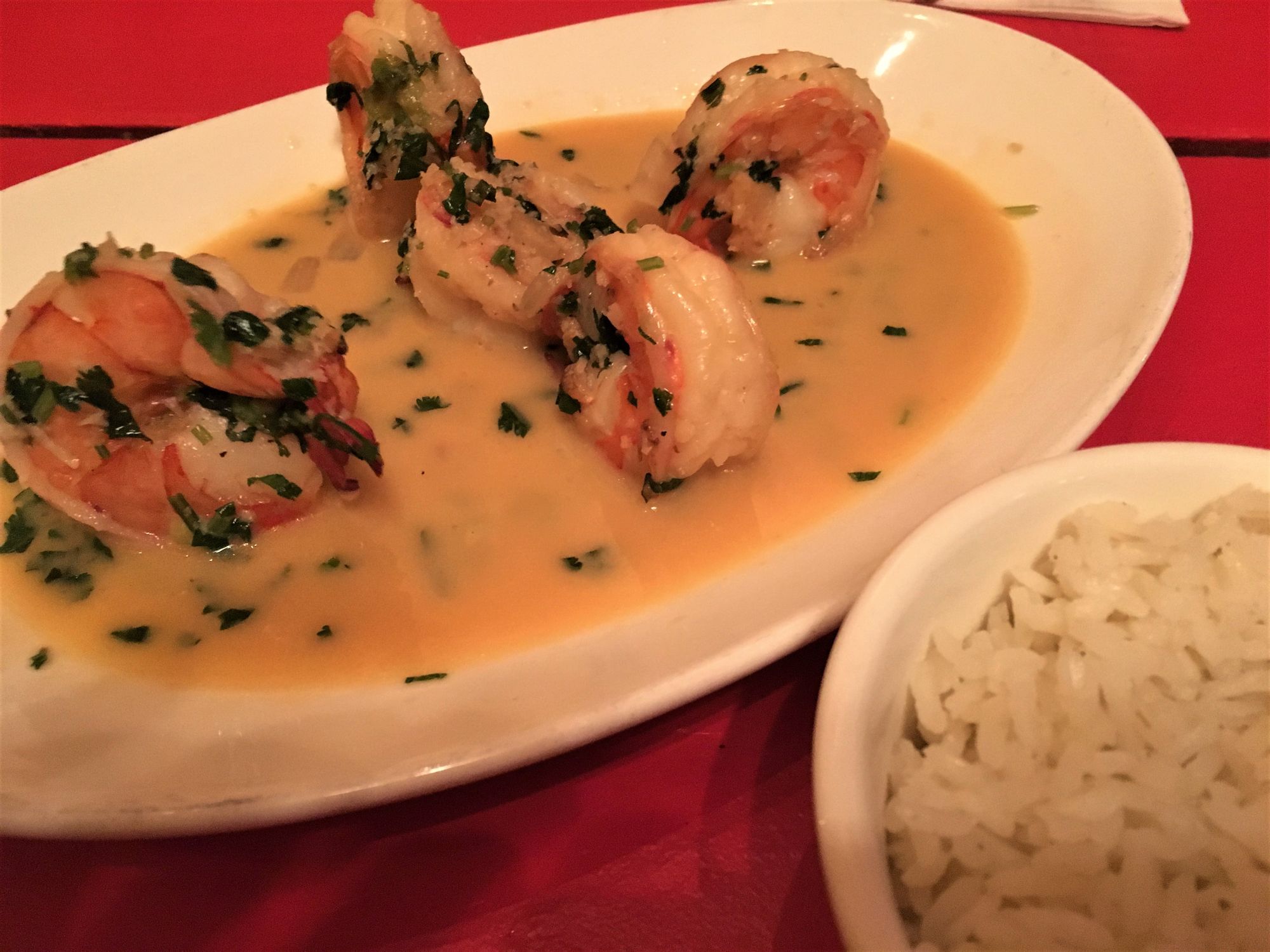 Not spicy at all were the jumbo shrimp cooked with butter, white wine, white onions, and garlic and served with a complement of white rice. So good was the sauce that I found myself scooping it onto the rice long after my shrimp were gone.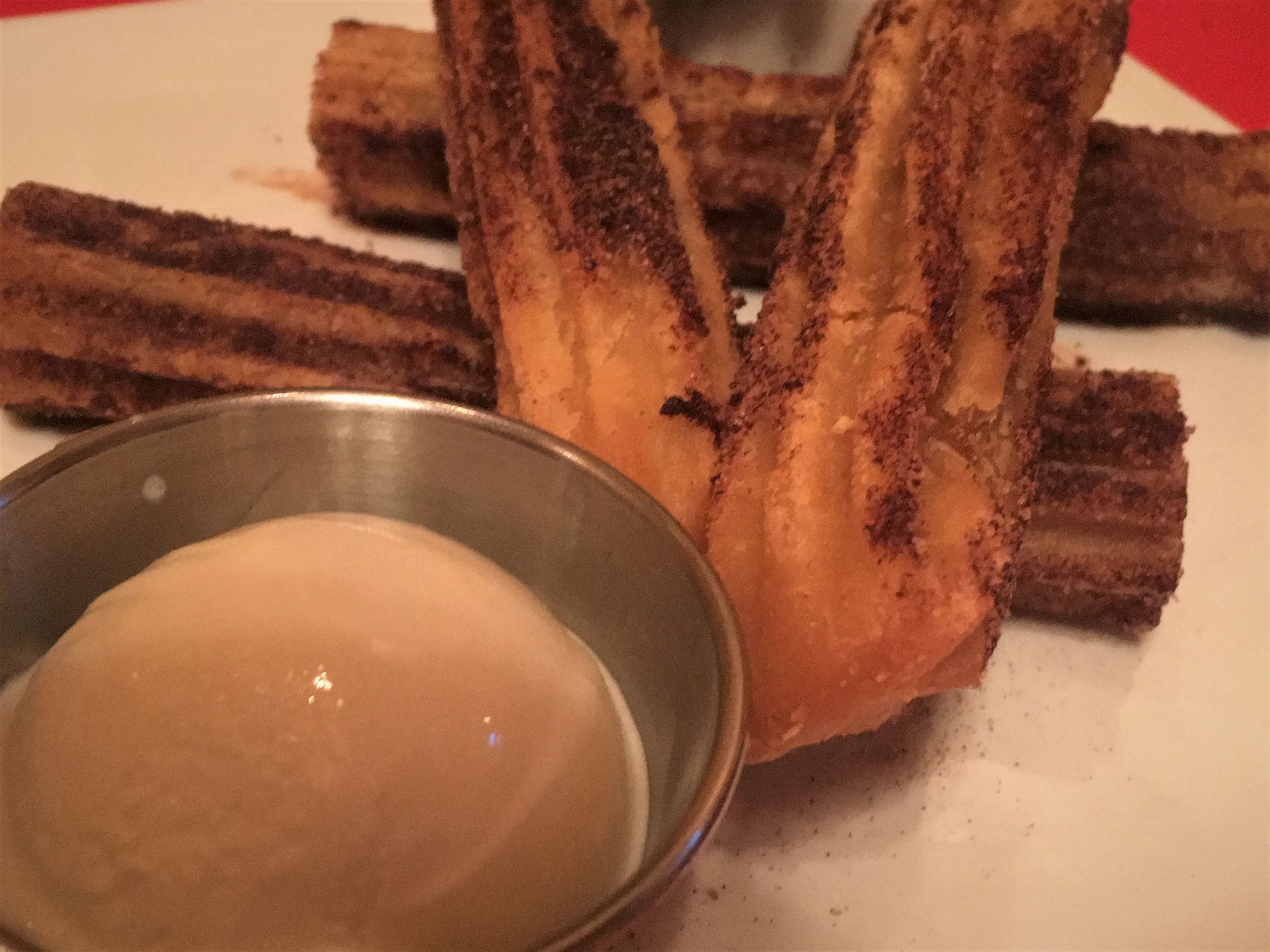 Though the portions are generous, you have to leave room for dessert. The cinnamon and sugar-coated churros are nothing like what you might grab from a vendor underground in the subway. Stacked in a tic-tac-toe pattern like Lincoln Logs on the plate, crisp on the outside, warm and moist inside, the churros would be excellent by themselves, but dissolved in your mouth with vanilla ice cream and hot chocolate sauce they transform into something approaching ambrosia.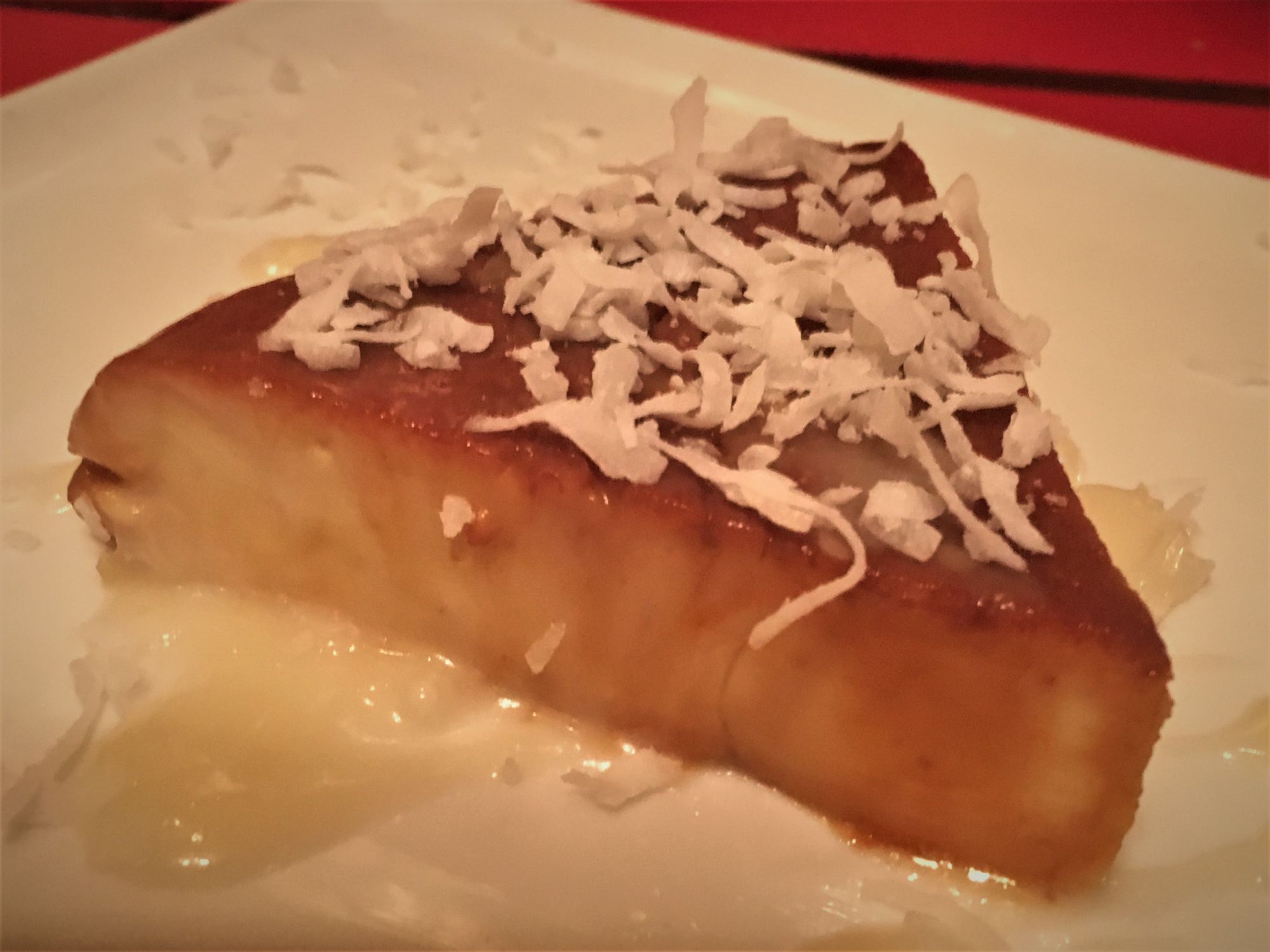 High praise too for the flan, which all too often can be one dimensional and boring. This, with a mouth-feel that was rich and creamy, was covered in coconut flakes that further intensified the flavor and roughened the texture adding needed contrast.
All the food was enjoyed in an environment where Latin music provided a welcome backdrop but was played at a volume that was not distracting and allowed for pleasant conversation. Good food is not always easy to find. A restaurant that respects its customers' ears is often rarer.
La Puerta Roja – Latin Bistro
1120 Cortelyou Road (at Westminster Road), Ditmas Park
Hours:
Monday—Thursday, 4pm to 10:30pm
Friday—Saturday, 4pm to 11:30pm
Sunday, 4pm to 10:30pm