Knuffle Bunny Hops Into New Home At Park Slope Library
PARK SLOPE – After years of planning, a statue of the beloved children's book character, Knuffle Bunny, was finally unveiled Thursday morning at the Park Slope Library's Reading Circle And Storytelling Garden.
"There are fewer joys greater than a warm summer morning, a good book, and good friends—and today we definitely have all three," Linda Johnson, President & CEO of Brooklyn Public Library said at the start of the event. "I am delighted to welcome the Friends of Park Slope Library which is the group that came up with the idea not only to have this beautiful garden, but to make Knuffle Bunny—Park Slope's most famous fictional character—a permanent resident."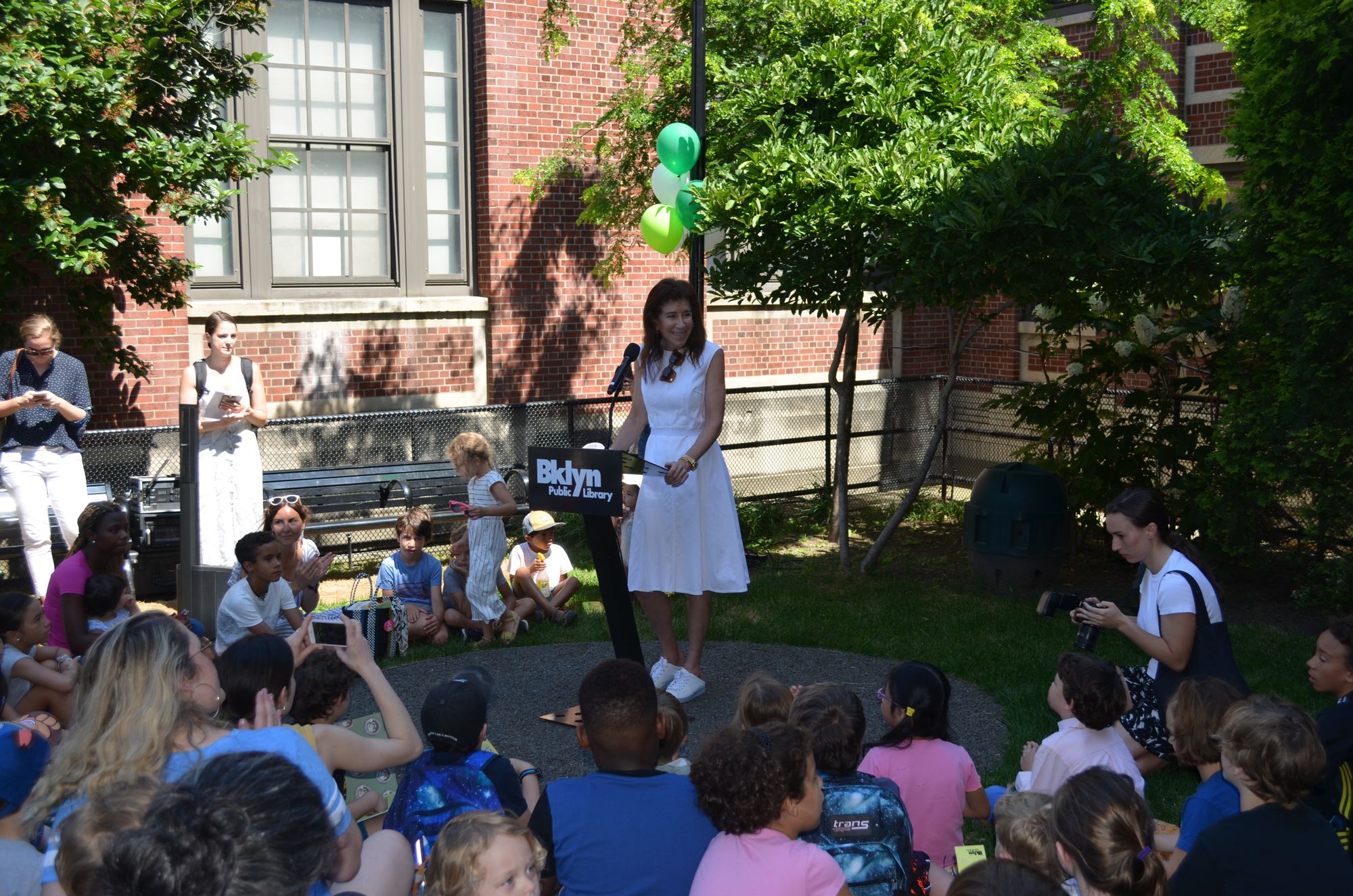 Park Slope artist Chad Rimer created the sculpture based on the character from award-winning author and illustrator Mo Willems' picture book, Knuffle Bunny: A Cautionary Tale. The book—set at various locations in Park Slope—follows young Trixie as she travels through the neighborhood searching for her missing stuffed bunny.
"The ideas for the Story Garden and the statue of Knuffle Bunny were born in the same instant, but while the garden has been growing and flourishing these past two years, it's taken just a bit longer to lovingly craft and cast a little bronze bunny," said Christopher Franceschelli, co-president of the Friends of Park Slope Library.
"Some of you were not here seven or eight years ago but when I first got elected, not only could you not come into this garden—there was no garden here—there were no benches…even the library was closed," recalled Council Member Brad Lander. "It had been closed at that point for a couple of years because we together had not been taking good care of it. We had stopped providing enough money in taxes to take care of our library…. Luckily a few people said, 'You know, that's one of the most important places in our community,' and the Brooklyn Public Library stepped up and said, 'We're going to get the money to fix it up and reopen it.'"
The 18-inch-tall bronze bunny statue sits on a bench in the library's Reading Circle and Storytelling Garden, a winning participatory budgeting project proposed by the Friends of the Park Slope Library in 2015 and funded in the 2016 fiscal cycle. In May 2018, Brooklyn Community Board 6 unanimously approved the installation of the sculpture at the garden.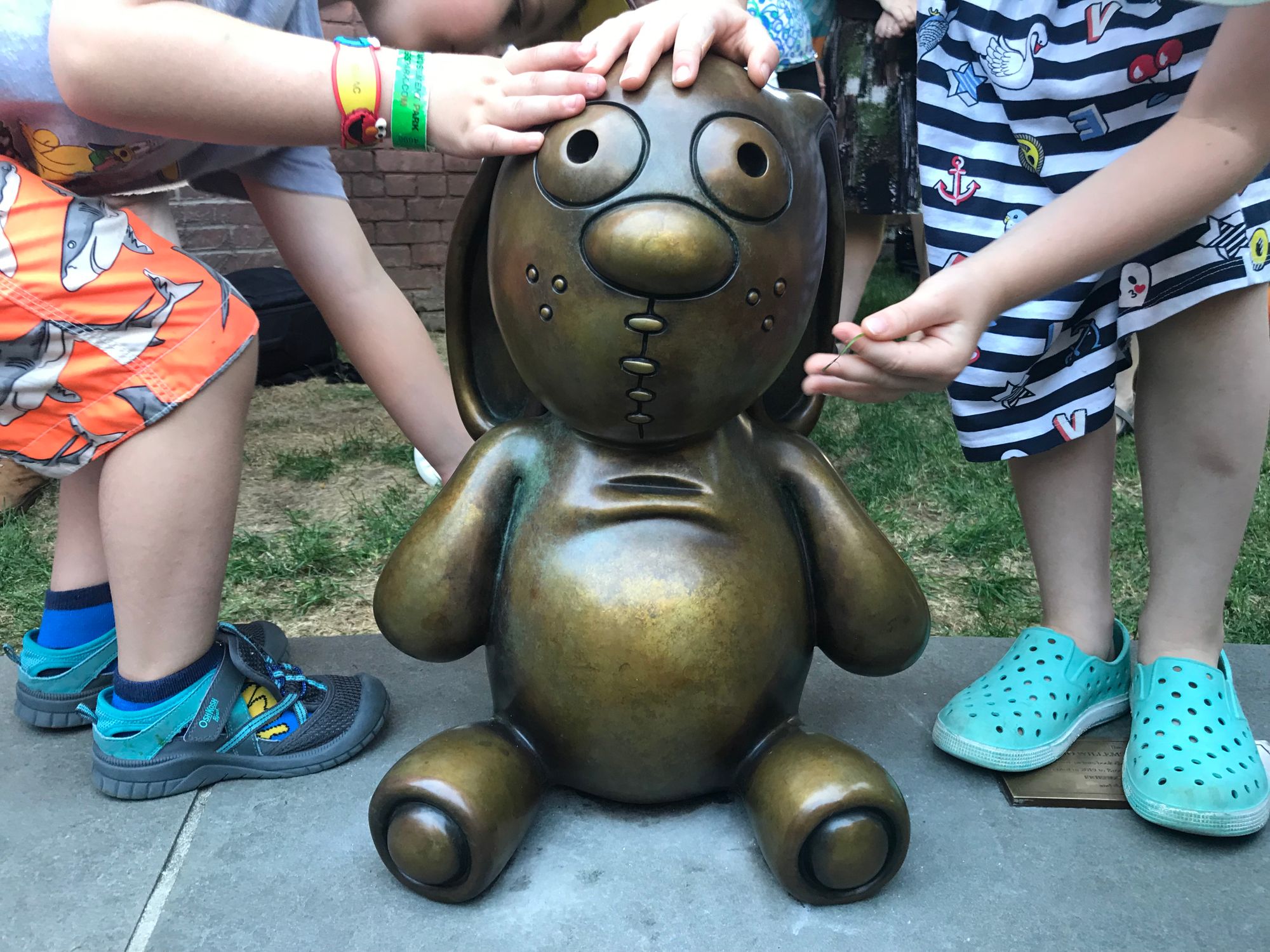 "The resolution supporting Knuffle Bunny was the first one in my time as District Manager. I am honored to hop over to view its unveiling and glad to have such a pleasant first memory," CB6 District Manager Michael Racioppo said Thursday following the unveiling.
The gated green space overlooking 9th Street debuted in May 2017, however Knuffle Bunny's arrival was delayed because additional funding was needed as well as approvals from the NYC Public Design and Landmarks Preservation Commissions.
"We were able to use our tax dollars to build the benches, the path, and the beautiful planting beds, but there had to be extra work to bring in some private money," Lander explained. The family of Jane Bethge Lynch funded the statue and Architect Calvert Wright helped guide the library through the landmarks approval process.
"This was already the cutest space of most joy and imagination in all of Park Slope, but adding Knuffle Bunny to it really just takes it to a whole new level," the Council Member added.
"Having a statue of Knuffle Bunny is an honor that cannot be expressed in words, except 'Aggle Flaggle Klabble!'" author Mo Willems said referencing his best-selling work.
"This is the first time I have had one of my characters turned into public art. I am new at this. Which is exactly what my readers are—new at this," he continued. "It's been one of my life's great joys to speak to them through my books, just as it's been one of my life's great joys to become a dad in Brooklyn. Brooklyn is as much of a character in the Knuffle Bunny books as Trixie or Mommy or Daddy or this guy," he playfully said while gesturing toward a tiny toddler who had wandered up to the podium.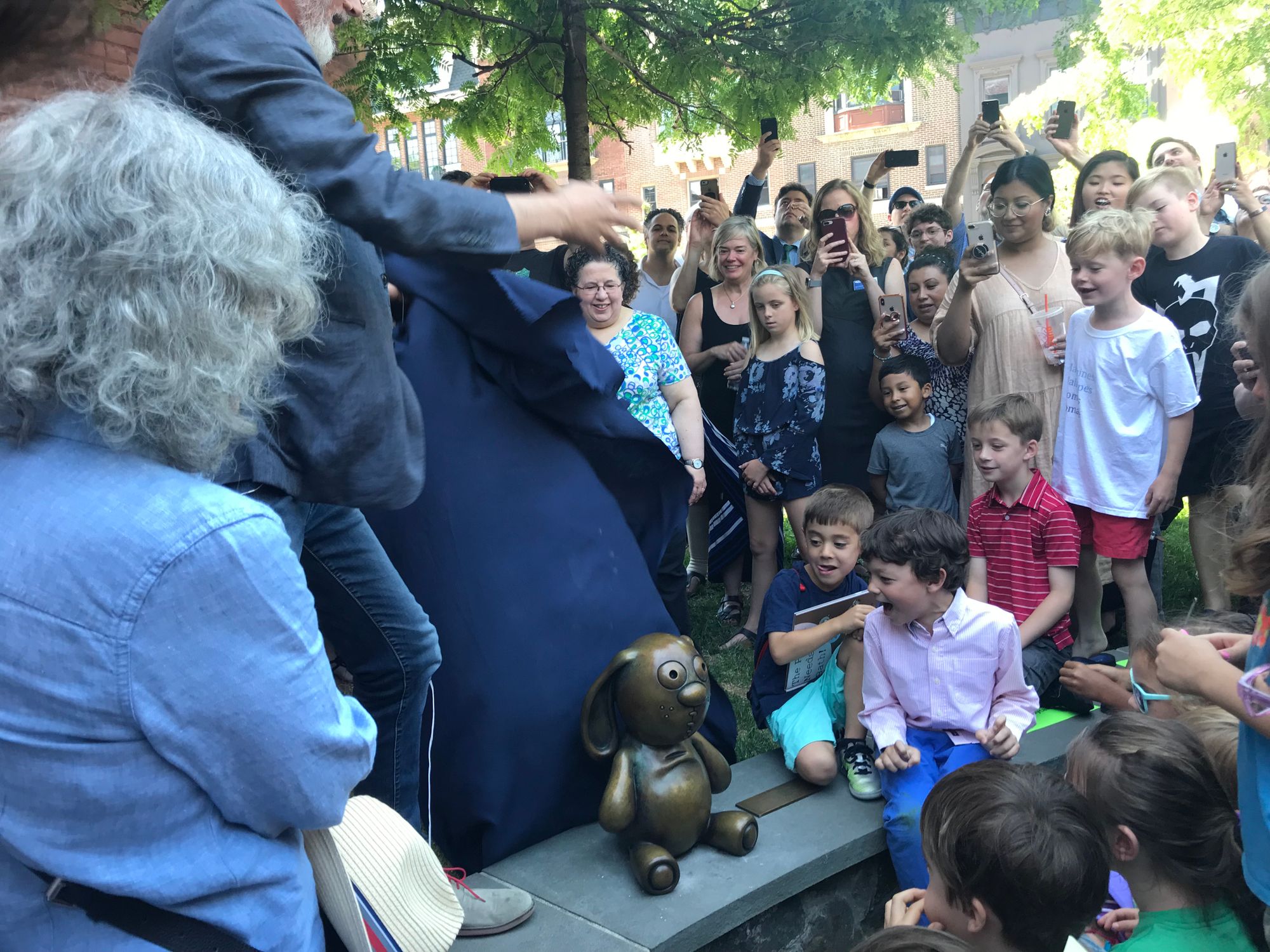 "The big idea behind these books is that small stories are worth telling, my small stories and yours," Willems continued. "Misunderstandings [and] bunny disasters are part of life, but so are listening, loving, and learning. It is my sincere hope that every child who sees and holds and climbs over this statue will be reminded that their stories are worth telling and being heard." He then gave an exuberant reading of his book delighting all in attendance, both young and old.