Know Of Any Wheel-Less Cars Left For Weeks?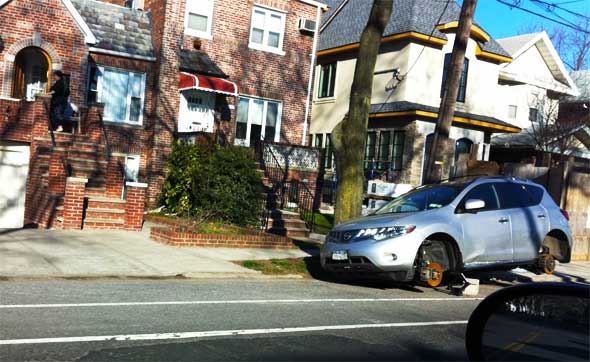 We get a lot of e-mails about cars stripped by wheel and rim thieves, often stating that the resulting hulk of glass, steel and fiberglass sits there for weeks. Such is the case with the photo above, taken on Bedford Avenue between Avenue T and Avenue S. According to the reader, Igor L., this one's been there for some time, and we've heard of others that were left for as much as two months.
Quite frankly, authorities can't do much about it if they don't know – and even then a little prodding couldn't hurt. So we're opening up this thread to ask if you know of any other cars like this that are still sitting on the streets. We'll see if we can get the word out and have them removed.