Kingsborough's Free Concert Series: "Hot Summer Nights" 2012
If you're looking for a fun and affordable way to kick up your heels this summer, look no further than Kingsborough Community College. On Stage at Kingsborough once again brings you its free 2012 "Hot Summer Nights" concert series, taking place every Saturday night in July. The concerts, which start at 7:00 p.m. (no reservations are necessary), are held at Kingsborough's outdoor bandshell, in the shadow of the lighthouse, and steps from the sea wall.
According to Anna Becker, executive director of On Stage at Kingsborough, "This year, our concerts will take us on a patriotic and swinging journey across America, with a stopover on Broadway, and a final destination at a hot Parisian night club. The only thing you'll need to pack is your dancing shoes." Becker invites everyone to "bring a picnic and make a wonderful summer evening of it."
2012 "Hot Summer Nights" Lineup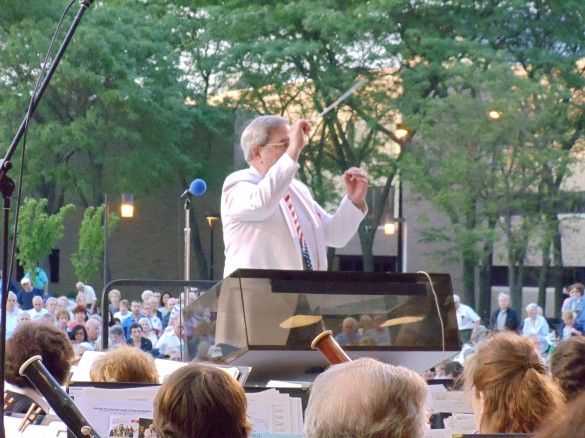 July 7th at 8:00 p.m. Brooklyn's beloved Community Wind Ensemble & Concert Band, conducted by Ray Wheeler, pays musical tribute to the USA with an evening of patriotic pops in their Star Spangled Summer concert.
July 14th at 8:00 p.m. Paragon Ragtime Orchestra's You're A Grand Old Flag: George M. Cohan's Broadway concert presents a stirring look at this great composer's life and music, playing the original scores on antique instruments of such hits as "Give My Regards to Broadway," "H-a-rr-i-gan," "The Yankee Doodle Boy," "Over There!," and many more of Cohan's enduring songs. This concert features a Broadway song & dance man performing in grand Cohan style. Paragon Ragtime Orchestra is the world's only professional ragtime ensemble.
July 21st at 8:00 p.m. The Danny Repole Swing Band will have you dancing in the aisles in no time at their wildly popular Summertime Swing Concert, featuring treasured favorites such as "Night and Day," "Tangerine," and "Cherry Pink." Repole's remarkable musical career includes performing in the Tommy Dorsey Orchestra, the Guy Lombardo Orchestra, at Radio City Music Hall, and on the original Broadway cast recordings of The Sound of Music, Cabaret, and Chicago.
July 28th at 8:00 p.m. The Hot Club of San Francisco will take you away to the small, smoky jazz clubs and the refined lounges of the famous Hotel Ritz in 1930s Paris. This highly-accomplished ensemble performs across the country from Lincoln Center to the Monterey Jazz Festival, celebrating the music of Django Reinhardt and Stephane Grappelli's pioneering Hot Club de France. The HCSF borrows the instrumentation of violin, bass and guitars from the original Hot Club while breathing new life into the music with innovative arrangements of classic tunes and original compositions from the group's superb lead guitarist Paul Mehling, dubbed the "Godfather of American gypsy jazz." Featuring the amazing violin of twice Grammy Award winner Evan Price and a swinging rhythm section. Once you hear the sometimes flamboyant, sometimes melancholy music of Postcards from Gypsyland, you can't forget it.
General Information
Kingsborough Community College is located at 2001 Oriental Boulevard. You can find On Stage at Kingsborough on Facebook, and follow them on Twitter (@OnStageAtKCC). To learn more, call (718) 368-5596 or check out On Stage at Kingsborough's website.