Key Food Stakeholder Group And Developer Say 'Constructive Dialogue' Happening; Details Under Wraps
The Park Slope Key Food Stakeholder Group — a convergence of neighborhood community organizations as well as local and citywide politicians — released a joint statement today with developer Avery Hall Investments saying that conversations concerning the highly controversial 5th Avenue Key Food development project "will continue in good faith."
The statement comes just weeks after a platoon of local and city-wide politicians sent a letter to the Housing Preservation and Development (HPD) and New York City Planning Commission to express they are "deeply concerned" with major portions of the developer's plans.
"We are now engaged in a constructive dialogue about AHI's proposal for the Park Slope Key Food site on Fifth Avenue. This dialogue reflects the community's core concerns, which were expressed loud and clear at the February public meeting: a large, affordable and community-oriented supermarket with a long-term lease; long-term deeply affordable housing that serves local residents, including those who have been displaced from the neighborhood; and meaningful community input into the design and operations of the proposed development. We anticipate that the conversations will continue in good faith, with the goal of reaching agreement on a plan that meets the community's needs."
Sources tell us that those involved in negotiations have agreed not to share anything beyond the statement above at this point. A spokesperson for Avery Hall Investments says the developer has no comment at this time beyond the statement.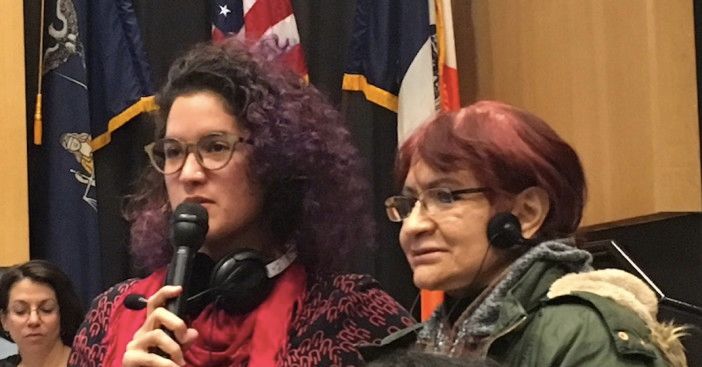 The public meeting which took placed in February was marked by both impassioned pleas and extreme exasperation by hundreds of community members in response to developer Avery Hall's future plans for the existing 5th Avenue Key Food site.
The Park Slope Key Food Stakeholder Group was convened by the Fifth Avenue Committee, in conjunction with City Council Member Brad Lander. "It includes a range of neighborhood organizations and leaders from Park Slope, Boerum Hill, Gowanus Houses, Wyckoff Gardens, and Warren Street Houses," the joint statement notes.
Participating elected officials include: City Council Member Brad Lander, City Council Member Stephen Levin, Assemblywoman Jo Anne Simon, State Senator Velmanette Montgomery, Congresswoman Nydia Velazquez, Borough President Eric L. Adams, Comptroller Scott Stringer, and Public Advocate Letitia James. The statement also notes that representatives of the de Blasio Administration have also participated in the group.
A recent segment on BRIC TV produced by Steve de Sève is an engaging and informative mini-documentary which tracks through the ongoing 5th Avenue Key Food development controversy.
We will update you once we learn more information.