KCC's Finest Awarded For Lending A Helping Hand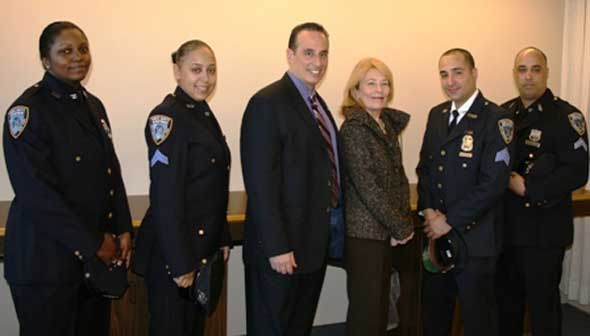 Four Kingsborough public safety officers have been awarded medals for their courageous response when tragedy struck on Oriental Boulevard and Falmouth Street last October.
The four public safety officers, Tamara Bailey, Veronica Rodriquez, Mario Cintron, and Alfredo Rodriguez received medals at CUNY'S 2nd Annual Medal Award Recognition Ceremony on February 18.
On the late afternoon of October 7, the officers immediately assisted the police in controlling traffic and identifying witnesses when 4-year-old Evan Svirsky was struck and killed by a B49 bus. His mother, Irina Liberman, 45, was left injured after her head hit the bus mirror in her attempt to save her son.  Evan's 6-year-old brother was with them, but was unharmed.
Kingsborough's public safety officers have no jurisdiction to use enforcement powers outside of the school's gates, but they are trained in CPR and other life-saving practices. They are often the first response at the scene of any Manhattan Beach accident.
"The entire Kingsborough community joins me in congratulating these exemplary and outstanding officers," Kingsborough President Regina Peruggi said in a press release.