Jumaane Williams Is The City's Next Public Advocate
EAST FLATBUSH — City Councilman Jumane Williams dominated in Tuesday's special election to claim the interim post as New York City's fifth public advocate.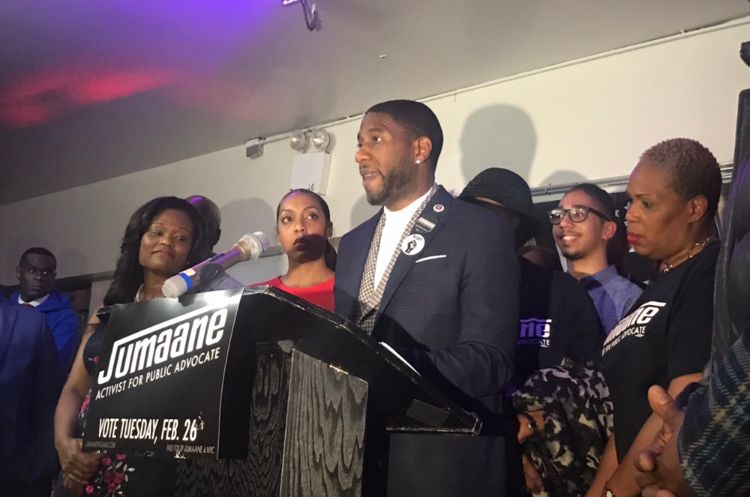 Williams, one of 17 candidates on the ballot, won 33 percent of the vote with 98.01 percent of precincts reporting. More than 133,000 people bubbled in for the Brooklyn lawmaker who beat the runner-up, Eric Ulrich—a Republican—with more than 56,000 votes. Melissa Mark-Viverito came in third place with 44,128 votes and Michael Blake in fourth with 33,198 votes. The Board of Elections (BOE) lists the voter breakdown here.
Williams replaces Letitia James who vacated the seat to become New York state attorney general. Williams will run again during a primary and then a general election in November to secure a full-term which expires in 2021.
The native Brooklynite took the stage after 10:30 pm at Cafe Omar in East Flatbush.
"There was power when I ran for lieutenant governor and there was power when I ran for public advocate," said Williams in what turned into an emotional testimony about his 3-year stint in therapy and a pep talk for youngsters who may look up to the East Flatbush native.
"But I know there's a young black boy out there who's trying to find his space in the world. Nobody knows he cries himself to sleep. Nobody knows how much he misses his father. Nobody knows how much he's going through."
"But I got something to say to that young man that I think about very often," Williams said tearfully. "My name is Jumaane Williams and I'm the public advocate of New York City."
The rest of the evening was filled with lots of celebration. More than a dozen politicians dropped by, including Councilmembers Mark Treyger, Vanessa Gibson, Jimmy Van Bramer,  Robert Cornegy and Brad Lander. Assemblymembers Walter Mosely and Rodneyse Bichotte also attended, the latter of which served as the evening's emcee.
Manhattan Borough President Gale Brewer stole the show when she recounted a story from earlier in the day about a run-in she and Williams had with someone that claimed they sat on Williams' trial.
"So here on 96th St. at 3 o'clock in the afternoon this white guy from the Upper West Side says, 'you conducted yourself so well at the trial that I voted for you.'"
"It doesn't get better than that," she added.
Majority Speaker Laurie Cumbo was also there to congratulate her fellow Brooklyn Technical High School alum on his victory.
As for the breakdown by assembly district, here's how the top four candidates did with 98 percent precincts reporting:
Ulrich, a Queens councilman, captured between 29 and 50 percent of his borough's vote but dominated in the Rockaways, most of Staten Island and all of Brooklyn's Borough Park. He also captured some of the Southern Brooklyn voter base including the 41st, 46th, 47th and 49th assembly districts, all of which are represented by Democrats but are the city's largest Republican base.
The small sliver of Bay Ridge that falls into Assemblywoman Nicole Malliotakis' district, a Republican looking to oust Congressman Max Rose, voted overwhelmingly for Ulrich.
Melissa Mark Viveritto, who only captured 10.96 percent of the vote, took Mott Haven, Hunts Point and East Harlem, where she once served as a councilwoman. But the former city council speaker wasn't able to make a dent outside of her former district outside of a portion of Jackson Heights and Corona.
The Bronx was split between Councilman Ydanis Rodriguez and Assemblyman Michael Blake both of whom serve as lawmakers in those districts.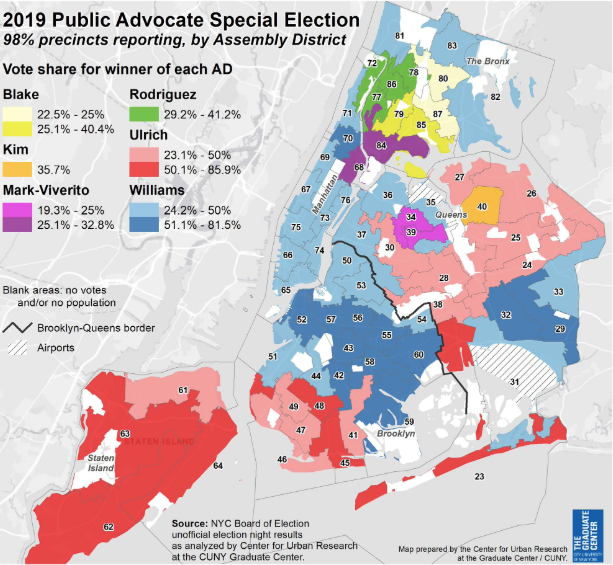 At least a half-dozen candidates have opened committees with the New York City Campaign Finance Board to replace Williams in the 45th Council district, which encompasses East Flatbush, Flatbush, Flatlands, Marine Park, and Midwood. Bklyner covered the slate of candidates last month, some of which have already started fundraising.