Joey Chestnut Gobbles Up His Own Record At Nathan's Famous Hot Dog Eating Contest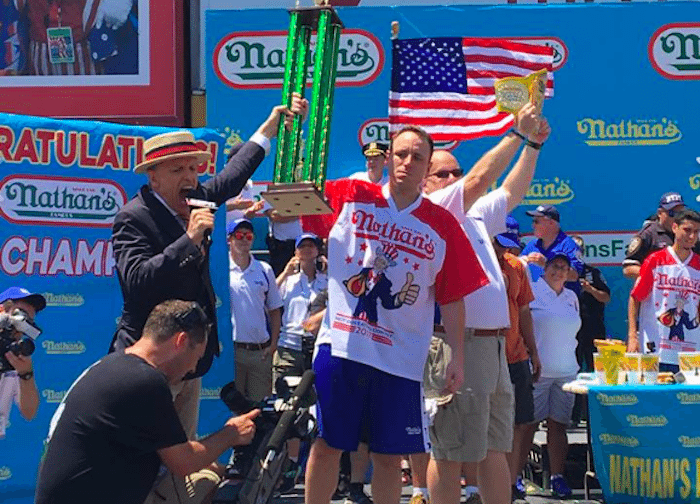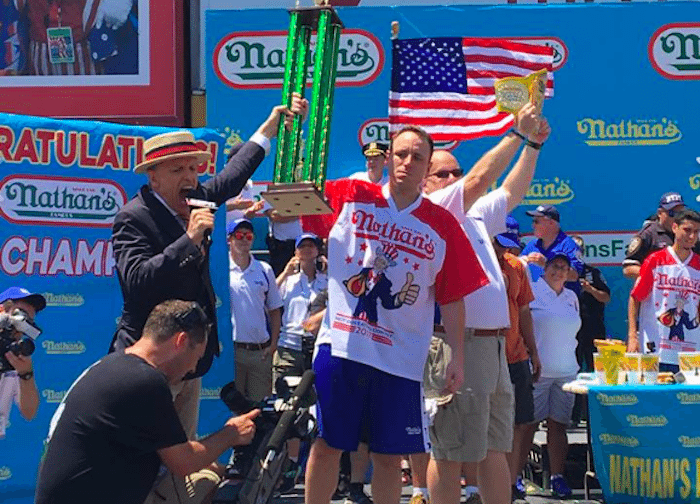 Joey "Jaws" Chestnut wolfed down a record-setting 72 hot dogs in over 10 minutes (that's one hot dog every 8.3 seconds) on Tuesday, shattering his own record in Nathan's Famous annual Fourth of July hot dog eating contest.
"I was sweating like a mad dog," the champion told the NY Daily News. "I know I can do better. Next year, if I come back, I'll be pushing hard."
In the women's competition, defending champ Miki Sudo downed 41 hot dogs, crushing her 38.5 record from last year. This is her fourth consecutive victory at Coney Island's destination event on July 4. Both she and Chestnut will take home $10,000 for capturing first place.
But not everyone delighted in gluttony. Animal rights activists were arrested after trying to unfurl a black banner during the contest. Demonstrators said they're from a group called Direct Action Everywhere, and want Nathan's to stop holding the contest. After being taken into police custody for questioning, the detained protesters were released, reports NBC News.
Last year, three animal rights protestors were arrested after they jumped on stage and squirted some of the participants with ketchup.