It's Back…Great GoogaMooga Tickets On Sale This Week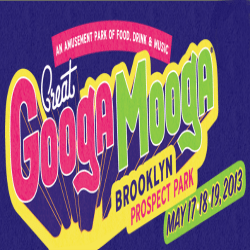 Love it or hate it, Great GoogaMooga is back in Prospect Park on May 17, 18, and 19, and tickets are officially on sale this week.
As was expected, the organizers have shaken up the works a bit for their second round. Here's what to expect:
A New 3-Day Format
Why wait until Saturday? For $49.50 you can get your googamooga on Friday night with the kickoff concert, featuring Yeah, Yeah, Yeahs, The Flaming Lips, and The Darkness.
Saturday and Sunday bring back the two free-admission (but ticketed) days we came to know and love (?) last year. Expect 85 of of the city's top restaurants, more than 30 breweries, and over 100 wines from around the world holding court.
More, More and More
Food lines and shortages drive you bonkers last year? Organizers are pumping up the more, with "more places to buy food, more servers for each vendor and lots more food and drink to go around."
Vegetarian Options
The Great and Powerful GoogaMooga has also come to the understanding that, "there's more to life than bacon," and will offer "at least 8 full-veg complete meals, plus raw foods, cold-pressed juices and artisanal offerings."
Gluten free? Look for signage, because there will be options for you, too.
More Water Available
We'd still bring your own, though. Why wait in line for water.
Better cell service. BUT…
What's the point of GoogaMoogaing if you can't show the grub off to your friends on Facebook, Instagram and Twitter? Extra cell towers will be carted in for the event, but organizers warn that, "there may be some difficulties at times using your device as usual."
Lost?
If you were feeling a bit lost last year, GoogaMooga is "working with the Park to provide better directions and clearer signage."
So there you have it, South Slope! Tickets for the kickoff concert ($49.50 for Early Bird allotment, and $54.50 once the Early Bird allotment is sold out) , and VIP cocktail tickets ($79.50 per day) for May 18 and 19 go on sale at 12pm on Thursday, March 28.
Looking for the free general admission tickets?  Registration begins April 1 at noon, and you can register to receive one or two free tickets to either Saturday or Sunday. You will need to choose which day you'd like to attend when you register. Registration will close on April 3rd at 11:59pm. Tickets will be awarded at random and recipients will be notified by email on or before April 10th.
Image via Great GoogaMooga