'It's A Bodega!' And More Outcries As Developer Presents Plans For 5th Avenue Key Food Site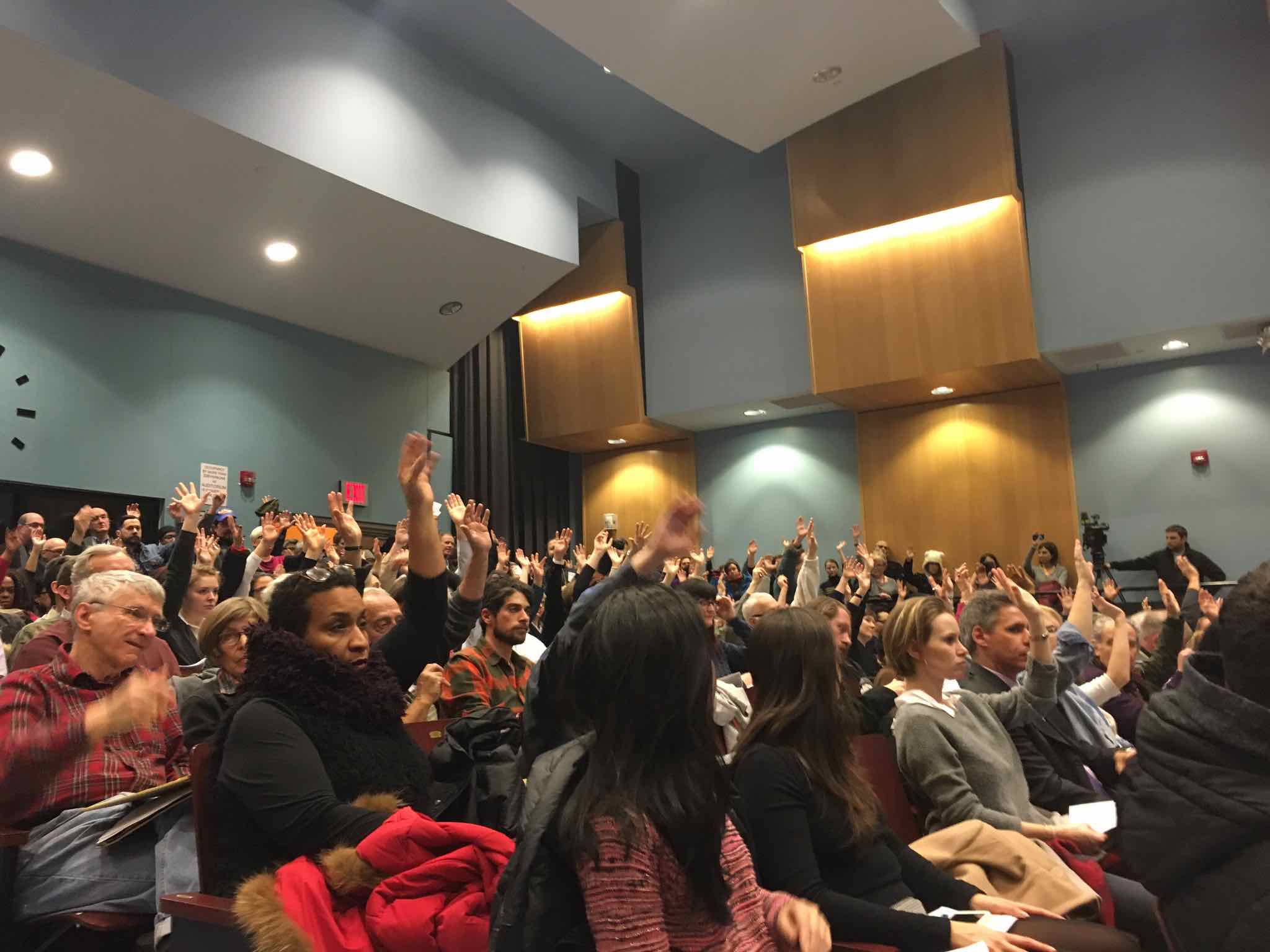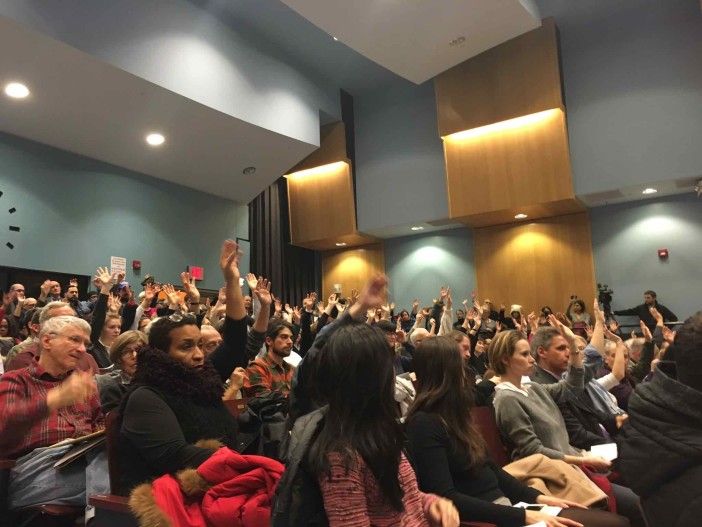 With vitriol and a huge helping of old-fashioned chutzpah, members of the community stuffed an auditorium at PS 133 – William Butler School to weigh in on Avery Hall Investment's plans to redevelop the 5th Avenue Key Food property at 120 5th Avenue.
After Avery Hall spokesperson Ethan Geto announced in November that the firm "will build a residential and commercial development that will include some affordable housing," an almost immediate outcry came from many in the community with multiple concerns — including what is considered to be a significant loss of an affordable supermarket in the area.
A few weeks after the announcement, an advocacy group called 'Save The Fifth Avenue Key Food' was created to combat the property purchase.
That attention provoked a response from community and political leaders: the co-sponsors included Councilmember Brad Lander, the Fifth Avenue Committee, Park Slope Neighbors, Forth on Fourth (a Committee of the Park Slope Civic Council), the Fifth Avenue BID, Families United for Racial and Economic Equality (FUREE), along with Community Board 6, City Councilmember Steve Levin, Brooklyn Borough President Eric Adams, Assemblymember Jo Anne Simon, and State Senator Velmanette Montgomery.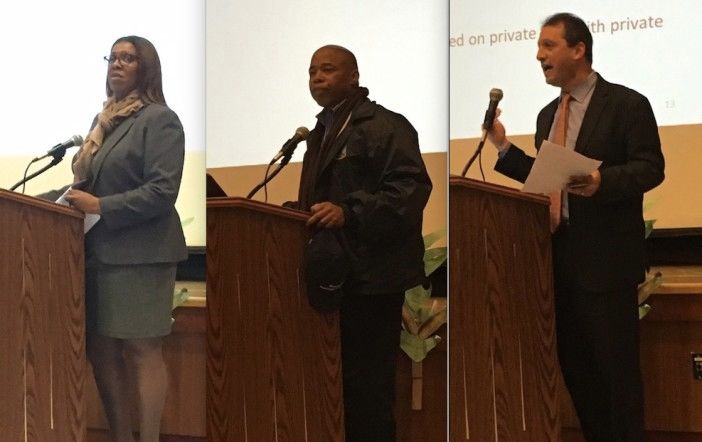 In addition to neighbors and community organizers, politicians came out to show their support for the concerns that have been voiced.
Council Member Brad Lander moderated the questions from the audience. Borough President Eric Adams told the attendees that he had already met with a variety of supermarket chains last week. "We're going to do everything we can do to keep supermarkets here," said Adams. "Our children cannot grow up on chicken wings and fried rice."
In addition, New York City Comptroller Scott M. Stringer released a statement, saying "I stand with the Park Slope community in calling for a full-service, affordable supermarket at the site of the Fifth Avenue Key Foods. Any plans for new retail space at this location must include a grocery store that provides good jobs and allows middle-class New Yorkers to put healthy and affordable meals on the table. I am going to work with the Fifth Avenue Committee to make sure that this community's voice is heard and that there continues to be affordable grocery options in Park Slope."
Public Advocate Letitia James — a former neighbor who used to shop at the Key Food — strongly asserted her support for the community. The attendees responded enthusiastically to her presence, especially when she praised the neighborhood: "Park Slope is an activist community," she said.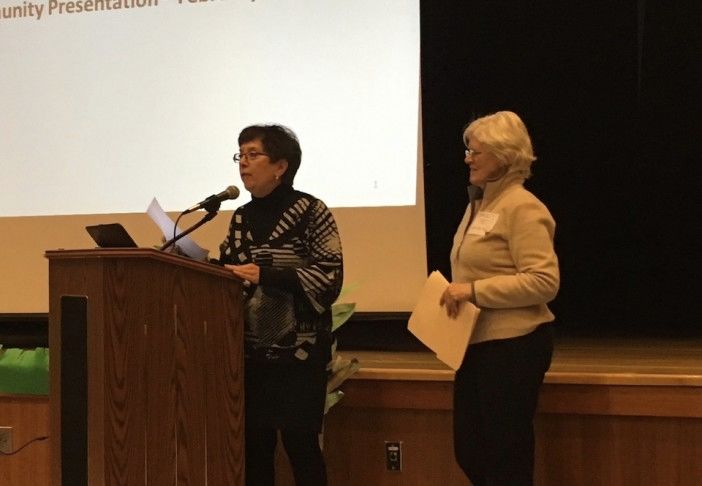 James' comments were certainly accurate, as Rebecca Reich, former Executive Director of Fifth Avenue Committee and Pat Conway, Fifth Avenue Committee Board Member provided important historical information about the Key Food.
Reich spoke of how the Fifth Avenue Committee (FAC) was formed out of the need to create an affordable and sizable supermarket. The Key Food is part of the 40 year "Baltic Street Community Development Plan" established in 1981.
Conroy asserted how "appalling" she found the changes to the neighborhood. "It's very difficult, unless you were here and lived through it," she said.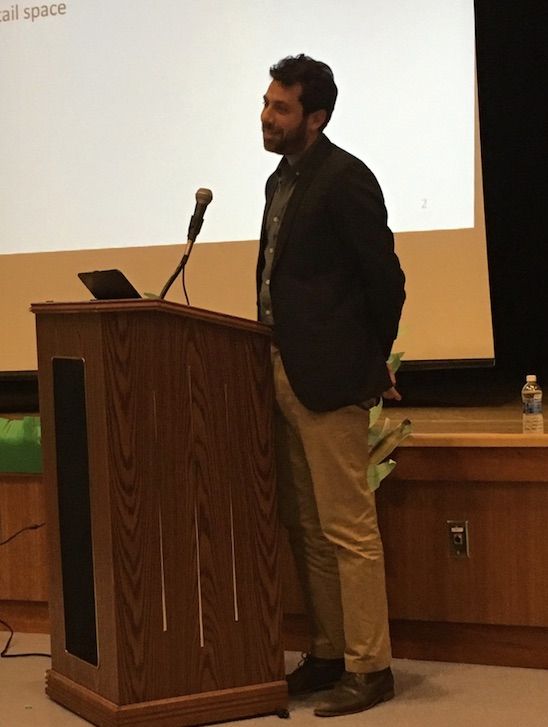 The plans presented — consisting of two residential properties, commercial businesses, and the addition of a pedestrian walkway — also include a space for a supermarket. However, the proposed space allotted for the market would be 7,500 square-feet. The current size of Key Food is 36,000 square-feet.
The redevelopment plans were presented by Brian Ezra, Founding Principal of Avery Hall. "Our goal is create thoughtfully designed contextual projects," he said.
Ezra told the attendees "we are ready to commit a grocery store to the new project…[however]  it's difficult to provide a grocery due to issues of feasibility."
Ezra's comments were met with sharp hisses and a volley of responses. "It's a bodega!" shouted long-time neighbor Richard Niminger, in response to the proposed size of supermarket.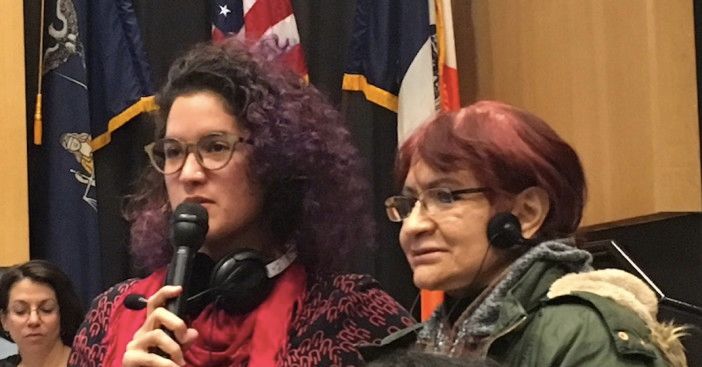 Ezra also announced that of the 165 apartments that would be built, 41 of them would be "affordable housing." His comments were met with sarcastic laughter and sneers from many who attended. "What do you mean by affordable?" was asked with exasperation by many of the attendees.
Ezra also explained that Butler Street — which currently stops at the west side of Key Foods — would be extended to become a pedestrian walkway leading to 5th Avenue. According to Ezra, this "public piazza" would have cafes, restaurants, and other retail stores that would line the extended Butler Street.
In addition to the need for affordable groceries, healthy food options, and wider aisles, the issue of a fiscally sound 5th Avenue was also raised. "A lot of retailers are struggling on the avenue. A larger grocery store could be an anchor," said Mark Caserta, Executive Director of the Park Slope 5th Avenue BID.
At the conclusion of the meeting, both politicians and community members made a strong commitment to organizing in order to put pressure on Avery Hall to support the needs of the community.
While Ezra responded several times that their company was here to listen to the community, it seems that Avery Hall is rather far along with decision-making for what they call a "proposal."
However, the property falls within the guidelines of urban renewal, which means changes need to pass throughout the community board and subsequently the City Council for approval.
This development is clearly a pivotal issue for this community — and the stakes are extremely high. Should the community successfully achieve a supermarket with equal square footage to the current Key Food as well as housing that is truly affordable, this could very well be a benchmark for community organization across the city.
"I cannot accept less than the equal replacement of square footage that we have now. Anything less would be an insult." said neighbor William Frazier. "We don't need aesthetics, we do need to improve our community."