Is Rispoli Bakery And Ices Back And Better Than Ever?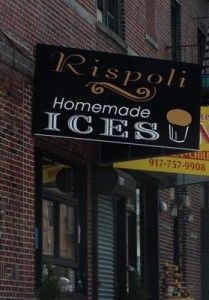 I plead ignorance on this latest post, thus I am turning to my faithful bakery-loving readers to help me out. Rispoli, an Italian bakery, which used to be located at 72nd Street and New Utrecht Avenue closed down a few years ago. This, I can recall.
Now, I'm getting reports that the famed bakery is back at a new location. Here's a Yelp review written by Erik H. that I'm using as evidence:
Rispoli is back!!!
They used to be located in a larger Bakery over on 72nd street and New Utrecht Ave.  Now, they have a small shop on 78th street that just has the Italian Ices that everyone has grown to love.  When I say small, I mean small but they now have more flavors than ever.
I have already been here a few times and the Vanilla Chip is still as awesome as I remember it.  If anyone remembers the original Rispoli, you need to come here and experience it all over again!
O.K. that's as official as it gets, Rispoli is back in a smaller space at 1306 78th Street, between 13th Ave and 14th Ave, now serving just homemade ices.
You can never have too many Italian ices joints, that's what I always say. Welcome back Rispoli.