Iron Station, A New Bar On 5th Avenue, Brings Carolinian Charm To South Slope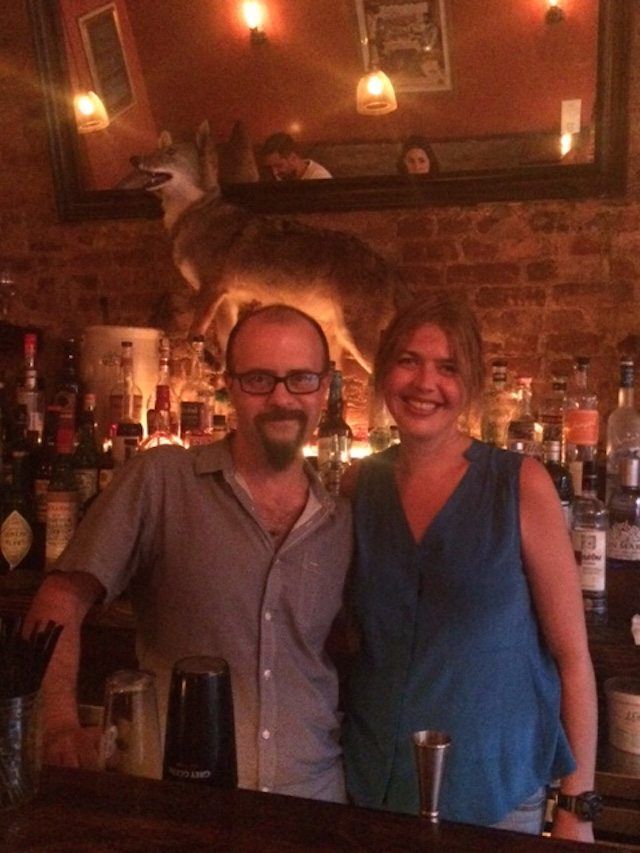 It's been just over a month since the husband-and-wife team of Alex Haskell and Kate Simpson opened Iron Station, a welcoming new watering hole on 5th Avenue, but the bar has roots that go back much further in time and are deeply enmeshed in the couple's history.
For starters, it shares its name with the small town west of Charlotte, North Carolina, where Kate grew up. Alex says it's so tiny and remote that "the joke is that they can't even say it's a one-stoplight town, it's a one-stop sign town."
Kate's first apartment in Brooklyn was just a few blocks from where the bar is now located, but it was when the event producer/project manager moved to Carroll Gardens that she first met Alex, a native New Yorker who was then tending bar at her regular local haunt, Mini Bar. Fast forward a few years and the couple is now married, living in Clinton Hill with their two beloved dogs, and thrilled to have realized a longtime goal: opening their own business that reflects Kate's heritage; Alex's expertise in wine, spirits, and craft beer honed over decades working behind bars in Manhattan and Brooklyn; and their shared love of South Slope, which Alex says reminds him of the NYC neighborhoods he knew growing up and is an area that manages to be "still interesting" despite all of the changes that the city has undergone since.
"I've been in this business forever, and I've wanted to open my own bar forever, and having Kate as my partner in it is great and the only reason I've stayed at all sane during the process," Alex jokes.
The first thing you'll notice when you walk into Iron Station is a taxidermied coyote that Kate's dad, an amateur hunter, shot with a crossbow in North Carolina. The stuffed canid now presides over a beautiful wooden bar that displays all the bottles that you would expect to see in a place that serves fresh, on-trend, $10 cocktails: Fernet Branca, Tito's Vodka, and a vast array of various bitters. One afternoon last week, the Damson Cup, which consists of gin, lemon juice, simple syrup and ginger beer, was a crisp and refreshing antidote to a steamy July heat wave.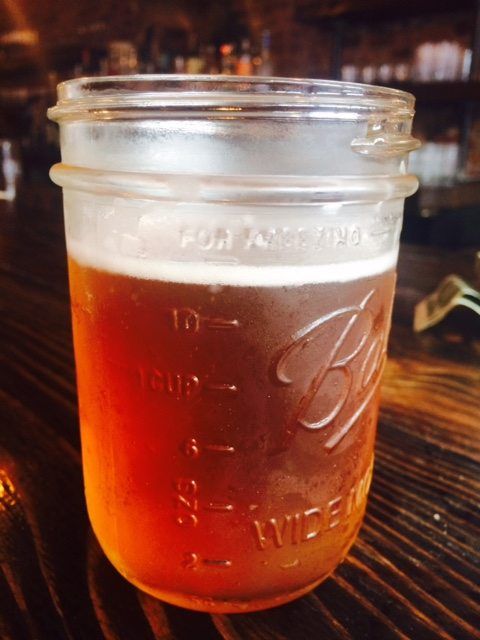 There is also a selection of wine and cider available, as well as an inspired roster of craft beers served in Mason pint jars. I am personally partial to sour beers, and fully endorse the Almanac Golden Gate Gose ($6), but Alex tells me that the tap list was intentionally curated to ensure that there is something for everyone.
Those looking for a deal should take note that it's $2 off all beer, wine, and well drinks during Happy Hour, which runs from 5-8pm on weeknights. You can also take the edge off cheaply anytime with a $5 special on a can of Narragansett Lager, which has been deemed the new PBR, accompanied by a shot of Heaven Hill bourbon.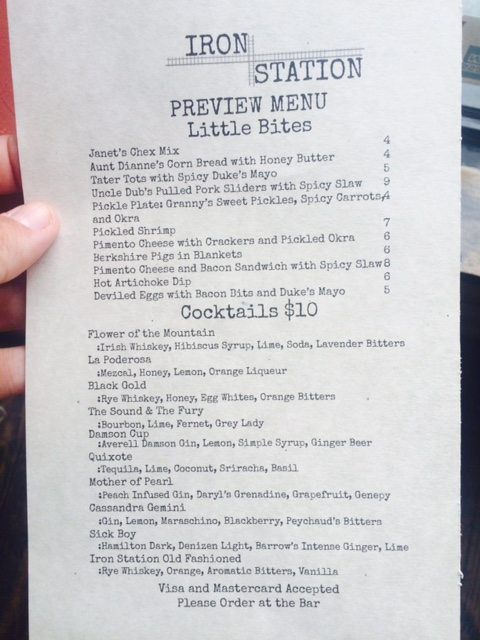 Iron Station's food menu is comprised of "Southern tapas" — shareable small plates that, according to Alex, came "straight out of Kate's family recipe book" and feature real-deal Southern ingredients like Duke's mayonnaise imported from the source in South Carolina.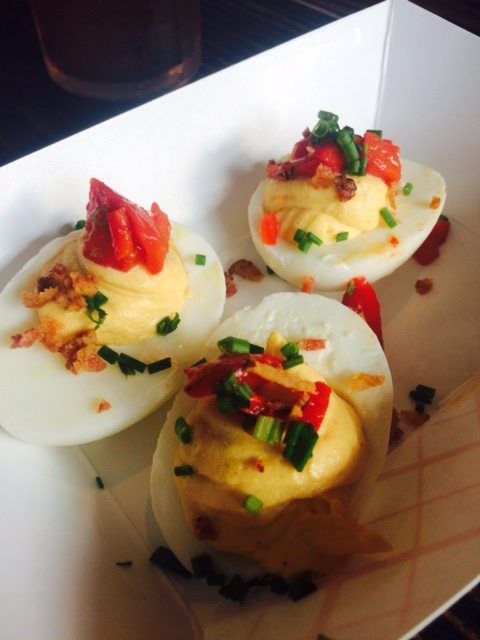 I'm a total sucker for deviled eggs, and this version has achieved an expertly balanced bite of egg, mayo, and mustard, with a generous sprinkling of red pepper, chives, and flecks of crispy bacon on top. I'll have to go back to try the pimento cheese and bacon sandwich with spicy slaw or Kate's Uncle Dub's famous pulled pork, which Alex slavishly perfected for five and a half weeks before it was officially added to the menu.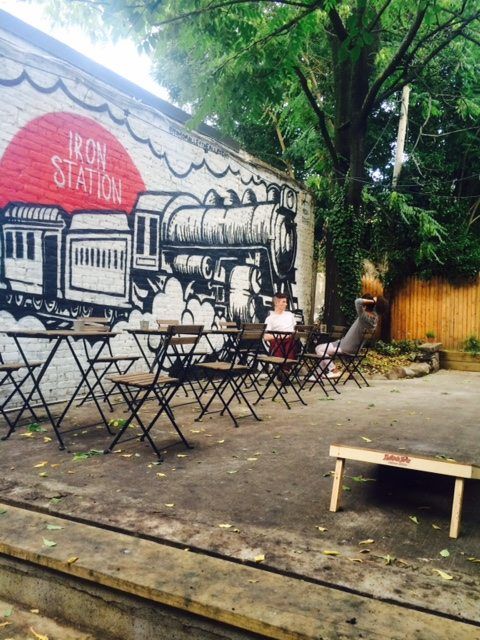 Like a slew of other bars in the area, Iron Station has a spacious, killer backyard that is an ideal place to while away a pleasant evening with a book or some friends. Cornhole, the traditional Southern beanbag tossing game, was recently added to the mix, and there was a quite competitive tournament (with money at stake) underway the other night. Personal touches like a book exchange, inspired by Kate's habit of taking a book and leaving a book at the hostels she stayed at during her travels around the world, further enhance the bar's comfortable, intimate vibe.
I live about two blocks from Iron Station and have stopped by once or twice a week over the past month when in need of a frosty drink, free wifi, and an air-conditioned space to get some writing done. In that short time, I feel like Alex, Kate, and their friendly staff have accepted me as "a regular," and I've also met several new neighbors whom I now say hi to when we pass each other on the street. Although there are a few ideas being kicked around for future additions to Iron Station's program, including a Cornhole league, brunch-friendly menu items, and a desert island disc night, one thing that clearly won't change is the bar's primary mission: to be, at its core, a true neighborhood hangout.
Iron Station is located at 683 5th Avenue, between 20th and 21st Streets. They open at 5pm on weeknights and at noon on Saturday and Sundays.
About the author: Kate Hooker is a writer and a lawyer who has lived in South Slope since 2010 with her boyfriend and her beloved cocker spaniel, Hurley. Kate is a pop culture junkie and an unrepentant foodie who can often be found exploring new neighborhoods, seeing live comedy, or watching college basketball. She also drives an old Cadillac that is often mistaken for an Uber and flagged down by strangers on the street.