Industry City CEO Defends Expansion to Skeptical Sunset Park Residents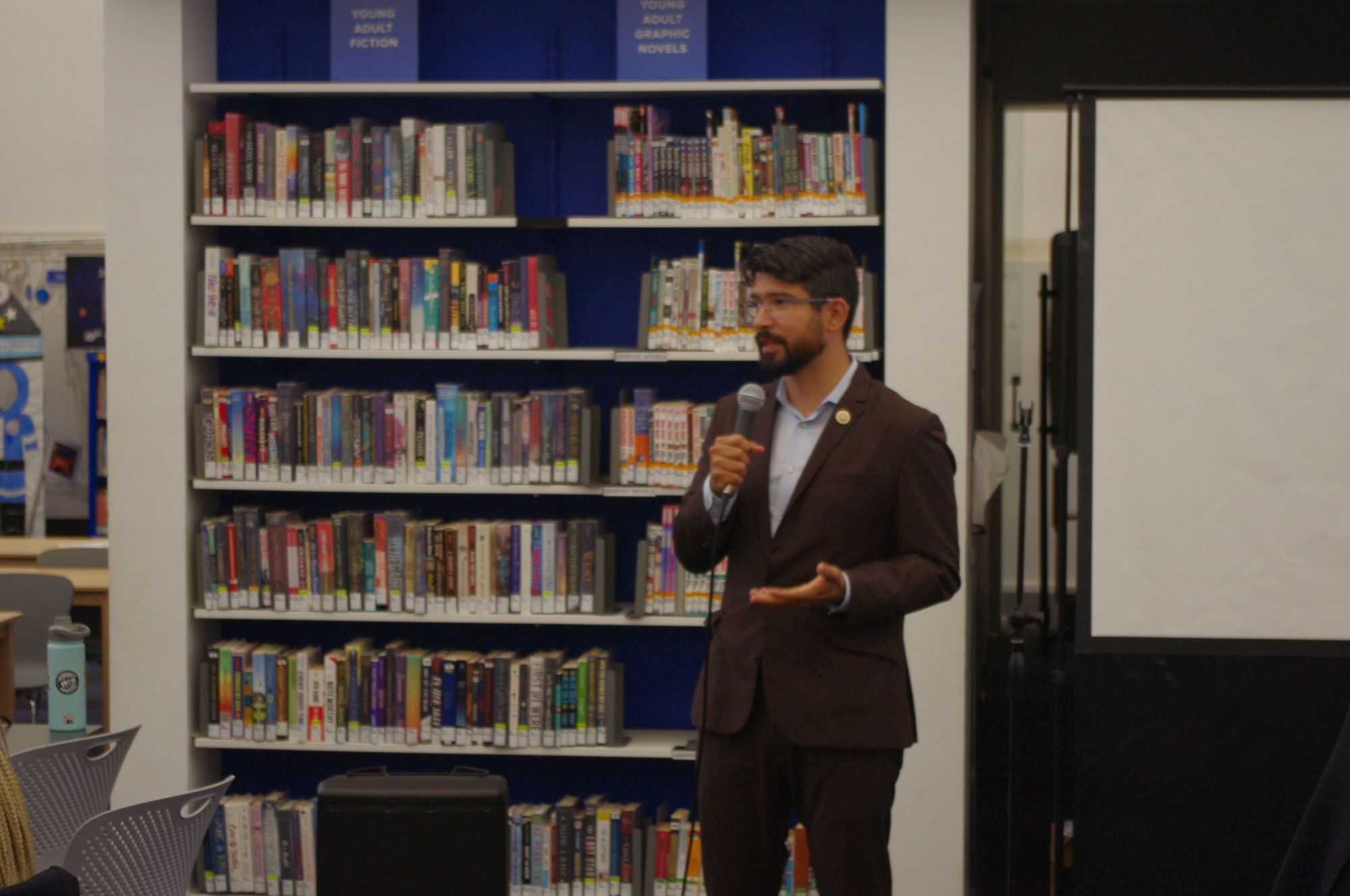 SUNSET PARK—Industry City's CEO on Monday defended the complex's planned expansion at a Sunset Park's community board meeting, responding to neighborhood residents' questions as they mulled the plan, which was put on hold earlier this year at the local City Council member's request.
At a Brooklyn Community Board 7 meeting, residents gathered to ask questions and express their thoughts about the proposed rezoning of Industry City. The campus is seeking City Council approval to expand the 16-building, 32-acre Sunset Park facility, in a project that would bring 2 hotels, new retail and educational space—a development that would add more than 1 million square feet of construction.
The proposed rezoning of the area from heavy manufacturing to a middle ground between heavy and light manufacturing, which is needed to facilitate this plan, was put on hold in March, after Council Member Carlos Menchaca said the application was "dead on arrival" if the public review process kicked off officially before he and local residents had more time to think things over.
In addition, Menchaca told Bklyner in May he wants to use the Industry City rezoning process to change the way New York City goes about rezonings, by allowing Council members and local residents—not developers and the city—to dictate the timeline of how land use proposals are reviewed.
On Monday, Industry City's CEO Andrew Kimball took the opportunity to defend the planned expansion and its process, which drew suspicion from some residents, who said the expansion would accelerate gentrification and displacement elsewhere in Sunset Park, wouldn't provide jobs to people currently living in the area, could set the stage for more tall discretionary developments in Sunset Park, and said Industry City hasn't been forthcoming about its plans.
"It is an extraordinary amount of transparency for a private application," Kimball told the dozens who gathered at Brooklyn Public Library's Sunset Park branch Monday evening. "I think you'd  be hard-pressed to find anywhere in New York City the kind of development entity that has created a space for the community."
Kimball, as he has said in the past, argued that the as-of-right development option—meaning it would need to abide by the underlying rezoning— wouldn't yield an outcome local advocates would be satisfied with. He also explained the rationale behind Industry City's solicitation of Amazon to create offices at the site.
"We are zoned M3, which is a fairly archaic zoning," he said. "It is important for people to understand that, under M3, you can do unlimited office space."
After the meeting, Kimball told reporters that, while gentrification has been taking place in Sunset Park and several other neighborhoods in the city, "the answer to gentrification is not slowing down or killing job creation, it is making sure that the jobs being created are best connected to the community and to schools that serve the community."
Several attendees remained unconvinced.
"I'm concerned about opening that door to building that tall on 3rd and 2nd avenues," said María Roca, founder and chair of Friends of Sunset Park. "This is not going to be the only rezoning proposal that we are going to see in this community."
Marcela Mitaynes, an organizer with Neighbors Helping Neighbors, questioned whether Industry City would conduct local hiring.
"We don't want to hear that you are a private company and don't have to disclose that information," she said.
Mitaynes also argued that Industry City has been changing the neighborhood and if the company expanded, it would further transform Sunset Park—a phenomenon she suggested Kimball failed to recognize.
"If you cannot admit what your presence is going to do to our community, the long-lasting impacts that it's going to have, then we cannot have an honest discussion of whether it's good or not," she said.
Others, however, talked up the potential expansion.
Giovanni Taveras, founder of the New York State Veterans Chamber of Commerce who has space at Industry City, sees the expansion as a way of further improving the neighborhood by adding jobs to it.
"I'm a lifelong Brooklyn resident. 15 years ago, this place was terrible," Taveras told Bklyner. "Now, we see jobs coming back. … I'd like to see more jobs being created and more businesses being created in Sunset Park."
Menchaca, who represents the potentially affected area, told reporters that he and the local residents are still considering the rezoning, which was first floated about four years ago, and that they don't have enough information to come to a decision yet.
"Right now, we're still on a fact-finding mission with the community," he said. "The tone here is that there is no rezoning until we say it's okay."
"Each of these spaces the community board has created is going to help us dig deeper," Menchaca, a Progressive Caucus member, then said to the crowd at the beginning of the event. "We are so blessed to be in a community that feels empowered."