In Sheepshead Bay Mosque Debate, Fliers Go 'Round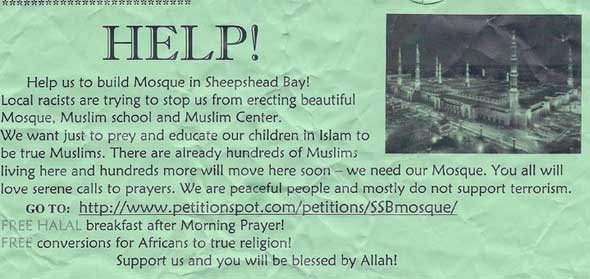 Two fliers from opposite sides of a controversial Sheepshead Bay mosque are being distributed around the neighborhood, each packed with heated accusations.
The flier above comes from the mosque's advocates and calls for support in building the Islamic establishment at 2812 Voorhies Avenue.  In it, they call their opponents "local racists [that] are trying to stop us from erecting beautiful Mosque [sic], Muslim school and Muslim Center."
But mosque opponents don't seem phased by the accusation. Instead, they're concerned about other language in the flier that at least one person says hints at their real motivation in the neighborhood.
"In my opinion this flier confirms every fear people expressed about the project," one opponent wrote to Sheepshead Bites. "I like that they 'mostly do not support terrorism'. I know what they were trying to say, but the way it came out, it has a completely opposite meaning."
The opponent also said he's concerned they're claiming that "hundreds more will move here soon" and are drawing them in with free breakfasts and more.
"All this is just 30 feet from my bedroom window!" he wrote.
Critics of the mosque are kicking their opposition up a notch. They've incorporated a group called Bay People Inc. and have launched a website at www.BayPeople.org. And they're no stranger to fliers, either. The flier below has turned up all around the neighborhood.
In addition to the familiar complaints about parking, traffic, noise and real estate prices, Bay People is now more openly targeting the group's alleged connection to Islamic terrorism. They say the sponsor of the project, the Muslim American Society, is pro-terrorist and anti-Semitic.
On Bay People's website, they reveal they're "looking into hiring a legal team to help us with our quest to stop construction at 2812 Voorhies Avenue." They say they were unable to find pro-bono assistance.
Controversy around the mosque first erupted publicly when members of the opposition group came to a Sheepshead Bay / Plumb Beach Civic meeting seeking the board's support to halt the project. Though they initially said opposition was based on traffic, parking and noise issues,  their statements quickly led the civic's board and others to believe critics were against it because it was a Muslim project.
Later, more than 300 neighborhood residents on both sides of the issue attended a Community Board 15  meeting to represent their interests. Ultimately, the Community Board has no role in the matter as the mosque is able to build "as-of-right."
There remains no legal means of halting the project, as the property is privately-owned and building plans fit the existing zoning regulations.