In Mosque Issue, "Walk Of Peace" Draws Anything But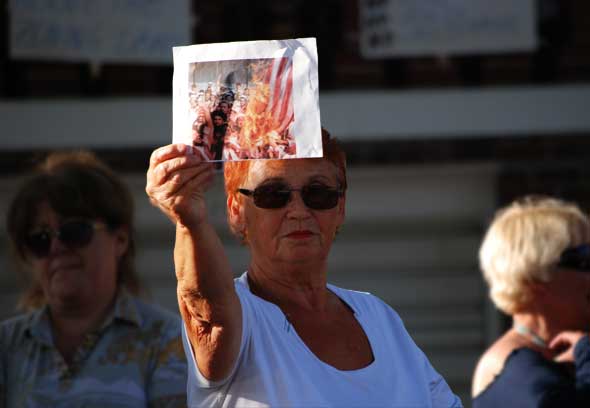 An interfaith group held a "Peace Walk" in Sheepshead Bay on Thursday, ending at the site of the controversial Voorhies Avenue mosque as a sign of unity with organizers' right to build. But the walk drew dozens of critics, who hissed and jeered at participants, braiding zoning objections with bigoted rhetoric.
Sheepshead Bites was on the scene, capturing video and notes during the event. To this point, we've held off publishing our report, preferring to digest the happening to develop a more nuanced depiction. There was more than enough mainstream media chronicling the event and turning out predictable narratives hours later.
In a nutshell, the situation is thus: Though the Park Slope-based group behind the walk said they were only there to promote harmony, they were depicted by opponents as carpetbaggers intruding on a community issue. Still, with about 150 Muslim families in the area looking to exercise their right to pray and teach peaceful, moderate Islamic values, a local mosque is a prerequisite for a more comfortable life. But before that can become a reality, mosque organizers are contending with the specter of Islamic fundamentalism, brought upon by the mosque's sponsor, the Muslim American Society. Compounding the problem, some critics have developed a coherent zoning argument around parking, noise and traffic issues. But, at Thursday's counter-demonstration, that faction of the opposition was marginalized by a group spouting bigoted and hateful remarks; they even shouted and cursed at a 15-year-old American-born Muslim girl passing by.
For video and further explanation, read on after the jump.
The Purpose of the Walk
For six years prior, a coalition of Christians, Jews and Muslims organized the Children of Abraham Peace Walk through the Muslim Consultative Network as a symbol of cooperation and tolerance. The event is meant to get families of all faiths side by side, and foster communication and understanding across religion. It's to "celebrate the diversity of Brooklyn," said Reverend Tom Martinez, of All Souls Bethlehem Church in Kensington.
This year, though, they found themselves in Sheepshead Bay. They wanted to be near a waterfront, and originally planned to walk down Coney Island Avenue to the Asser-Levy Park band shell, where they'd have performances and a meal to end the day. But NYPD officials requested a different route, as Brooklyn-Queens Day would compound problems with traffic and pedestrians. So as they began looking into alternatives in Sheepshead Bay, they came across the neighborhood's Muslim families, and wanted to "celebrate this emerging faith community that, in actuality, has been in Sheepshead Bay for quite some time," Martinez said.
The organizers quickly found themselves embroiled in the local politics. Their original starting point was to be St. Mark Catholic Church, but officials there cancelled, citing local complaints. It moved to the Sheepshead Bay Methodist Episcopal Church at Voorhies Avenue and Ocean Avenue. Some participants were "dismayed" to find the media focusing on the controversy around the mosque, and ignoring the broader aims of the event. Some of the participants were only vaguely aware of the local issue.
Martinez stressed that the connection to the mosque was an expression of interfaith cooperation, and not an attempt to interfere with the community's business.
"I'd like to think the increased awareness in the Sheepshead Bay community [of the presence of Muslims] would lead to a genuine effort to have some conversations, to air their concerns, to air their hopes and aspirations and get people talking," Martinez said. "I regret if [opponents to the mosque are] feeling ostracized in any way. That's certainly not my intention and … the walk that we're having today is really much larger than the mosque. We certainly didn't come here in order to oppose that group. We've been doing this for seven years just trying to bring people together."
Watch Martinez talk about the Peace Walk's goals:

Rabbi Ellen Lippmann, one of the founders of the peace walk, spoke to similar concerns.
"We're not a march. We're not a demonstration. We're not a protest," Lippmann said. "We're trying to be a simple walk in peace – Jews, Christians, Muslims and others of good will – walking together for peace in Brooklyn."
"We're not from here and of course they have to live here and deal with the issues in their neighborhood," she added. "We're not trying to get in the midst of that, but we would like everyone to think about peaceful ways of ensuring that a group of people can build a house of worship that so many of our ancestors did when they came to this country."
Lippmann discusses the effects the walk could have on the local controversy:

The walk proceeded down Ocean Avenue, along Emmons Avenue to Bedford Avenue, and then made its way to the proposed mosque's site at 2812 Voorhies Avenue.
A Voice for the Mosque
Whether intentional or not, the walk's organizers found themselves mired in the neighborhood controversy. The mosque has been on the local radar at least since January, when residents against the construction pleaded with the Sheepshead Bay / Plumb Beach Civic Association to speak out against it.
The Civic refused to vote on the matter, saying that the Muslims had a constitutional right to worship, and that the building remained within zoning laws.
For the area's growing Muslim population, a local mosque is a prerequisite for a better, safer community.
"We want the common good for the neighborhood," said Allowey Ahmed, the head of the mosque project. "This is our neighborhood. A lot of Muslims here own their own homes, have their own businesses, they have their children going to schools in the neighborhood. This is our neighborhood, this is our home like everyone else. And we would like to have a place of worship that we have a say in, and that we can practice our freedom of religion … within walking distance. We'd like to have that without disturbing anyone."
One resident, who asked not to be named, said that he currently spends 30 minutes traveling to his current mosque, and 30 minutes back. His 10-minute prayer session ends up taking more than an hour out of his day.
But more than just comfort, the man said he'll patronize the local mosque to ensure his children are taught the right form of Islam. Without a local program kids can attend after school, they're at risk of learning about the religion from distorted sources.
Proper education is necessary to "inhibit brainwashing of weak people from drifting in any bad directions. Bad directions affect Americans, and it doesn't differentiate between Muslim Americans or Jewish Americans or Christian Americans. Muslim Americans are the most powerful people to inhibit that brainwashing," he said.
Hear the man who says he'll use the mosque talk about the importance of having a local establishment:

The MAS Connection
But the problem with that, according to some opponents, is that the mosque is sponsored by the Muslim American Society (MAS), a nation-wide group that shares historical ties with the Muslim Brotherhood. The latter is also the historical grandfather of groups like Hamas, the violent Palestinian faction.
That connection has fanned local fears that the mosque will be a haven for fundamentalist teachings, cultivating future radicals. While no "smoking gun" connection has been found to MAS and terrorism, the specter of such a national group imposing its agenda on a local level leaves some feeling uneasy.
But Ahmed, the project's head, said that they've only signed on with MAS to provide resources for the youth program.
"The young people will have a community center where we can help them keep away from drugs and help them learn what any child" in a church or synagogue would learn, Ahmed said. "We would like to teach it to them the proper way, where they don't go and learn it the wrong way on the internet. This is becoming more important to us now, because you see a lot of things that go wrong on the internet, where people learn the wrong points about the religion that are coming back to haunt us."
They chose MAS for this, he said, because they have a "good program for young people where you can maintain their Islamic identity as well as their American personality." He added that the program teaches how to "become a good American Muslim where you look for the common good of yourself, your family, your neighborhood, your community and your country."
But though they'll have the resources of the national organization available, control remains in local hands, and locals will set the agenda.
"All the contributions that we've collected so far are local," Ahmed said. "All the money that came in is local. All the people that are controlling it are local. Everyone is local. They're all local, and they're all American citizens. I don't know what else is there that we can do to alleviate the fears of our neighbors."
Watch Ahmed discuss MAS and the importance of local control:

Building Issues
But a faction of the opposition is very clear to say they have no concern about the religious affiliation of those involved. To them, it's very much a Not In My Backyard issue – literally.
This group of residents say they have no tolerance for their neighbors who tell them to join the opposition for fears of security or fanaticism. Before they do that, they want to see that "smoking gun," one person who asked not be named told us.
Until then, they oppose the increased noise, traffic and parking brought on by a community facility on a residential street. Through the opposition group Bay People, Inc., they're raising funds to fight the establishment on zoning terms, saying they need to provide parking, and calls to prayer will be a nuisance since many of these residents have backyards that face the Voorhies Avenue lot. Additionally, they've documented instances at other area mosques – like the one on Neptune Avenue – in which patrons end up on the sidewalk, blocking pedestrian traffic, because the building is jam-packed.
Ahmed, though, said the group is already making concessions. Calls to prayer will not be broadcast externally, and they're considering nixing them altogether. As for parking issues, he said most attendees live in walking distance. For others, it'll be like any business where people are dropped off. In those cases, it's only going to busy for about one hour on Fridays, he said, "like when people pick up their children from school."
"If you annoy your neighbor there is no guarantee that your prayer will be accepted by your lord," he added. "You have to really be sincere in what you do."
Watch neighbors argue over perceived parking, traffic and noise issues:

Overt Bigotry
But, despite concessions, there are plenty of people still annoyed.
As the Peace Walk arrived at the proposed site, participants came face-to-face with about 150 angry residents. It was clear in an instant that the faction that were opposed because of building issues were marginalized, and the majority of those penned behind police barricades were outraged about a Muslim presence.
"You're not American! This is a Jewish neighborhood," yelled one neighbor from his porch across the street. Another asked the police officers if they checked the Muslims for bombs. A woman stood at the barricade, scowling and holding a photo of Arabs burning an American flag.
Hear race-fueled shouting at the counter-demonstrators:

Some adopted the rhetoric of the faction opposing it on building issues, but quickly jumped around to mentions of safety, neighborhood character and the "kind of people drawn to this" – tried-and-true codewords fueled by fear and bigotry.
Some were just overtly racist.
Fifteen-year-old Kamela Elbassiony stood to the side of the construction site. Born in the United States, and living on Batchelder Street, the only hint to her Muslim background was the color of her skin. Before the walk, she didn't know of the mosque. But as she walked over and saw the crowd, she asked what was going on. A woman against the mosque cursed at her, telling her Muslims weren't welcome. Elbassiony stayed, and got a flag from the Peace Walkers, and stood in support of its establishment.
"Even if it was a little basement, it's not the point of how big it is or how much people there is. The point is they won't let us do something that's not their business. It's not their business," said Elbassiony.
Hear Elbassiony recount her story:

Across the street at the proposed site, the Peace Walkers quietly filed into the lot, waving American flags and carrying roses.