Il Fornetto: Trancio Di Salmone – The Bite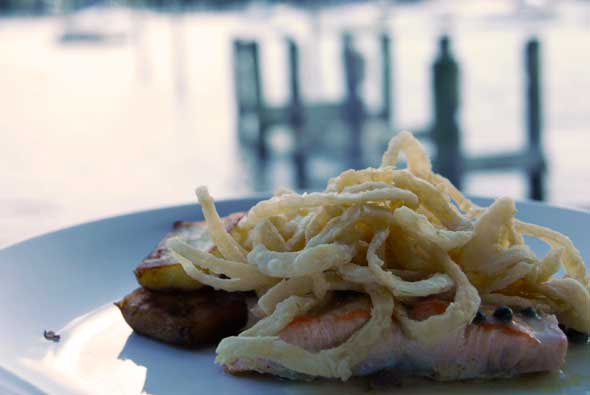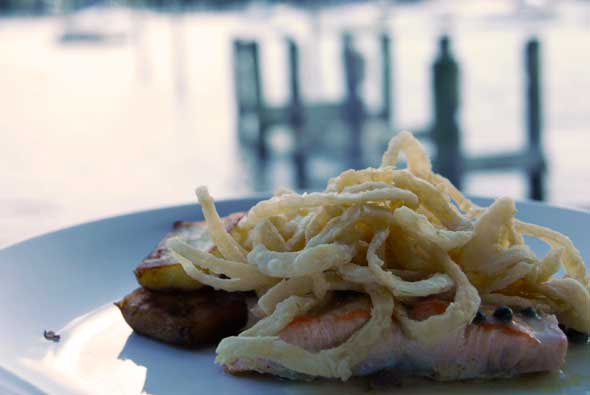 Welcome back to The Bite, Sheepshead Bites' weekly column where we explore the foodstuffs of Sheepshead Bay. Each week we check out a different offering from one of the many restaurants, delis, food carts, bakeries, butchers, fish mongers, or grocers in our neighborhood. If it's edible, we'll take a bite.
Summer in the city. Hot sticky nights. Sweltering days. Sweaty bodies. Addled minds.
It's time to head to the water. Just as our ancestors crawled out of the sea seeking release, we complete the circle by seeking refuge from the heat in the cooling waters.
So this week, The Bite high tails it over to Il Fornetto, 2902 Emmons Avenue, for some waterfront dining and fish. Specifically, I'm getting the Trancio di Salmone. Tu capisci?
Il Fornetto will be one of the 21 delicious restaurants at The BITE, the new name for A Taste of Sheepshead Bay, taking place on Thursday, May 28, 2015. Get tickets now!
For $22, Il Fornetto gives you a large piece of center cut Atlantic salmon, covered in a white wine, lemon and caper sauce, topped with lightly floured onion rings accompanied by roasted potato squares. All this is served in one of the only waterfront dinning rooms in the bay.
The salmon is lightly seared and topped with a lemon-caper sauce that is a nice foil to the meaty fish. The tartness of the lemon and capers cuts through the fattiness of the fish.  This sauce is very similar to the well known picatta sauce found in just about any old-school Italian restaurant. Il Fornetto's version is a little lighter, a little thinner and much easier on the garlic.
Capers are one of those ingredients that people either love or hate. They are the unripened flower buds of Capparis spinosa, which is a prickly, perennial plant native to the Mediterranean and some parts of Asia. They are dried and cured in a brine of salt or vinegar. Some people compare the taste of capers to olives. Some say they taste like lemons. To me they taste a little like a vinegary tea. I love them. If I find capers on the menu, it's a pretty safe bet that's the dish I'm ordering.
The salmon is topped with a huge mound of fried onion rings that provide a sweetness, playing nicely with the tartness of the lemon-caper sauce. This is a very well-balanced, flavorful dish. Accompanying the salmon and onions are some beautifully cooked and presented potato squares. These bland potatoes are out of place here and seem to be a poor afterthought to an otherwise great plate.
This dish is also included as part of Il Fornetto's prix-fixe three course dinner menu for $24.95. While the portion is slightly smaller, it certainly is a bargain.
Il Fornetto, 2902 Emmons Avenue, (718) 332-8494.