Hundreds Honor 6 Black Trans Women Killed In 2017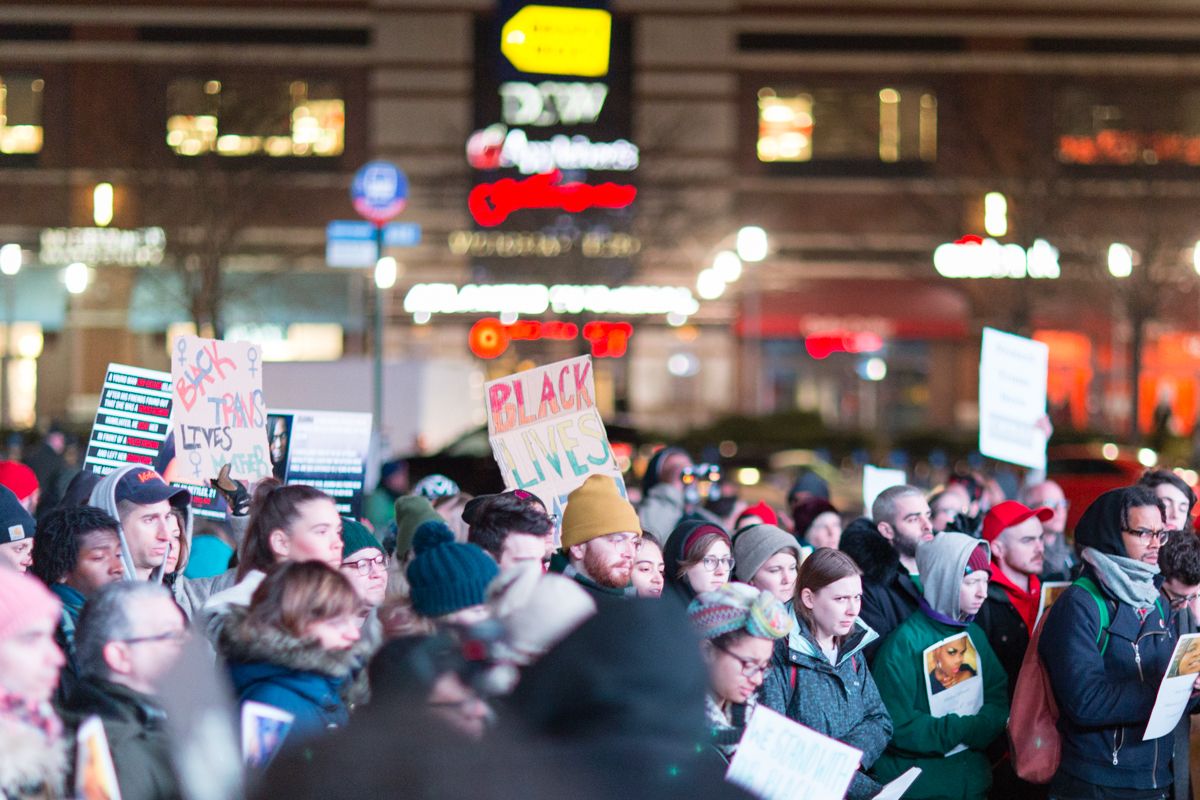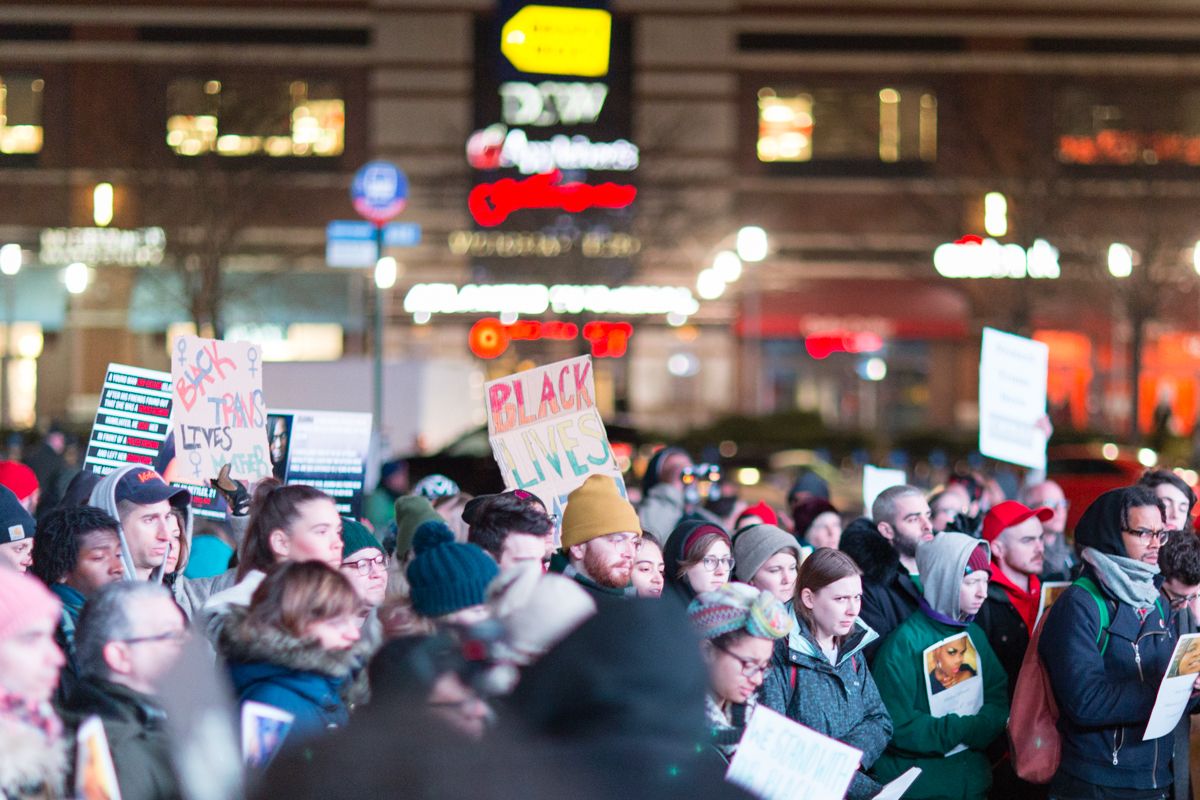 Hundreds gathered in the cold Monday night in front of the Barclays Center to honor six black trans women killed in the first two months of 2017.
Organized by the Trans Women of Color Collective, in collaboration with the New York Chapters of Black Lives Matter, Black Youth Project 100, and Vocal-Queerocracy, the crowd rallied to deliver the message "Not One More" death of a trans black woman.
Lourdes Ashley Hunter, the Executive Director of the Trans Women of Color Collective, told BKLYNER before the event that it was organized to raise awareness of the murders of black trans women and to call to action black cis gender people [whose gender identity matches the sex they were assigned at birth] to help end transphobia and the "state sanctioned violence against black trans women."
The "Not One More" rally specifically targets the black community, Hunter says. "When we look at the murders of trans women of color, in particularly black trans women, the murders are happening by black cis men," she explains.
"In black communities, black families, black social environments, trans people are typically ridiculed, mocked, made fun of, abused, brutalized. Black folk have been silent to that violence," which she argues is just as harmful as committing a physically aggressive act.
"This is an opportunity for the black community to come together to rally on behalf of black trans women to let black trans women know that our lives matter to them," she says. "That they're going to actively engage in ending transphobia and all forms of violence again black, trans people. This is an opportunity for the black community to say they care about black trans lives."
She says of her efforts as a black trans leader, "Most of the work that I do is to get people to wake up because trans people are not killing trans people. Trans people are not denying trans people jobs. It's up to cis people to get themselves together…. We need to work together."
Christ McMichaels came from Queens to attend the rally. He did so because "Any black trans person that's hurt, killed, or attacked, I want to stand up for them because it's wrong and it shouldn't happen."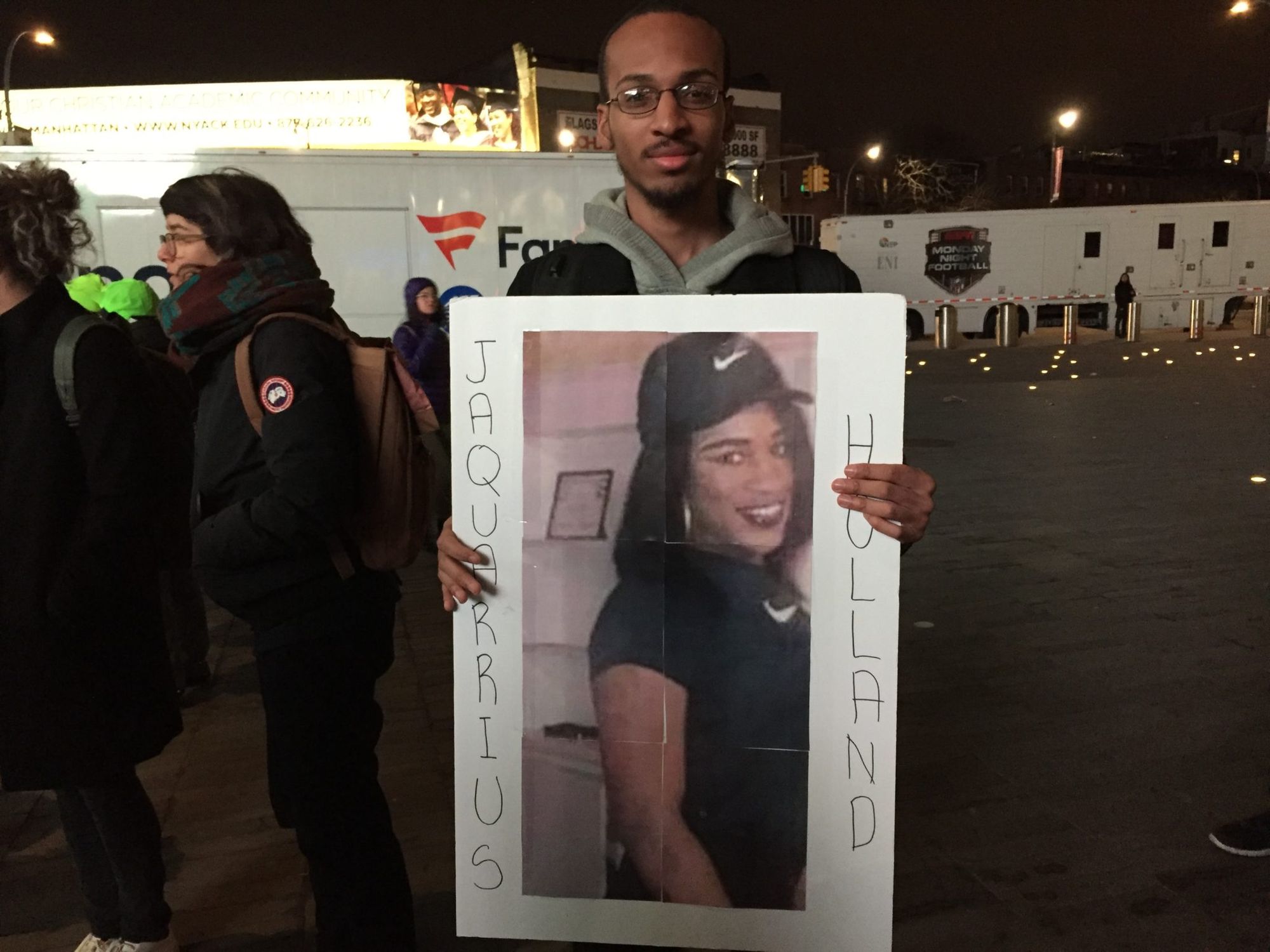 "Black people of all kinds, trans, queer, lesbian, all around the spectrum, matter, and we won't stand for any continued subjugation, any harassment, attacks, exploitation…" McMichaels says.
He believes black trans people face "double oppression" because "they are black and they are trans, so we definitely want to look out for the most marginalized people in our community."
Hunter started off the rally by naming the six trans black women murdered this year.
Mesha Caldwell, 41, from Jackson, Mississippi, was murdered January 4.
Jojo Striker, 23, from Toledo, Ohio, was murdered on February 8.
Jaquarrius Holland, 18, from Monroe, Louisiana, was murdered on February 18.
Keke Collier, 24, from Chicago, Illinois, was murdered on February 22.
Chyna Doll Dupree, 31, from New Orleans, Louisiana, was shot 10 times and killed on February 25.
Ciara McElveen, 30, also from New Orleans, was stabbed to death on February 27.
"We say your name. We honor you. We lift you up," Hunter said in tribute to them.
After a series of chants including, "F-ck toxic masculinity, treat trans women with dignity!" and "Cis folks do better, black trans lives matter!" Hunter took the mic again.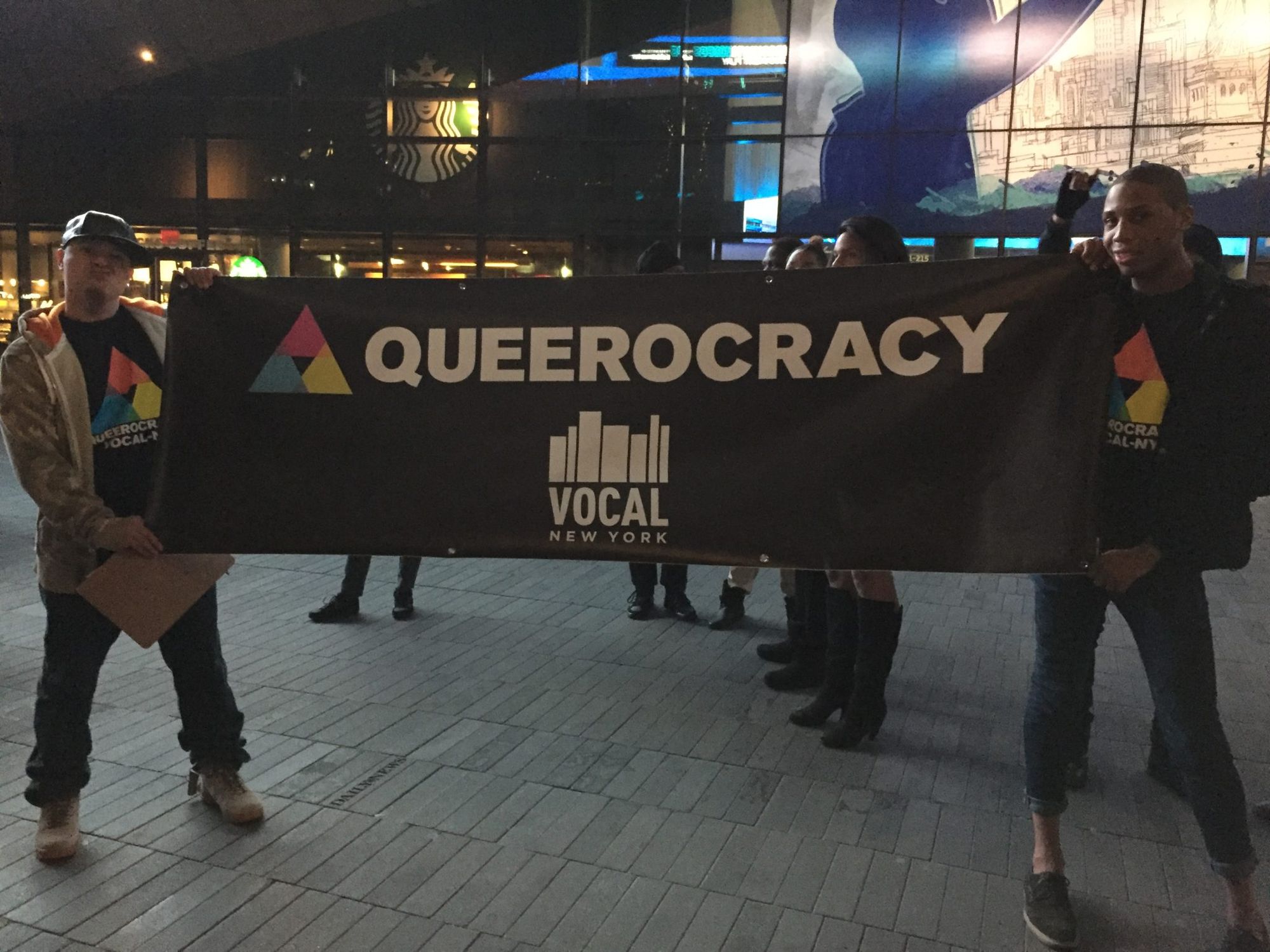 "Black trans women continue to be denied access to housing, healthcare, employment, and other opportunities," she said. "Now more than ever is time for the community to show up for black trans women!" she declared to roars of support from the crowd.
"While black, queer, radical cis women activists like myself may not be the ones pulling the trigger of the gun, we do however contribute to the violence toward black trans women," said a representative of the New York Chapter of Black Youth Project 100. "We are also to blame and we are also here to hold ourselves accountable."
"By misgendering and tokenizing, to defining women-hood by body parts…. Yeah, the ones with the pink pussy hats, I'm talking to you. Those who said "pussy power" at the march in January, I'm talking to you…." she continued.
"F-ck your genital-based feminism. If your feminism is not intersectional, if your feminism does not include trans women, it is b-llshit!" she exclaimed.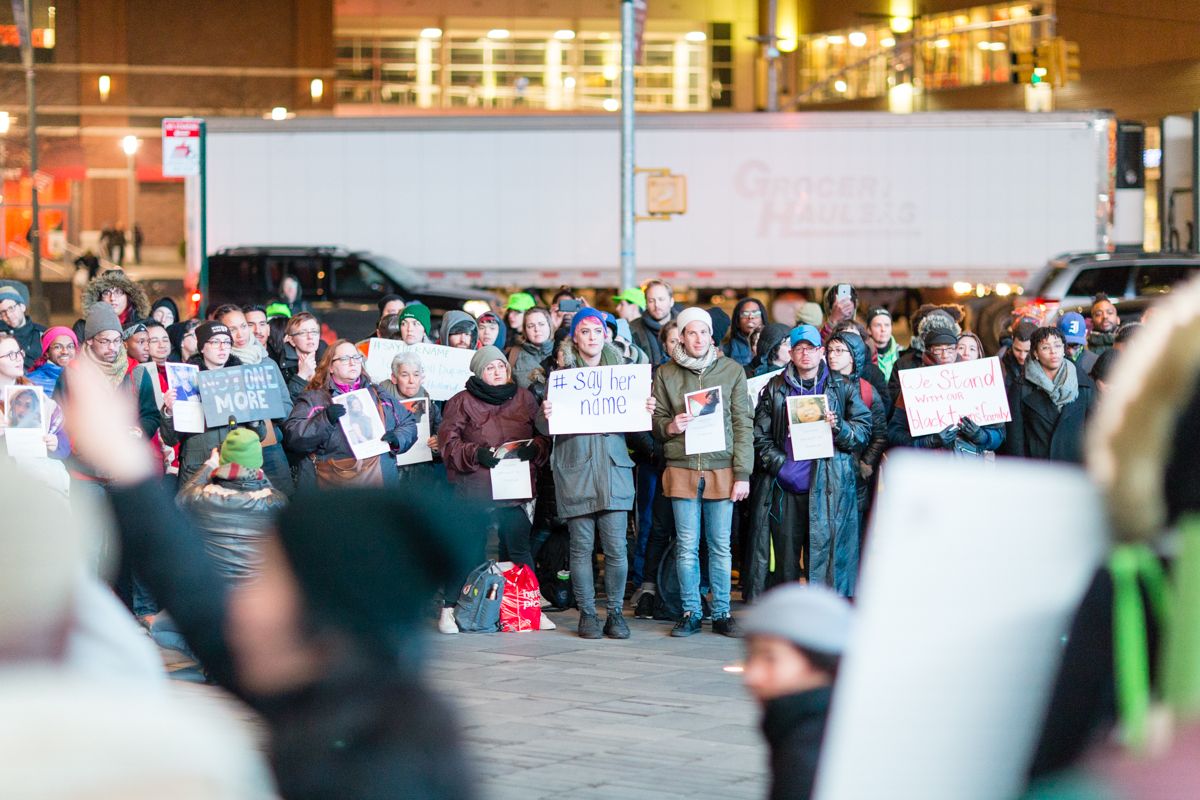 The Trans Women of Color Collective formed in New York four years ago following the death of Islan Nettles, a 21-year-old black trans woman who was beaten to death by a cis black man in front a New York City police station. Her mother, Delores Nettles, was a special guest at the rally.
"I'm here to support All Trans Lives Matter. We cannot stop fighting. This is a fight and we are not going to lose this battle," she said.
"Islan lost the battle, but we are still here to support. And as a mother, I would like other mothers to come out and support your children no matter their sexuality, support your children…."
She says she taught her daughter to be true to herself, "I always told Islan, never hide. You don't run. You stand up for what you believe in and you be who you want to be."
She then told the crowd, "You stand strong and you stand tall. Stand up for what you believe in."
To learn more about the Trans Women of Color Collective, or to make a donation, click here.