After Meeting The Pope, Bath Beach Girl With Lyme Disease Gets Outpouring Of Support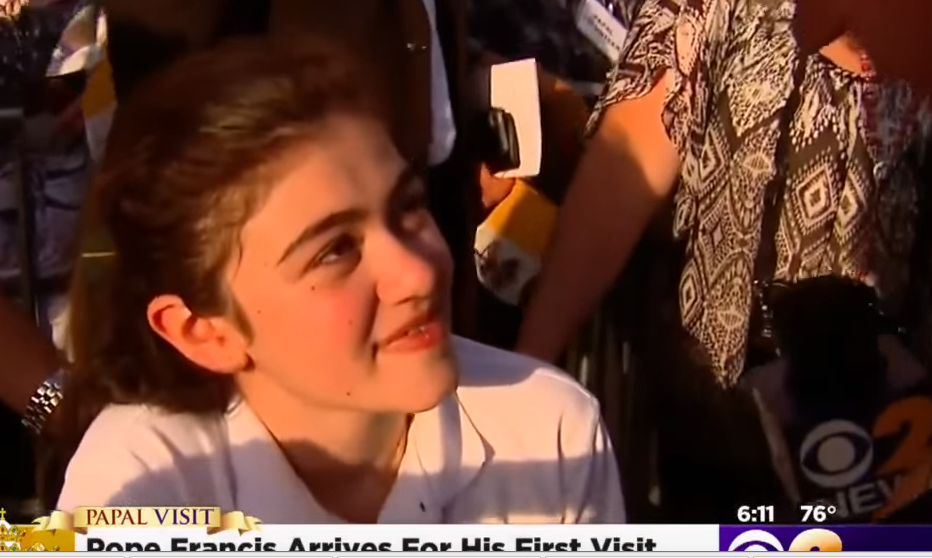 This could be the miracle 12-year-old Julia Bruzzese was looking for.
Earlier this year, the Saint Bernadette School student, who is fighting Lyme disease and has not walked in a year, shared a special moment with Pope Francis during his visit to New York City. She told outlets she kissed the pontiff's ring and asked him for a blessing, and that the moment reaffirmed her faith that she would recover.
"I just know that I will be able to walk again and I will be back to my normal life," she tearfully told News 12.
Now the owners of Zitelli's Restaurant in Bay Ridge (8530 Third Avenue), Dominick and Mario, are holding a fundraiser for Julia on Wednesday December 16th, starting at 6pm — and they are not the only ones who have been moved by her predicament.
Since Julia's appearance on television, a GoFundMe page set up to help the Bruzzese family with medical bills has raised nearly $60,000, and total strangers have reached out to the family with tips about living with Lyme disease. Then, when the family's insurance company denied payment for Julia's treatment, a New York doctor volunteered to administer IV antibiotics to treat the Lyme disease at no cost.
"We are moved beyond words! You have touched our hearts! We are forever grateful!" wrote the family on the GoFundMe page.
After numerous tests, Julia has finally received a clinical diagnosis of Lyme disease, which doctor's say triggered Guillain-Barré syndrome (GBS) and Postural Orthostatic Tachycardia Syndrome (POTS). While she still uses a wheelchair and still cannot walk or feel her legs, the antibiotic treatment has helped Julia regain pins and needles sensation on the soles of both her feet, according to the family.
But Julia and her family are hardly out of the woods. She is currently being treated upstate New York where she lives with her father, and the Bruzzeses are trying to raise enough money to have a IV drip and medicine delivered to her home so that she can reunite with her family and friends.
Since Julia's father is not working, the family says they are also in danger of losing their Bath Beach home. Those who can't make the fundraiser next week are asked to donate here.