How Safe Are You In The Subways?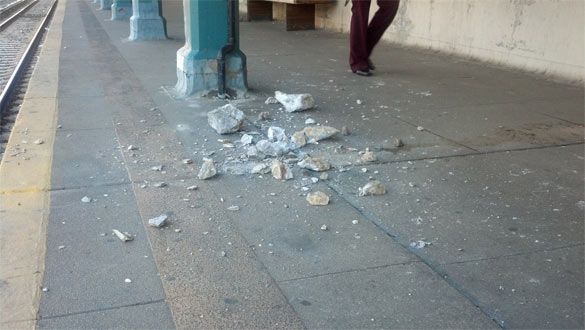 THE COMMUTE: I'm not talking about crime, but rather the other type of safety. Will the subway derail? Will a chunk of the ceiling fall on your head? Will the train fall off of an elevated bridge? Will the platform crumble because of inadequate supports? That type of safety.
If your first reaction is that the chance of something like that happening is slim to none, think again. After all, we rely on government to make sure the food and water we drink is safe and that the subways are safe, too. We do that through periodic inspections of infrastructure and equipment. But are these performed in an adequate and timely manner to ensure we are protected and problems fixed before they become life threatening?
We would like to think so.
A report just released [PDF] by the MTA Inspector General tells us that might not be the case. In 2009, a chunk of the ceiling came crashing down at the 181st Street station. Then there were the recent arrests of signal inspectors who were falsifying inspection reports. Now in this latest report from the Inspector General, he finds the following:
Although annual inspections of elevated station supports are required by NYC Transit's guidelines, the appropriate in-house unit has not been conducting such inspections…NYC Transit has not inspected some critical support structures on a regular and timely basis, and in some cases has not inspected certain critical structures for decades…While it is certainly disturbing that inspection records for some critical structures are many years old, there are other structures for which inspection records do not even exist.
No unit within NYC Transit is assigned responsibility for regularly inspecting the over-water portions of the Rockaway Viaduct.
While NYC Transit previously agreed to implement our recommendations to regularly inspect hard-to-reach station ceilings in accordance with our earlier related report, it has not yet done so. Indeed, these inspections are currently two years behind schedule, with inspection consultants not yet even hired.
Some underground stations were originally built to have train service on two levels. While NYC Transit eventually discontinued service to these lower levels, their physical structures still support the upper levels of the stations. There is also a group of station sections that are located adjacent to, and provide structural support to the sides of, currently active station sections.
The report continues:
Regarding inspection schedules, NYC Transit asserted that it has reviewed its schedules and established a five-year inspection cycle for the over-water portions of the Rockaway Viaduct, hard-to-reach station ceilings, truss bridges, and underwater structures. The agency explained that it determined the five-year cycle based on the particular characteristics of these structures. NYC Transit also asserted that it planned to hire a consultant to inspect these special structures and expects to complete consultant selection and issue a notice-to-proceed to the winning bidder by July 2013. The agency made clear that inspection frequencies may be revised, depending on the results of these special inspections.
As for abandoned facilities that still serve a structural purpose, NYC Transit confirmed that it has recently completed an inventory of these facilities and is developing an inspection cycle for them.
Finally, NYC Transit also confirmed its plans to monitor its structural inspection process on an ongoing basis to identify and implement inspection improvements as well as any needed changes to inspection frequencies.
Some Specific Recommendations
NYC Transit must ensure that annual inspections are performed on schedule and include thorough examinations of elevated station structures and their components (e.g. platform girders), so that defects in these structural elements are identified and corrected on a timely basis.
NYC Transit must promptly complete its inventory of abandoned facilities, which still serve a structural purpose, establish an inspection cycle for these structures, and proceed to inspect and promptly repair them when necessary.
NYC Transit should broadly reassess its structural inspection program to ensure that the nature, extent, and frequency of it structural inspections best promote safety, effectiveness, and efficiency.
MTA Response
The report and the ongoing discussions with your office during the analysis have been instrumental in helping us look at our overall responsibilities related to structural inspections in a way that will help ensure we not only address any/all deficiencies, but also get the maximum benefit from [our inspections]. We are in agreement with the substance of your findings and all recommendations and are taking a number of actions with respect to the structural inspection process at NYC Transit.
To improve its structural inspections NYC Transit has now re-emphasized to its inspectors that the elevated station platform supports are a required part of the annual inspection. Further, the agency will issue a revised policy instruction for structural inspections 'planned for no later than the second quarter of 2013,' which will serve to reinforce and clarify the responsibilities for structural inspections and their frequency.
The MTA went on to say that the Inspector General is encouraged by NYC Transit's response, "which reflects appreciation of the concerns we expressed regarding structural inspections and of the value of reassessment in light of industry best practices and its own experience."
He states that he will continue to monitor the implementation of the agency's program.
Other News
With the promotion of Carmen Bianco to NYCT President due to Tom Prendergast's advancement to head the MTA, there is now a new leader for the Department of Subways, whose name is coincidentally Joseph Leader, who will now be responsible for assuring the Inspector General's recommendations are heeded and the subways kept safe for us all.
Conclusion
Some points the Inspector General makes are particularly troubling. Following the 2009 ceiling collapse at the 181st Street Station, the Inspector General made a number of recommendations. The NYC Transit agreed with them and created a task force to set goals, regarding inspections, to start in 2010. Goals were missed and rescheduled to 2013, and now the Inspector General is concerned that these goals will be missed as well.
Regarding the lower level of the unused Ninth Avenue Station in Sunset Park, which supports the upper level in use by the West End Line, the chief engineer acknowledged: "MOW (Maintenance of Way) has known for decades that the structure was in need of repair but had not corrected the conditions." When we asked the Chief Engineer why MOW had allowed the condition to persist for years, he had no explanation. However, he noted that while the structure was in need of immediate repair, in his judgment, structural collapse was not imminent because it was "over-engineered." So does that mean that if something is not in imminent danger of collapse, it should not be repaired?
The report states that critical structures, such as platform supports and abandoned facilities, have not been regularly inspected and concludes:
In our view, NYC Transit simply can no longer tolerate the continued risk presented by critical-structure-inspection deficiencies that safety-related structural defects will go undetected and unaddressed.
I agree.
The Commute is a weekly feature highlighting news and information about the city's mass transit system and transportation infrastructure. It is written by Allan Rosen, a Manhattan Beach resident and former Director of MTA / NYC Transit Bus Planning (1981).
Disclaimer: The above is an opinion column and may not represent the thoughts or position of Sheepshead Bites. Based upon their expertise in their respective fields, our columnists are responsible for fact-checking their own work, and their submissions are edited only for length, grammar and clarity. If you would like to submit an opinion piece or become a regularly featured contributor, please e-mail nberke [at] sheepsheadbites [dot] com.