How Do You Solve A Problem Like 4th Avenue?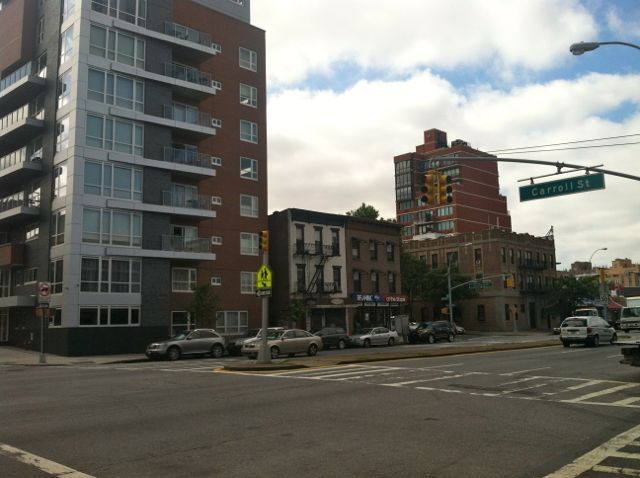 The Wall Street Journal doesn't have a lot of nice things to say about 4th Avenue. Bemoaning the 2003 rezoning that encouraged slap-dash residential construction without attention to retail spaces —  "effectively killing off the avenue's vibrancy for blocks at a time" — the WSJ moves from damning to apocalyptic: 4th Avenue is "cheap looking," "middle-brow," "like walking in the suburbs,"  and "a depressing wasteland."
And the Journal assigns the blame in no uncertain terms: 4th Ave is the product is a series of "bad decisions by Amanda Burden's City Planning Department and the profit-above-all-else motive of some developers." Even the City Planning Department itself can't totally disagree:
A…[City Planning Department] spokeswoman acknowledged that the early buildings developed after the 2003 rezoning "failed to engage the street by placing garages and other unattractive uses on the ground floor" and did not bring a "vibrant mix" of ground-floor uses. "It was not a concern at the time that development controls would be needed to prevent the negative aspects of development that has occurred on Fourth Avenue," she wrote.
So what's do be done? The developers of what the WSJ describes as a not-great-but-maybe-better building now under construction at 4th Ave and 6th St is optimistic about the situation:
"The Fourth Avenue corridor was a major blemish for Amanda Burden," says Drew Popkin, development director for the Naftali Group, the project's developer. "But is it too late to rectify that? Certainly not. This is just the beginning for Fourth Avenue."
The Park Slope Civic Council's Fourth on Fourth committee, founded this February to deal with the 4th Avenue issue on a local level, is working on making that true (you can check out their agenda — and get involved — here).
What do you think — are you on board with the WSJ's analysis? What's your prescription for the black sheep of Park Slope Streets?