History at Home: This Day in the Brooklyn Daily Eagle
As we wander about our modern neighborhood, caught up in the hustle and bustle of everyday life, it's easy to forget that our community has a long and vibrant history. Let's remedy that. Every Saturday, we'll take a step back, with the help of the Brooklyn Daily Eagle archives, and explore what was happening around South Slope over a century ago.
On this day in 1893, we discover that an overabundance of short ladies reside in Brooklyn, and aren't quite ready to let go of the horse and carriage days.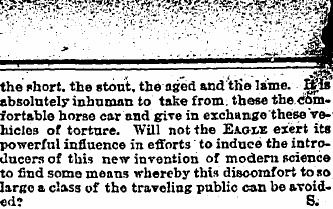 On the same day, in 1893, a self proclaimed hero wanted to make sure he was receiving his fair due.
You think it's been cold recently? Just be glad you weren't around on this day in 1843: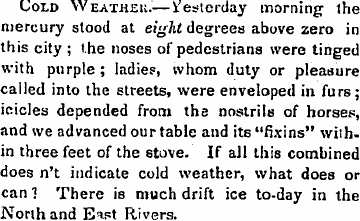 Have an interesting bit of South Slope history to share? Send it to editor@bklyner.com, and we'll publish it in our weekly History at Home segment.
Images via Brooklyn Public Library