Kid Rock: Hip Tot Music Fest Kicks Off Tomorrow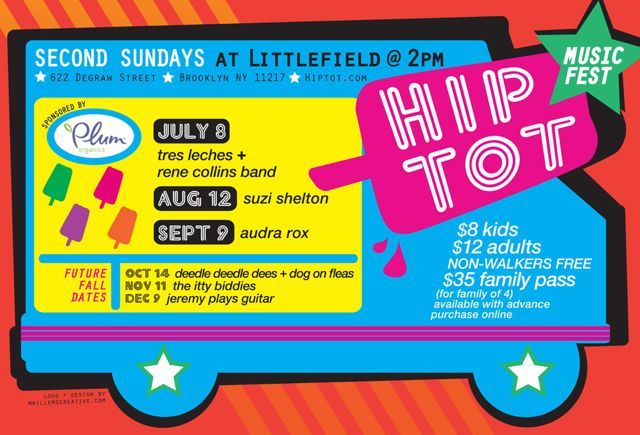 This Sunday kicks off the Hip Tot Music Fest, an ongoing live music series catering to the CMJ attendees of tomorrow (and their parents). The second Sunday of every month at Littlefield, a different kid-friendly band will take the stage — tomorrow, it's Tres Leches — and in true festival form, there'll be plenty of non-musical attractions on the side: in addition to the tunes, Hip Tot features complimentary snacking, face painting, and craft activities (plus more).
The fest is the brainchild of Park Slope parents Gabby Napolitano and Adam Meyers. Both longtime residents and parents themselves — she's 5th generation Park Slope, he's 2nd — they're a powerful duo: Gabby is the impresario of family-centric marketing company, Still Hip Promotions, and Adam is a longtime music industry vet.
So how did Hip Tot come to be? What goes into booking a lineup for the elementary school set? To find out, we e-caught up with Gabby, who gave us the inside story on Hip Tot's origins, kids' music today, and — because when when we've got a 5th generation Park Sloper captive, we can't resist asking — the evolution of the neighborhood.
You're not in the music industry by training, right? How did the Hip Tot Music Fest get started? How did you and co-creator Adam Meyers find each other?
When I had my store,  Still Hip, [a children's resale boutique], I used to have classes in our play area and I would host 3 big block parties a year. At the block parties I would invite the class teachers to perform. We would get close to, if not over, 400 people at the block parties! When I closed the store one of the bands, Rolie Polie Guacamole, asked me to help them get a gig at Southpaw in Park Slope, being that I'm from the Slope and know the owners.
Adam, being a musician (he has played for Bustah Rhymes, Ozzy Osbourne, Everlast, and DMC), is a booking agent and good friend of Mikey Palms (one of the owners of Southpaw and owner of a number of other venues in Brooklyn), [so he] offered to help me. After talking it over with Mikey, we all agreed that this idea could work as a monthly series! The first show was set to happen at Southpaw in February but, as luck would have it, Southpaw closed its doors the week before our show. Littlefield was amazing and welcomed our idea. We decided to just have the one show in February and start the series in the summer, giving us ample time to get organized with a new location. Voila! Hip Tot created.
What do you look for when you're booking groups — what makes a band right for Hip Tots?
It's all about the crowd! We want parents to enjoy the music as much as the kids. For the first shows, we have bands that are familiar to us in some way. Many of the bands (or members of them) either held classes at Still Hip, performed at a block party I held, or the grapevine brought them to me. We are now getting numerous demos and emails from bands that would like to perform at shows. Adam will be the main liaison to the performers —  he understands music from a musicians perspective and has a better idea if a band will be successful live.
I imagine by now you're pretty well-versed in the Brooklyn kid-music scene. What's cool? Or rather, what's hip?
We are finding that it is actually becoming cool to have music that is strictly for children, songs with lyrics that talk to kids. Luckily the music is being made so that parents can handle it and very often like it! One of my favorite songs is "Sugar High" by [kids musician and upcoming Hip Tot performer] Audra Rox. My daughter and I will jump around singing it at the drop of a hat. So I guess what's hip and cool is music with an adult sound and lyrics for little ones.
Is that new, do you think?
When I was a kid there just wasn't music specifically for children. I mean, there was, but it was more like sing-a-longs and nursery rhymes. In the 80s we saw more music specifically for kids with Raffi and Lou Gallo.
Let's talk adults for a sec: what's your favorite place to listen to non-Hip-Tot music in the neighborhood?
My favorite spot was Southpaw. You could dance to reggae downstairs and then check out a rock band upstairs. It always had stuff that was really happening. Littlefield is the closest thing to than now in the Park Slope area. Outside of the Slope I've seen some great shows at The Knit (the Knitting Factory) and Public Assembly. I'm glad that NY has some great venues that cater to bands. Live music is like nothing else in the world!
We have to ask: you're Park Slope born and raised, and now you're raising your own family here. Where did you grow up?
My family if from a little street off 16th Street called Webster Place. My great-great-grandparents moved into that house in the late 1800 and my great-grandmother, grandfather and mother all went to PS10 (I went to PS 107 as 10s was not the school it is today back then). My mother was priced out by the gentrifiers of the 70s and she sold the house in 1977. I laugh at my 'born and raised' slope friends when they complain about the 'newbies' moving in because they are the people that pushed my family out. LOL.
And Adam is also a long-time Park Sloper?
Adam is from the North Slope. His mother and her sisters immigrated here from Croatia in the 60s. Three of the four sisters raised their kids in Park Slope. Needless to say it is hard to walk down a block with him without running into someone he is related to. I actually ran into one of his cousins today while I was hanging up fliers. Both of Adam's parents still live in the Slope. His mother still lives in the apartment she moved into when he was in junior high!
What's the best thing you've seen happen in/to the neighborhood in all your time here?
The best thing that has happened to Park Slope is the playgrounds! They are AMAZING!!! When we were kids 3rd Street playground was just a huge litter box and 9th Street was a concrete sprinkler alley that screamed foot fungus… Ewww… I also love the transformation of 5th Ave. So many great restaurants and shops. When we were kids we had to go to the city for a strip like that!
What do you miss that's gone now?
A real Jewish deli! We had Hertzogs on the corner of 3rd Street and 7th with barrels of pickles and real pastrami. I also miss Al's toyland which was across the street from Hertzogs.
What's the best unsung kids' activity in Park Slope (Hip Tot Music Fest aside)?
This may sound silly but my kids absolutely LOVE Two Boots. They get to play with dough, watch the food being prepared and they even eat things without complaints. Our other favorite thing to do during the warm weather is go to Prospect Park for Celebrate Brooklyn.