Highlights From South Slope Open Studio Tour
Saturday was a perfect summery day for strolling along the streets of southern Park Slope and visiting with the artists participating in the weekend's South Slope Studio Tour.
More than 40 artist studios were open to the public on Saturday and Sunday, welcoming visitors eager to meet with local creatives and check out their workspaces.
Bob Hagan welcomed guests into the 17th Street studio/home he's been working at since 1980. He shared with BKLYNER the story behind his satirical triptych Triumph of Unrighteousness Over Virtue from his series entitled Regime Change.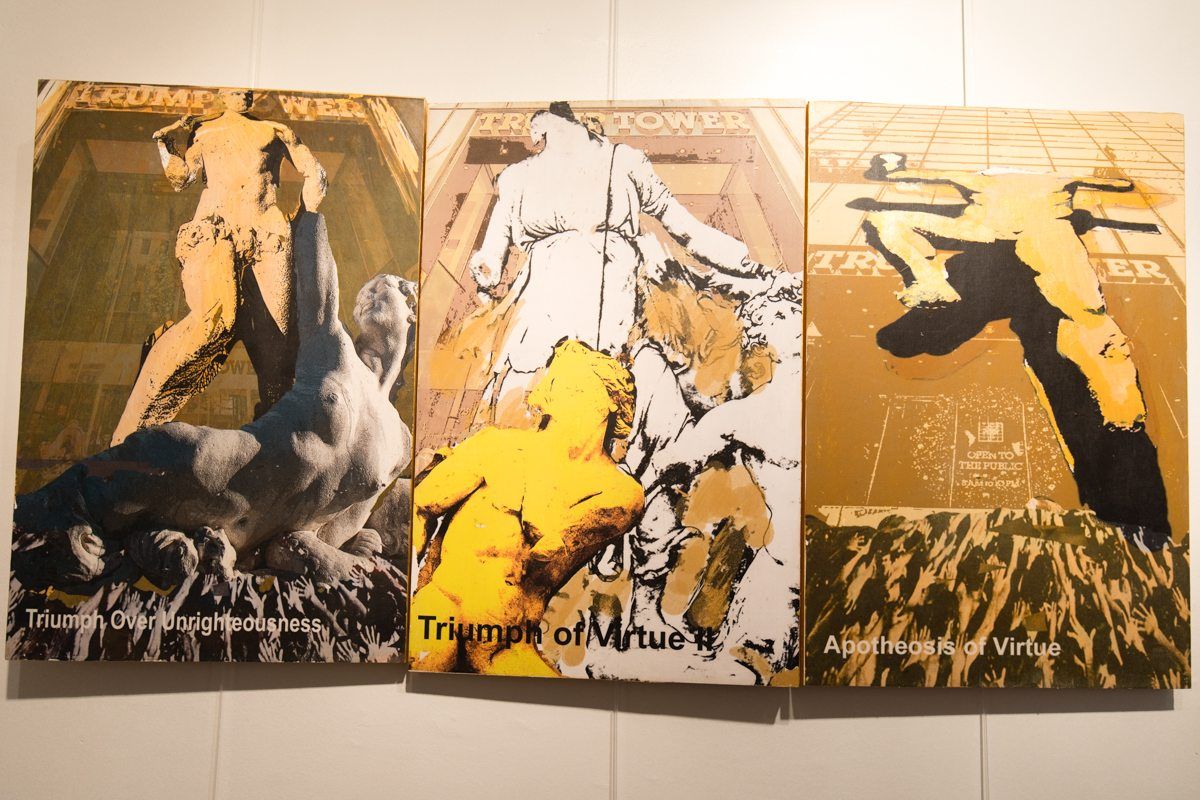 The panel on the left features the sculpture The Triumph of Civic Virtue Over Unrighteousness which was displayed at NYC City Hall in the 1920s. It disturbingly depicts a male figure standing on two women. The unpopular sculpture was eventually removed and now resides at Green-Wood Cemetery. "To acknowledge that 'bad ideas never die,' the work has moved virtually to Temple Trump," Hagan explains on his website.
The center panel shows images from the Pergamon Altar that Hagan digitally placed before Trump Tower as he did on the left side. A response to the image in the first panel, this scene depicts a woman committing violence on a man—a subject in art Hagan says was very difficult to find.
The last panel depicts a figure exaggeratedly bowing at Trump Tower—referencing The Apprentice contestant and Trump fan Omarosa Manigault's claim that "Every critic, every detractor, will have to bow down to President Trump."
Over at MadArts at 255 18th Street, about 20 artists greeted guests in the maze-like, 14,000-square-foot former warehouse that is home to 25 art studios.
Danny Glass is a figurative painter who is also studying Art Business at Sotheby's Institute of Art. He started working at MadArts last fall after moving to Brooklyn from Providence, where he earned a B.A. in Art History and a B.F.A. in Painting through a dual-degree program at Brown University and the Rhode Island School of Design.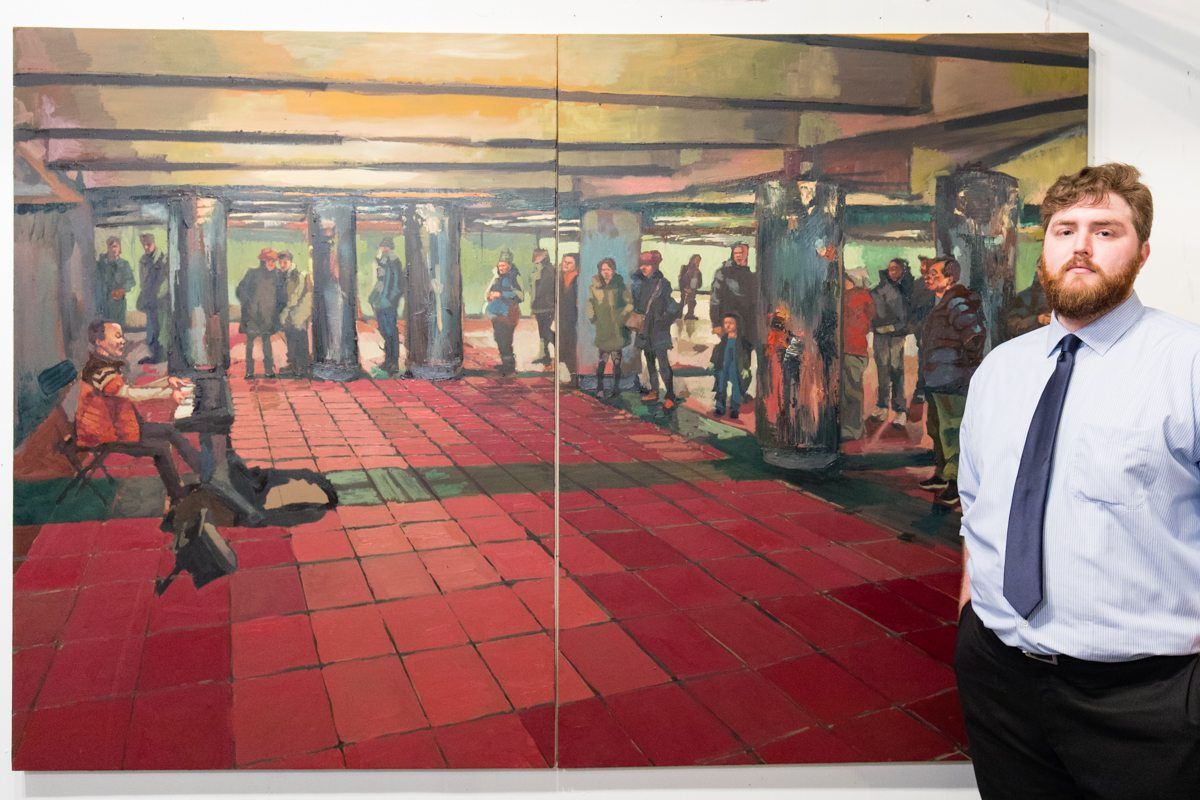 Inspired by his surroundings, Glass creates compelling, realist work influenced by the "type of emotional atmosphere and specific expression that I read in people," he explains.
A recent work depicts his fellow classmates at Miami's Art Basel viewing a work by the artist Richard Prince. Glass captures "their reaction and interaction with this piece of contemporary art."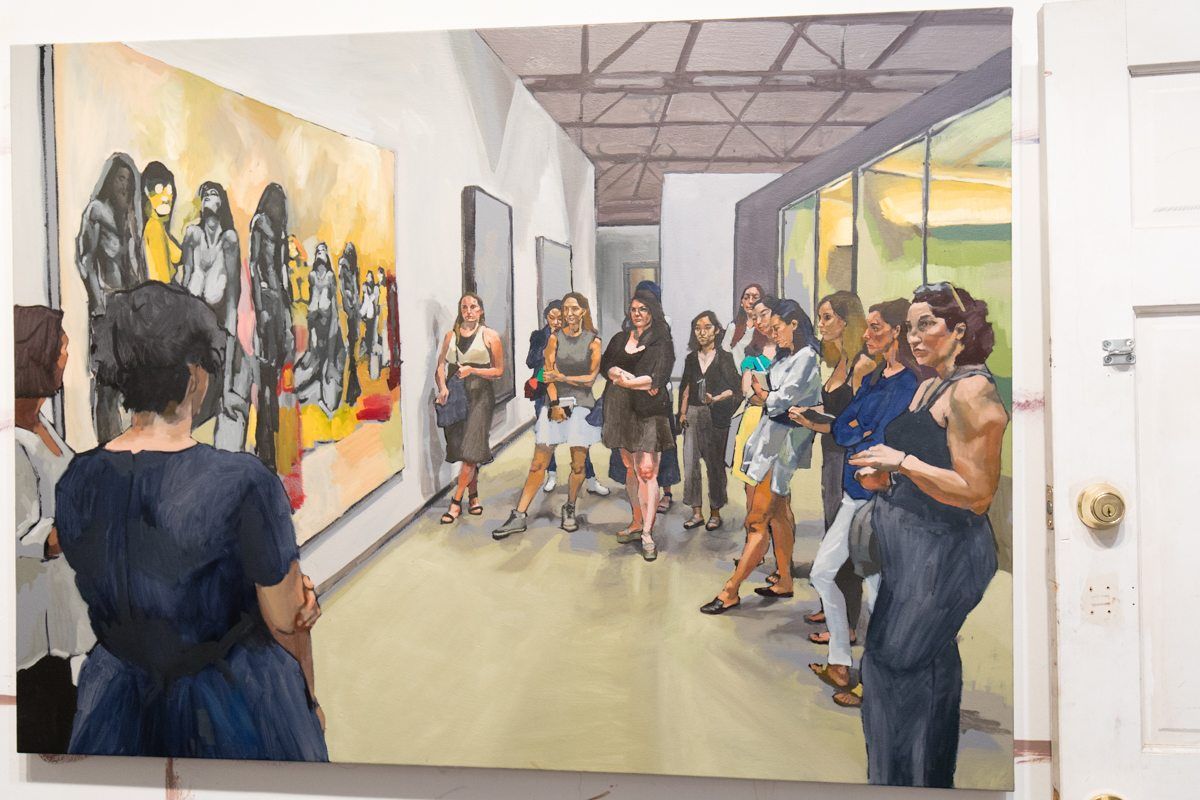 "This juxtaposition of the Richard Prince painting with all these people who are some of the most intelligent and talented people that I've met, and also this group of people who are the future collectors, the future professionals in the art world, the future culture makers…was incredibly potent to me," he says.
Glass connected to the Prince work based on his fascination with the blue-chip artist's current legal battles with appropriating others' work—namely using images he finds on Instagram. "Some of the most interesting classes I've taken recently have been my law classes and learning that whole other layer of his legal battles and how that's really intertwined in my mind with the idea of appropriation art," Glass says.
"The idea that we talk about, what is appropriation and how far can we go? He's not just talking about it in theory, he's dealing with it in the courts…. Regardless of how I feel about the work, I think that's incredibly interesting," he states.
Around the corner, in another studio at MadArts, Marlene Weisman creates bold, vibrant collages, assemblages, and paintings.
"I love it here. I think MadArts is a vibrant arts community. I love the interaction but also the peace to work," she says of the studio space she's been working in since last summer.
Weisman, a native New Yorker, has lived in the neighborhood for 15 years with her husband and son. She's worked as a graphic designer, first creating graphics for rock, punk, and jazz musicians and venues, and then moving on as an in-house graphic designer for Saturday Night Live for seven years. In the 80s, Weisman's work was included in the Xerox Art Show, a group exhibition curated by Keith Haring at Club 57 in the East Village.
Her love of images, type, color, texture, and the history of things fuels her passion for collage, using found objects and materials she's collected over the years in her intricate works.
Her series While I Was Stuck In The Supermarket came to her when she was waiting in line at the grocery store, frustrated about "never having enough time to work as an artist." Composed on supermarket circulars Weisman describes them as "homages to women who have inspired me," including punk icon/poet Patti Smith, writer Zadie Smith, actress Louise  Brooks, and feminist icon/political activist Gloria Steinem.
"I decided to honor these iconic heroes of mine in tribute to their escape from domestic oblivion," Weisman states on her website. These works have been featured in solo and group exhibits at the Brooklyn Public Library/Central Branch.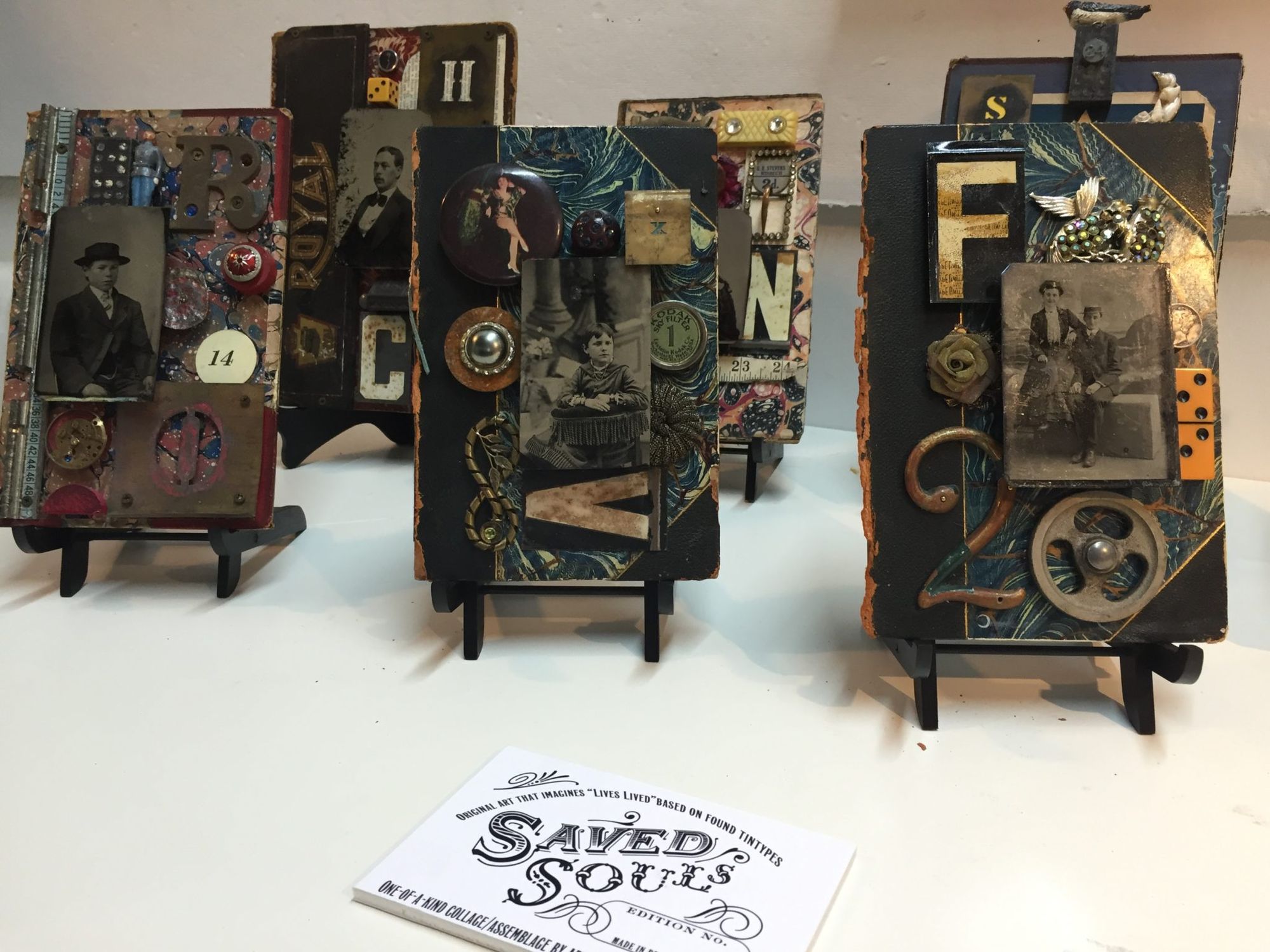 Another series, Saved Souls, was inspired by a box of tintypes given to Weisman. Of the people featured in the vintage photographs, the artist says she "tell[s] the story of what I imagine their lives would be," through assemblage and collage (the unique stories are written on the back of each). The compact, one-of-a-kind pieces are whimsical and touching tributes to the sitters in the portraits.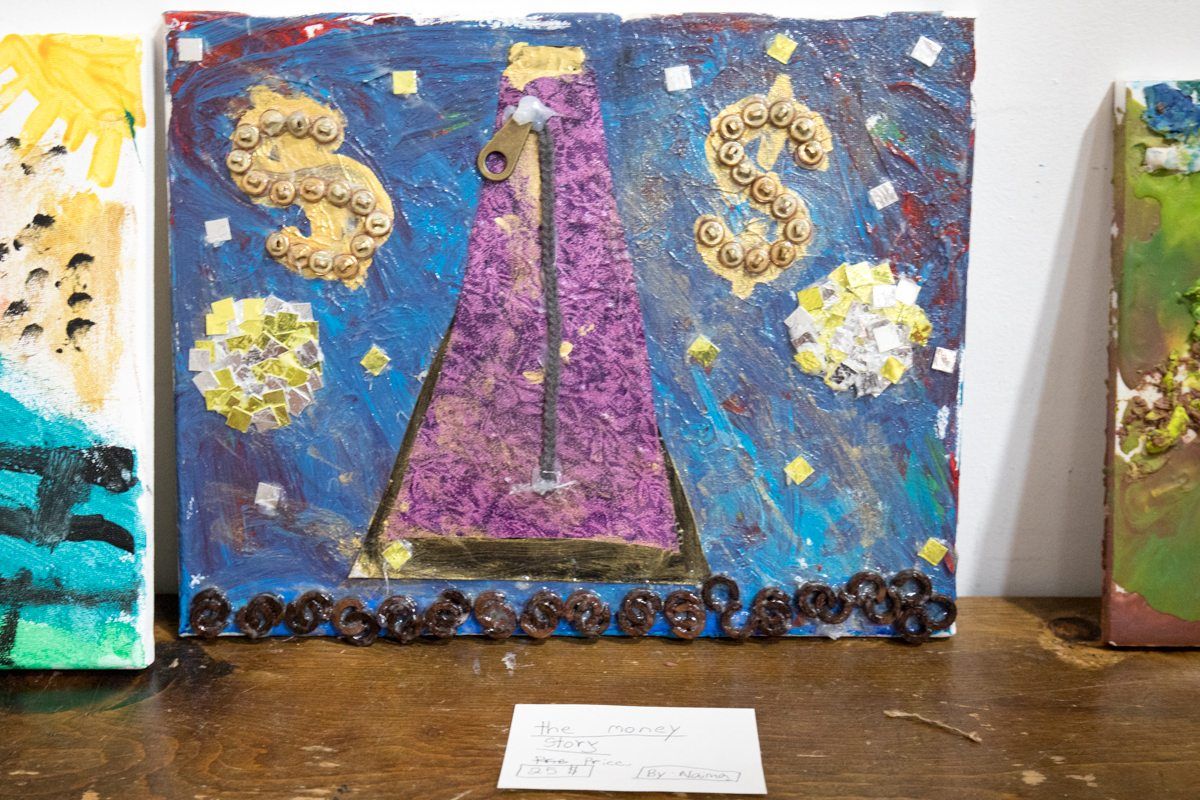 Open Source Gallery (306 17th Street) opened up its storefront for Francesco Simeti's Swell, a motorized installation that explores the human impact on the environment and depicts images of Brooklyn waterways. On view through May 27, Simeti is combining this piece with workshops, collaborative projects, and partnerships with local organizations.
[Video by Nathan Haselby]