Hey Ladies, It's The Creepiest Ad Ever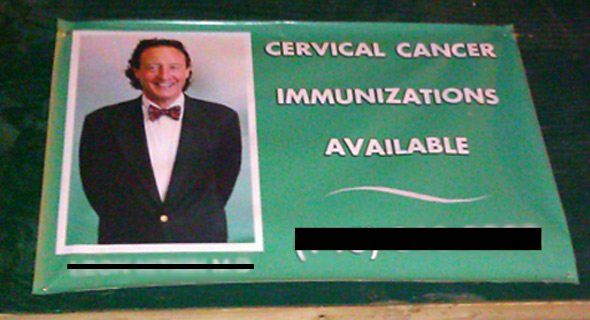 That guy is way too happy to be working on cervices.
I mean, sure, most men find a cervix to be a wonderful thing. All us guys hang out at the bar and talk about how great the cervices in our lives are… but… Christ. I wouldn't want this guy touching my lady's cervix. Shoot, I'm not even sure I want him touching my pussy cat!
You know what it is? I just don't trust guys in bow ties. That must be it.
By the way, Lenny M. and I spotted this last night on some scaffolding at Brighton Beach Avenue and Brighton 13th Street. Then we got the hell out of Brighton.
UPDATE: Yeah, we actually have an update for this story. Miss Heather of NYShitty got in touch. The guy had done some advertising up in those parts a solid 2.5 years ago.