Help Save These Abandoned Kitties!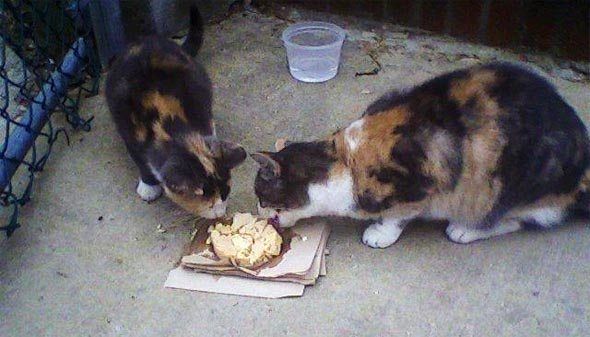 When I was a kid, my family took in two newborn kittens that some scumbag had put in a plastic bag and dumped in the garbage. I still can't believe a person could do that, and would love to think it was an isolated incident. But clearly it's not. I hope the devil has fun with these maggots.
Reader Elina N. writes in:
I have an unfortunate story, and if you know anyone that needs or wants two cats or even one of these cats, it would make a better home than what just happened to them. My boyfriends neighbor recently bought these cats and because hes an A-hole, he just threw them out because he decided he wasn't bored anymore. They scratch at the door everyday and my boyfriends tries to feed them as much as possible but they need a real home and are losing weight. We don't want to call a kennel or ASPCA because they will eventually be given that awful euthanasia.
I don't have any details about the cats, but if you know ANYONE WHO WANTS THESE CATS PLEASE E-MAIL ME AND E-MAIL THIS TO EVERYONE YOU KNOW. The cats are free, just take them, I can't stand knowing they are sitting on the porch without being let into their home.
You can contact Elina by e-mailing elinanulman[at] gmail [dot] com.
It appears this is a (horrifying) theme in the Brooklyn blogosphere this week. Miss Heather of New York Shitty got a call about four abandoned kittens from two different litters in Greenpoint. One of the kittens has since died, the other three have found a temporary home. But now she's trying to raise funds and help the foster owner get some much-needed care items. Kick in a bit if you can!