Help Park Slope Couple Find Husband's Missing Wedding Ring
PARK SLOPE – A "desperate husband" is asking for help in finding his missing wedding ring.
Wes Phelan, a Creative Director and Park Slope resident, tells BKLYNER that following a "great dinner" at the Crab Spot (833 Union Street) on Saturday evening with his wife, he realized that he lost his gold wedding band.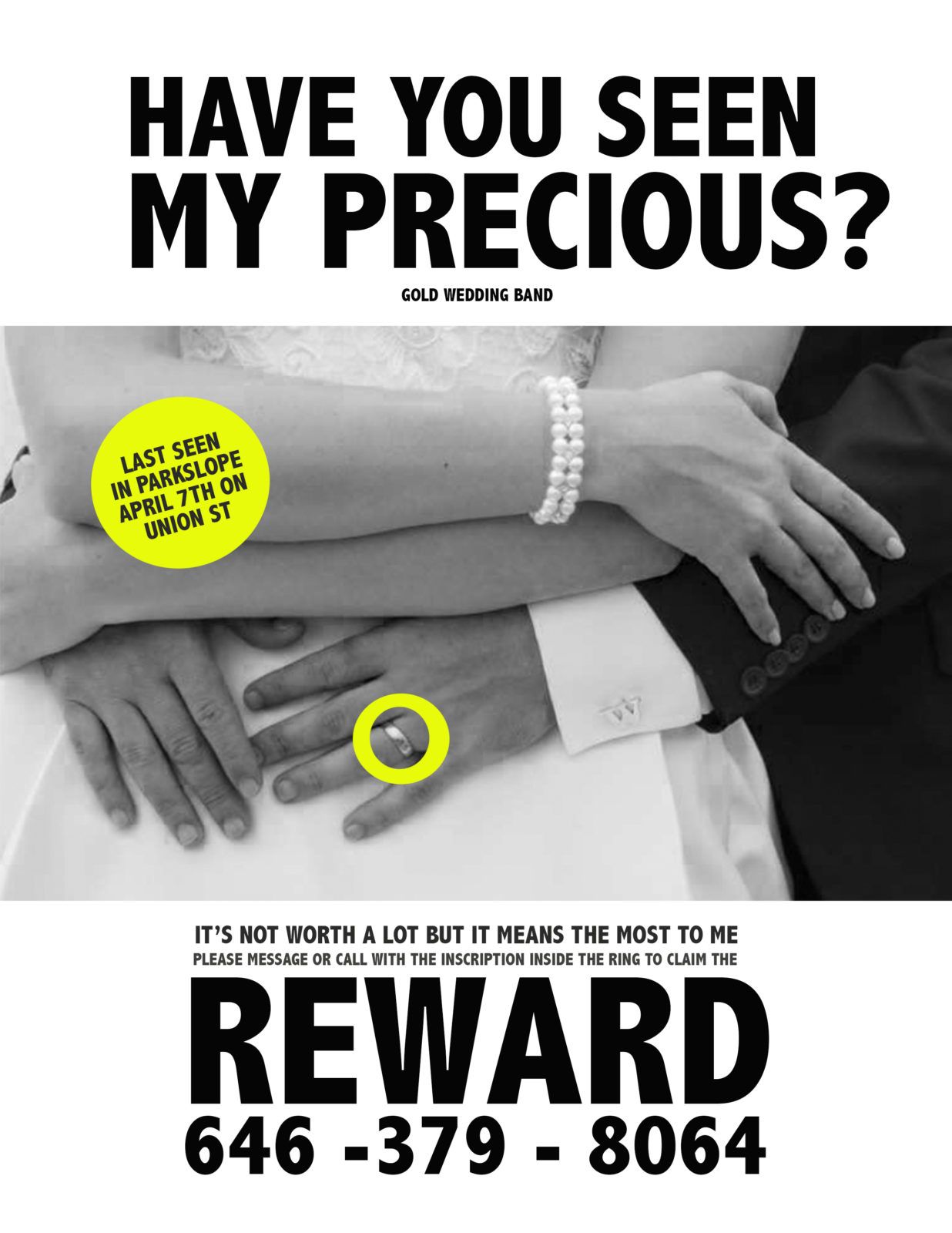 "It was sheer panic, devastation, and heartbreak for both of us," he says after they'd discovered the ring was gone. "We turned our whole studio upside down," and the couple retraced their steps between the restaurant and their apartment multiple times using their cellphones as flashlights.
They called the Crab Spot immediately after the ring went missing and even searched through two bags of the eatery's trash. "The restaurant only allowed us to go through two bags of trash but we would have gone through all of them given the chance," Phelan says. The couple has revisited the eatery and has called them back multiple times to follow up, but to no avail.
The couple put up posters on Sunday hoping that someone will find the ring and return it to them.
Phelan describes the ring as a "simple thick gold wedding band which almost looks rose gold in color" due to its age. The ring belonged to his wife's grandfather who gave it to her mother when he passed away. "My wife never got to meet her grandfather as he passed away just before she was born, so it was incredibly special to honor him and her family by having it as my wedding ring," Phelan explains. "We hoped it would always be in the family."
The inside of the ring is engraved with an inscription—"R & G and W & I"—Phelan's and his wife's initials as well as her grandparents' initials, and includes both couples' wedding dates.
Phelan says he's worn the ring since his wedding day—February 18, 2017. "I never take it off, but we think there is a chance while wiping my hands it could have slipped off," though he adds this theory "seems unlikely."
The couple is offering a $500 reward for the safe return of the cherished family heirloom.